Chill Bride Meghan Markle Had Her Friends Help Her With Hair & Makeup For The Royal Wedding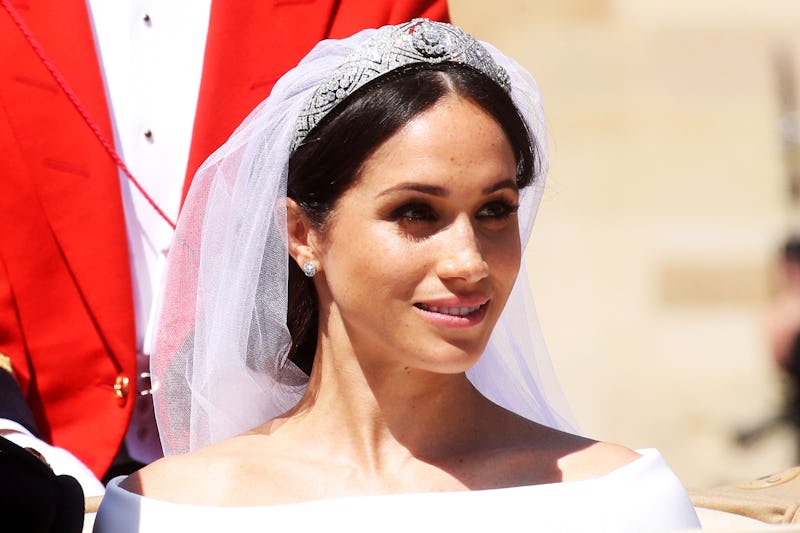 Chris Jackson/Getty Images Entertainment/Getty Images
A wedding might be all about the dress, but how it's styled is just as important. According to the official press release, Meghan Markle's hair and makeup was done by two professionals that have close ties to her. There's no better way to get ready than with friends, and Markle knew it. Royals: they're just like us.
There was a lot of debate whether or not Markle would do her own makeup for her wedding day. While the general consensus was that she would have her friends help her on the morning of the big day, there was one main twist — one of her friends is a professional makeup artist.
"Ms. Markle's hair was styled by Serge Normant, with make-up by long-time friend and make-up artist Daniel Martin," the official press release reads.
Markle kept her freckles shown, lashes long, and lipstick neutral for the big day. Although she did has a smokey eye, the overall look was extremely natural. Her makeup was similar to the look that she's been seen in leading up to the royal event, but a little bit more lash.
Just like her makeup, she also gave her hair a twist on her classic messy bun for the big day. Markle wore a low bun underneath her crown, courtesy of Serge Normant, a celebrity hair stylist.
Daniel Martin, the man and friend responsible for Markle's makeup is the creative color consultant at Honest Beauty. Basically, he knows a thing or two about makeup. Actually, he knows a thing or two about doing Markle's makeup. He has reportedly been a longtime friend of the bride's for some time now and made the trip form American to help her get ready on her big day.
That's not the only help that Markle has on her big day. According to Express UK, Markle also had her closest friends helping her get ready before the wedding. The newly-made royal chose not to have any of her friends as bridesmaids on her big day. Instead, she flew them over to help her get ready before the event instead.
"She's got two friends doing it for her from America. They're not professionals – just close friends of hers," the insider revealed to Express UK exclusively. "They are coming to stay at Windsor Castle ahead of the wedding, where they will be put up in the staff accommodation."
Serge Normant was the master behind her wispy hair. Normant has a lot of celeb clients under his belt. He's done the hair for Dolce & Gabbana campaigns and has clients like Kate Moss and Sarah Jessica Parker, according to Coveteur. Needless to say, he's has more than enough street credit to do the royals hair.
"I've always known I wanted to do hair. I started when I was really young and I just love hair," Normant tells Coveteur. "[When I was a kid] in the '60s, hair was always truly done; there was something very structural in everything that I was seeing—I was really intrigued by that. I love sculpting; I love shapes."
Markle is know to break a royal rule or two in her day. The most well-known is her messy bun. Normant took a play on her favorite low bun hairstyle of hers and took it to the next level. It was great to see her not change up her look too much for her special moment.
It was clear to see that Markle looked gorgeous on her big day. But what's most important was how comfortable she felt. She took her classic look and amped it up a little bit to match the royal event, which is a lesson for every single bride out there.