The 'Riverdale' Showrunner Just Confirmed A Major Character Is Dying In Season 3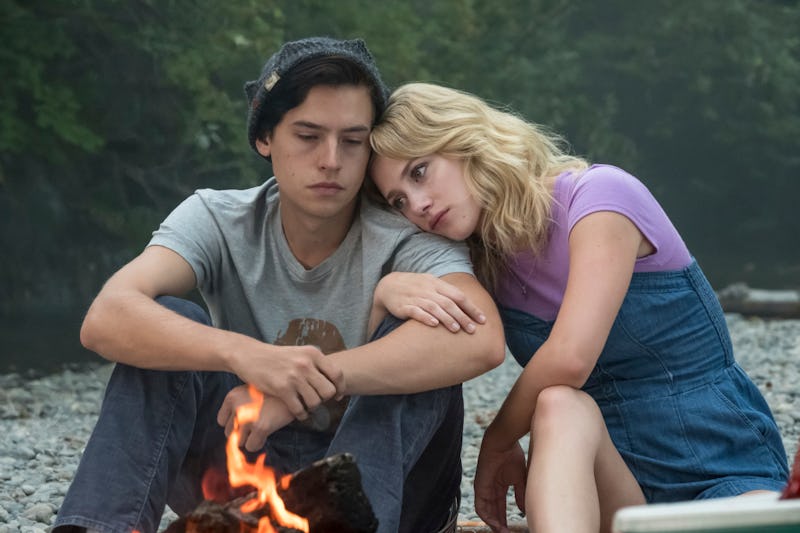 Katie Yu/The CW
Bad things tend to happen in Riverdale. In fact, it's a wonder why anyone still wants to live there. However, no matter how dire the situation has gotten, the main characters have always managed to come out everything relatively unscathed (at least on a purely physical level). But that all be about to change based on a cryptic tweet from series showrunner Roberto Aguirre-Sacasa. So who dies in Riverdale Season 3? While Aguirre-Sacasa was careful not to name anyone specific, his post promises that not every series regular will be coming out of the upcoming midseason finale alive.
It all started when Aguirre-Sacasa tweeted out a glimpse of Episode 8, which will serve as Season 3's midseason finale. Titled "Outbreak," the image shows a police officer taking Archie away in handcuffs right next to a sign that now reads Lodgedale, rather than Riverdale. Little else is known about the episode, so what's all the fuss about? The cause for concern came from Aguirre-Sacasa's follow-up tweet, which detailed some information about Episode 9... or rather the caption that went along with it. "Life goes on (for MOST of our series regulars) in Episode #309 of #Riverdale...," Aguirre-Sacasa teased. This, of course, abruptly set the internet ablaze with concern over who will be killed off halfway through the season.
The fact that he makes a point of stating that MOST of the series regulars survive indicates that there's another looming death on the horizon, and unlike past departures that have been limited to side characters like Ms. Grundy, this one is going to cut us to our core. All of the stars are so beloved on Riverdale, so it's difficult (if not downright impossible) to imagine the show continuing on without each and every one of them.
So who will be the unlucky victim of whatever new horror the show will unleash? As you can imagine, there's isn't too much information to go on right now, but the key term to remember here is "series regular." That could mean any number of people, including the core four: Betty Cooper, Jughead Jones, Veronica Lodge, and Archie Andrews. Granted, their deaths seem a little less likely than some of the others given that so much of the story centers around them, but it's important not to rule anything out at this point. It's also worth noting that both Charles Melton (Reggie) and Vanessa Morgan (Toni) were promoted to series regulars for Season 3, which puts them in the running as well.
Then, of course, there's Kevin and Josie and Cheryl to consider. Losing any of them would be devastating as well. Heck, even saying goodbye to any of the Riverdale parents would be difficult. Fred Andrews, Alice Cooper, F.P., as well as Hiram and Hermione Lodge are all possibilities as well. Could one of them face the grim reaper soon? Fans will only have to wait eight episodes to find out one way or another. In the meantime, you might want to think about stocking up on tissues.