The People Who Benefit Most From Affirmative Action Are The White Women Who Oppose It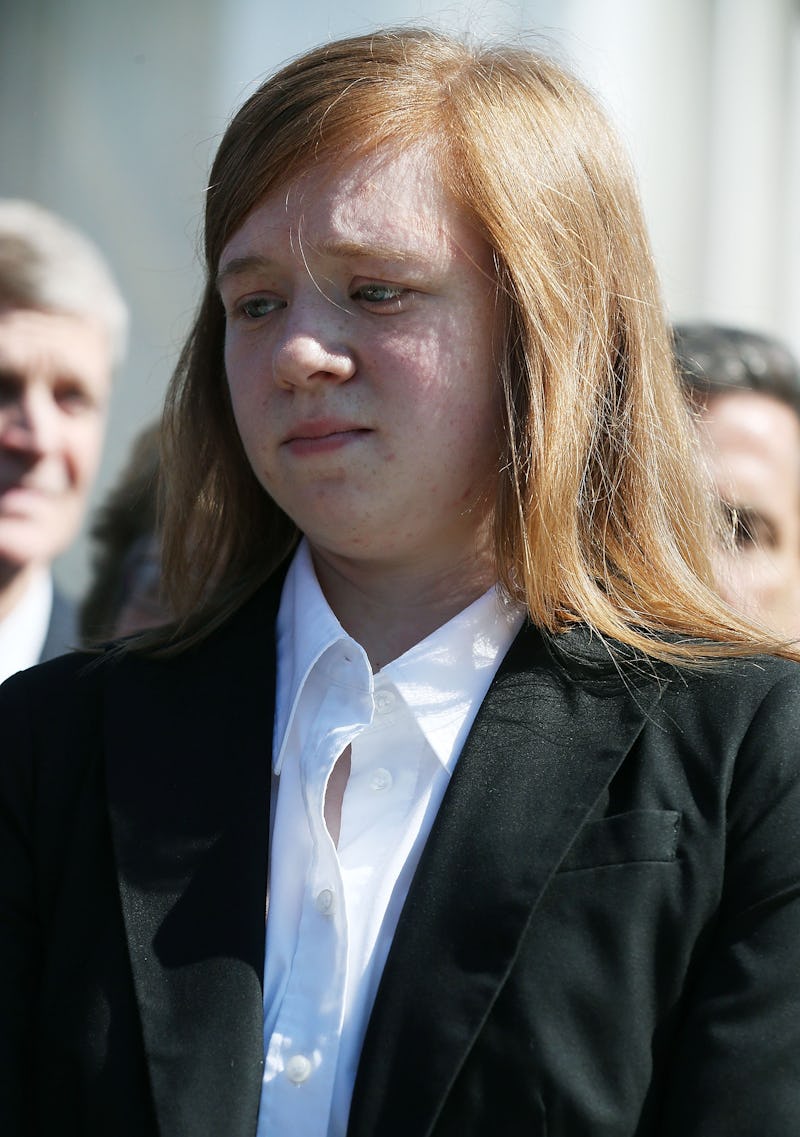 Mark Wilson/Getty Images News/Getty Images
On Tuesday evening, the New York Times revealed a new bombshell. Recently obtained documents from the Justice Department indicate the Trump administration is planning to target affirmative action on university campuses, likely arguing that it discriminates against white college applicants.
Ironically, the group that affirmative action helps the most is also one of its most stringent opponents. Statistics show that white women benefit immensely from affirmative action, but according to Vox, they are also among those who most want to see it abolished.
The numbers prove it: After two decades of affirmative action, it was white women who held the majority of managerial jobs, compared to African American, Latino, and Asian American women (the supposed beneficiaries of these policies), according to a 1995 report by the California Senate Government Organization Committee. Across the board, affirmative action helped women obtain success in the labor market. Today, women are more educated and successful in the workforce than ever before, while married women are taking over as household breadwinners.
The news that the Trump administration wants to challenge affirmative action comes just over a year after the U.S. Supreme Court upheld the admission policies of the University of Texas at Austin, after a white woman, Abigail Fisher, sued the school for rejecting her admissions application. She claimed that applicants of color who were less qualified but whose racial backgrounds were included in the university's review process took her slot.
After a lengthy court battle, the Supreme Court ruled 4-3 that UT's admission policies were indeed constitutional — a major win for affirmative action.
According to the document in the Times report, the Justice Department's civil rights division is seeking lawyers "interested in working for a new project on investigations and possible litigation related to intentional race-based discrimination in college and university admissions."
Affirmative action was first introduced by President John F. Kennedy in 1961, and required federally funded institutions to take measures to "ensure that applicants are employed, and that employees are treated during employment, without regard to their race, creed, color, or national origin." In 1967, after facing pressure from the women's movement, President Lyndon B. Johnson added gender provisions to the order.
Since then, affirmative action has been disproportionately beneficial to white women, according to HuffPo. While there were 1.6 males for every female graduating from a four-year university in 1960, by 2003 the numbers reversed: women outnumbered men in colleges, with 1.35 females for every male and women earning 57 percent of all bachelors degrees by 2009.
Further, while only 7.6 percent of physicians in 1970 were female, by 2002 that number had risen to 25.2 percent, with the number of science, technology, engineering, and mathematics bachelors degrees awarded to women experiencing a major increase.
Affirmative action ensures that women and minorities have equal access to educational opportunities and provide opportunities for women to enter nontraditional occupations. Yet ironically, since affirmative action was first implemented, "the people suing universities for discrimination in the academic admissions process have been white women," according to researcher Jessie McDaniel in a 2014 report for the Racism Review.
Especially in light of Trump's threats on affirmative action, it's more important than ever for women of all backgrounds and ethnicities to band together to keep the policies intact. Even with strides made, women continue to remain underrepresented in nontraditional, traditionally male-dominated occupations, like architecture or engineering, compared to their male counterparts. And only 6.2 percent of corporate office top earners in Fortune 500 companies were women by 2008.
While white women like Fisher argue against affirmative action on the basis that the policy is reverse discrimination, and that schools should be blind to race and gender, they essentially are fighting against the very policies that have helped progress for women of all backgrounds over the past four decades. As women continue to fight for equal rights and pay in the workforce, advocating against affirmative action would be more detrimental than ever.