Paul McCartney's Pirate Debut Is Shrouded In Mystery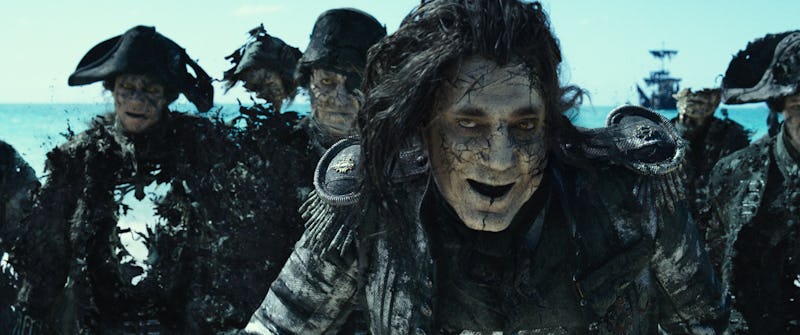 Walt Disney Studios
Paul McCartney is returning to the big screen in a big way this summer. The former Beatle is set to play a small role in Disney's Pirates of the Caribbean: Dead Men Tell No Tales, and it's a pretty bold move, to say the least. McCartney, who was not featured in any of the promotional material for the film, previewed his character just a few weeks before the film's release, but other than a character photo, Disney has yet to reveal any information on who Paul McCartney is playing in Pirates 5.
Donning a long beard and an impressive pirate's hat in his photo, McCartney is a long way from the bowl cut and tailored suits that made him famous. It appears that he left his guitar and microphone on the shore, trading them in for a menacing deck of cards and rings. No doubt these accessories are clues to his character's identity, but there's only so much one can glean from the photo. At the very least, the photo makes clear that McCartney is not one of the ghost villains in the film — he does appear to be playing a character who is actually living. Furthermore, we know he's not in the movie for very long. An original report announcing his casting stated that he joined the film late, after the main production, and took part in an extra scene, according to Deadline.
McCartney is listed as playing Uncle Jack on IMDB, though it's worth noting that just a few days ago, USA Today reported that McCartney was credited as "Jail Guard 2." Obviously, the name Uncle Jack calls to mind Captain Jack Sparrow, Johnny Depp's iconic, crazy pirate. Looking at the photo of McCartney in character, it's impossible not to see the similarities to Jack Sparrow. The dread locks, the bandana and hat combo, the eyeliner — it's all straight out of Captain Jack's closet. Could McCartney be playing Jack Sparrow's uncle? It's certainly possible, especially given the fact that the trailer for Pirates 5 hints at exploring Jack's backstory, including showing a Young Jack.
McCartney could appear in a flashback, or as a rare glimpse into Jack's personal life. It would be fitting for McCartney to play a character related to Jack. After all, fellow British rocker Keith Richards appeared in Pirates of the Caribbean: At World's End as Captain Teague, Jack's father. If McCartney's "Uncle Jack" is related to Jack Sparrow, it would definitely be on brand.