See If You Can Spot Taylor Swift In The Brand-New 'Cats' Trailer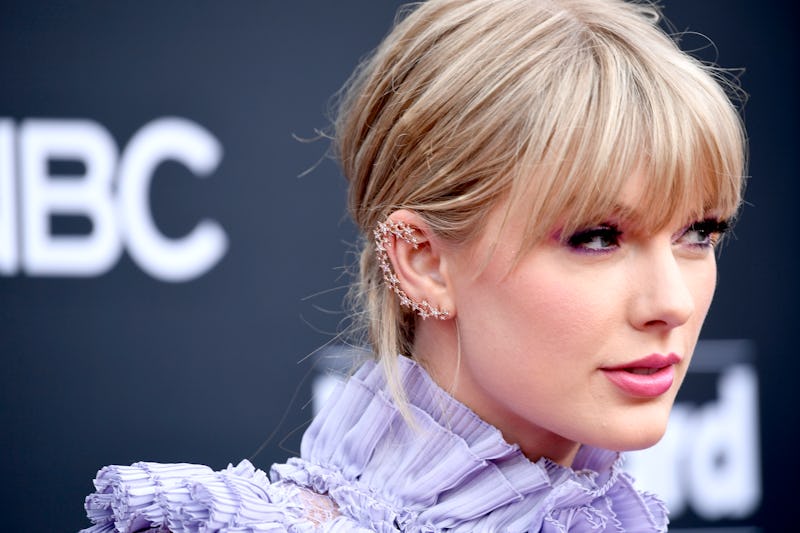 Frazer Harrison/Getty Images Entertainment/Getty Images
The new Cats trailer dropped on July 18, and if your memory needs some jogging about Taylor Swift's Cats character, you're not alone. While many initially thought Swift was the white cat prominently featured throughout the clip, the 10-time Grammy winner actually plays the orange-colored Bombalurina in the musical's movie adaptation (hitting theaters on Dec. 20). You know, she was the one who was wearing a fancy choker and (perhaps naughtily) sprinkling catnip from a bejeweled cocktail shaker while lounging atop a prop moon.
"I am a cat now and somehow that was everything #CatsMovie," Swift tweeted along with the movie's preview the same day.
In addition to getting the first glimpse of Swift in feline form, fans were also gifted with Jennifer Hudson (as Grizabella) belting out a stunning rendition of "Memory" from Andrew Lloyd Webber's 1981 musical.
Also seen in their full digital cat transformations were: James Corden (Bustopher Jones), Judi Dench (Old Deuteronomy), Jason Derulo (Rum Tum Tugger), Idris Elba (Macavity), Ian McKellen (Gus the Theatre Cat), Rebel Wilson (Jennyanydots), and Francesca Hayward — aka Victoria the White Cat from the trailer. If you didn't recognize Hayward, that may be because Cats is her feature film debut. Hayward's primary gig: Principal of The Royal Ballet.
Bombalurina's big number, "Macavity the Mystery Cat," of course, bears the name of Elba's character, and as such, the pair got to work closely with one another. After filming, the Luther actor sang Swift's praises. "Taylor was great," he told Variety in March. "Her and I had a lot of work to do together, and she was amazing. She worked hard and was just happy to be there."
In fact, during a May 2019 appearance on The Graham Norton Show, Swift guessed that she "had much more fun than anyone else" while filming in London. Plus, she had really committed to preparing for the role. As she explained on the show: "I had to go to cat school to learn how to move and behave. I was meant to go for three days and I stayed for four months!"
According to The Hollywood Reporter, the Cats cast wore "performance-capture suits with body and facial tracking markers to create the nuanced movements while they worked on greenscreen and bluescreen sets."
In a Cats first look video released on July 17, Swift explained when her love of acting first began: "My first memories of performance go back to when I was in Pennsylvania growing up. My favorite thing was getting to be theatrical, to tell a story and I've always brought that sort of narrative element to my live shows."
The "You Need to Calm Down" singer went on to explain that she "went right into rehearsals" after completing her reputation Stadium Tour last December. "[We] have people coming together from all different corners of entertainment. Everybody's working really long hours, rehearsing every day and it's fun," she gushed in the behind the scenes video.
It seems as though Swift was purrfectly groomed for this role.