You May Recognize The Man Behind The DeVos Cartoon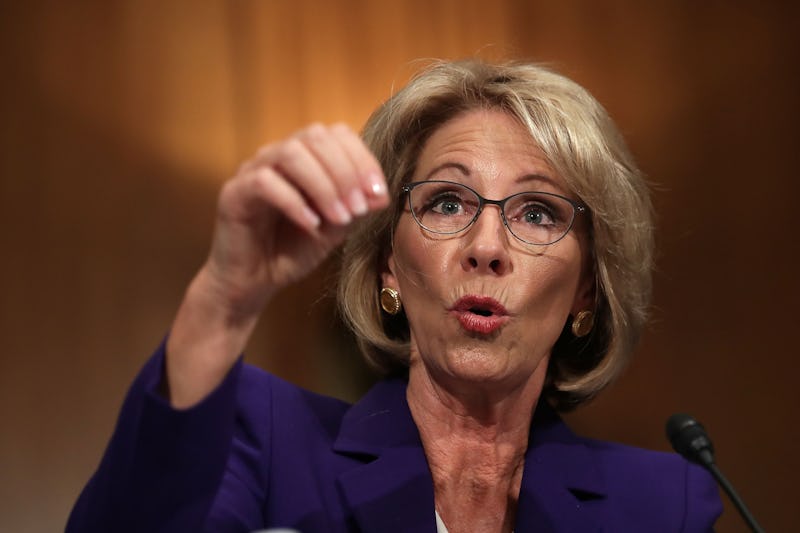 Chip Somodevilla/Getty Images News/Getty Images
A cartoon depicting newly (and narrowly) appointed Education Secretary Betsy DeVos has been making the rounds on the internet on Wednesday, and much like the secretary herself, causing quite an uproar. The problematic cartoon of DeVos takes its imagery directly from an iconic photo in American history, comparing DeVos to Ruby Bridges, an activist and the first black child to desegregate an all-white school in 1960s Louisiana. Its message is clear and highly offensive: the artist wanted to compare DeVos' appointment struggle to the desegregation movement at large. So, just who drew the DeVos cartoon? You've likely seen the conservative editorial artist's work before.
And that's because the outrageous image was drawn by Glenn McCoy, the co-creator of the Minions cartoons. While McCoy has been the artist behind some popular comics — such as The Duplex and The Flying McCoys newspaper strips — his most recognizable work was perhaps done as a storyboard artist on the set of Despicable Me, Despicable Me 2, and Minions. He has also worked as an artist for the Disney Adventures magazine.
McCoy doesn't seem to understand where the (very valid) criticism comes from, and is surprised by it, preferring to offer an explanation of why he believes his reasoning was valid.
In a statement emailed to Talking Points Memo, McCoy defended his work.
My cartoon was about how, in this day and age, decades beyond the civil rights protests, it's sad that people are still being denied the right to speak freely or do their jobs or enter public buildings because others disagree with who they are or how they think. I'm surprised that some readers see "hate" in this cartoon when I thought I was speaking out against hate.
McCoy went on to say that he drew inspiration from DeVos' run-in with protesters last week, when she was briefly blocked from entering a public school in Washington D.C. for a visit.
Though this is clearly a far cry from the experiences Bridges had to endure during the civil rights movement, McCoy concluded his statement by saying, "The level of toxicity in today's political climate has reached ridiculous levels. I regret if anyone was offended by my choice of metaphors but my intention was to focus on the protesters being hateful and to open up a dialogue on this point."
Well, if one thing's for certain, it's that his cartoon indeed opened up dialogue — just maybe not the kind he expected.