Abby May Not Stop A Jane & Rafael Reunion On 'JTV'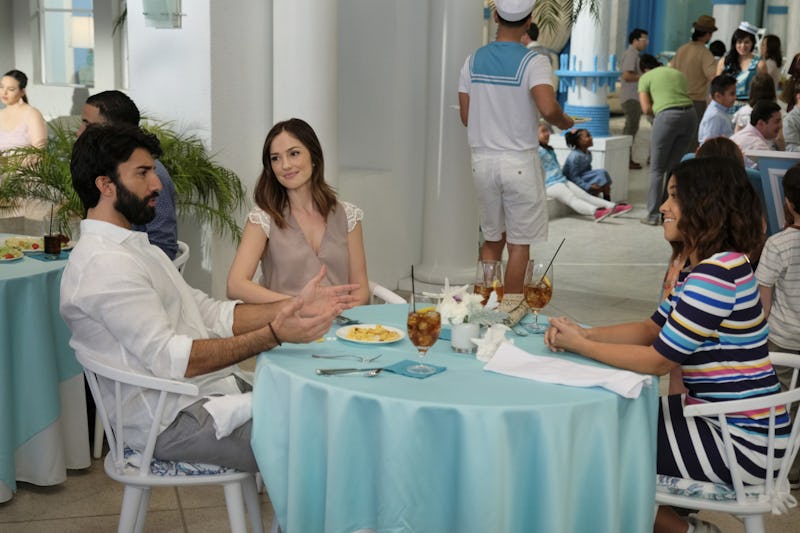 CW
A lot has changed for Jane Villanueva in three years, according to Jane the Virgin's recent time jump. [Spoilers Ahead!] The Feb. 13 episode showed a promising new life for Jane, easing skeptics that perhaps the show had time jumped the shark. However, the episode felt sort of like a pilot as we got reacquainted with our beloved characters. Jane is still working at the publishing job she landed just before Michael's death and her literary career looks promising as the episode ended with her landing a book deal. Yes, things are happening for Jane, but the character who had gone through the most change was actually Rafael. The biggest difference, other than the beard? Rafael has a new girlfriend on Jane the Virgin.
After the three-year jump, Rafael, played by Justin Baldoni, wears linen pants, dons a scruffy beard, and has adopted what the other characters call a "zen" attitude. The impetus for Raf's makeover an off-screen stint in prison. When we left off, Rafael was entangled in a relationship with Jane's cousin (that story still has not been revealed), found out he was adopted (still waiting for that ball to drop too), and realized he may need to serve time instead of using privilege and lies to evade justice after some illegal deals and covering up a stolen art collection. It turns out, Rafael came clean and served time since we last saw him around Michael's death.
Rafael's life after prison consists of peaceful, non-romantic co-parenting with both of his baby mamas, Petra and Jane. And, of course, a new girlfriend played by Minka Kelly, Abby Whitman. Viewers met Abby briefly at the beginning of the episode when Jane tells Rafael to tell Abby goodnight for her. It's all very amicable. Abby is in bed next to Rafael and we learn that the couple has been together for one year and never fought. We also learn that Abby has a pretty charming job: greeting card designer. How sweet. But, you know, who is she? In fact, when Abby briefly reappears near the end of the episode, the narrator says he forgot about her and makes a prophetic sounding joke about it. He says, in his Latin lover voice, "I almost forgot about Rafael's girlfriend Abby, which may be significant. But, that's for another day."
In a recent interview with Entertainment Tonight, Baldoni dished about Rafael's new girlfriend and what she means for his future. Baldoni said:
"The Abby character is hilarious and you'll see where it's going in a few episodes. It's a very fun story and it's interesting to see what happens between her and Rafael, and the dynamic between the two baby mamas ... She's very different. She's a greeting card designer, so she's very sweet and she's very unassuming, but yeah, I can't really say where it's going but it's going to be very fun."
However, fun doesn't necessarily mean it's going to last, so Jane and Rafael 'shippers shouldn't give up just yet. In the same ET interview, Baldoni said that putting Jane and Rafael in a good, "best friend" place may open them up to other opportunities. "What's great about [Jane and Rafael as friends], for all the Jane and Rafael shippers, is that if there were anything to happen in the future, is that there's a foundation for that, whereas before, there wasn't," Baldoni said. "As we know from the past, the friendship between Jane and Michael was what made their relationship so beautiful. Now, it's really nice to have a friendship with Rafael and Jane, where he can be honest with her or he doesn't have to be careful because he's pining after her all the time."
While we're all still grieving Michael — hey, Jane has had three years but we haven't! — fans can rest easy knowing that there is still hope for her ending up with one of her original guys.