How Super Bowl Announcer Al Michaels' Life Changed Thanks To A Cartoon Rabbit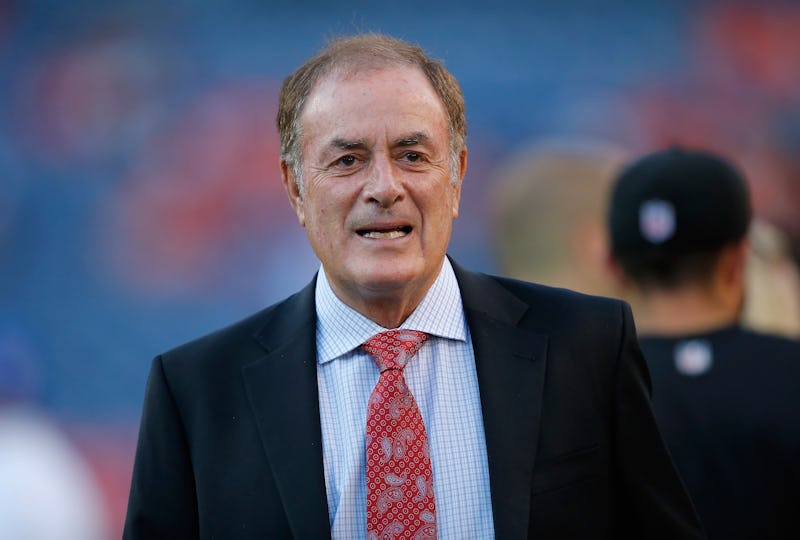 Doug Pensinger/Getty Images Sport/Getty Images
The 2018 Super Bowl will see the New England Patriots and the Philadelphia Eagles square off for a chance at football immortality. If you're watching at home, all the action will be described to you by an iconic longtime broadcaster. But if you don't already know who Al Michaels is, you'll probably want to familiarize yourself now, because you'll be spending a few hours of your Sunday with him.
Michaels, 73, has been a sports play-by-play broadcaster for more than 40 years, with his career beginning at ABC Sports in 1976. Throughout his decades-long tenure, he's provided the voice for a slew of iconic and historic moments in athletics, including the 1980 U.S. Olympic hockey team's "Miracle on Ice" victory over the Soviet Union, and the earthquake-stricken 1989 World Series between the Oakland A's and San Francisco Giants.
He's perhaps most known for his football coverage, however, having called Monday Night Football games for nearly two decades, from 1986 to 2005. In 2006, however, perhaps the most infamous and hilarious detail of Michaels' long career came to pass. Wanting to jump ship from ABC and ESPN to join former football announcer John Madden at NBC, Michaels was let out of his contract, but not without a price.
Rather, Michaels was effectively traded to NBC, on the condition that NBC would give the rights to an early Walt Disney character, Oswald the Lucky Rabbit, back to Disney. The deal was agreed to on both sides, and the rest is history. Michaels himself has joked about the situation, remarking that he'll "be a trivia answer someday."
Sunday night's Super Bowl call will be the 10th of Michaels' long career, which means he's seen a pretty broad cross-section of the ways such big games can go. He'll be calling the game with longtime broadcaster Cris Collinsworth, who'll be the "color commentator" ― rather than describing the action as it happens, in other words, he'll be providing context, analysis, and "color" between the plays. Sideline reporter Michele Tafoya will also be covering the game from down on the field.
One particularly relevant fact, which Michaels revealed on an episode of Sports Illustrated writer Peter King's podcast this week, is that he's called two previous Super Bowls in which a team has played its backup quarterback. And the outcomes of those games should give Eagles fans cause to feel optimistic.
"You know, it's so funny," Michaels told King. "I was just looking at the history of the Super Bowl and I've done both games with backup quarterbacks and they've both won."
The Super Bowls in question came in 1987, when Washington's Doug Williams defeated the Denver Broncos. Williams was also the first black quarterback to win a Super Bowl, in a sport where racist stereotypes often kept black athletes out of the quarterback position.
The second was in 1991, when New York Giants quarterback Phil Simms was injured and backup Jim Hostetler led the team to a Super Bowl victory over the vaunted Buffalo Bills.
If you're rooting for the Eagles this year, you'll definitely want Michael's trend of describing backup quarterbacks winning it all to continue. Philadelphia lost its starting quarterback, Carson Wentz, to injury in December 2017, and backup Nick Foles will be playing in his place.
But if you're a Patriots fan, you'll want this to be the first time Michaels has watched a second-string quarterback lose the big game. About as far from a backup as it gets, the 40-year-old Brady is widely considered the greatest quarterback of all time, having already won five Super Bowls, and two MVP awards.
No matter who comes away with the championship, however, anybody watching it at home will be listening Michaels describe all the action. Assuming you have the sound turned on, that is.