Trump Jr.'s Lawyer Has A Pretty Interesting Client List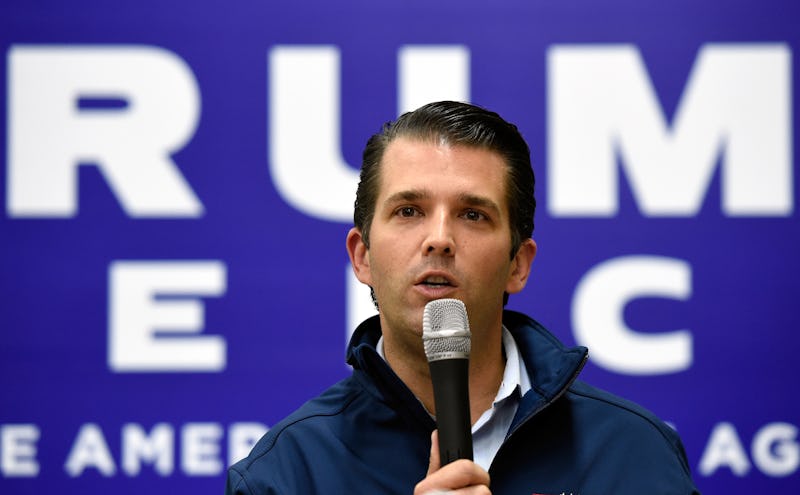 David Becker/Getty Images News/Getty Images
Just hours after Donald Trump Jr. publicly admitted that he met with a Russian lawyer to gather supposedly incriminating intel about Hillary Clinton, the president's eldest son officially lawyered up, and he chose a pretty interesting character to serve as his counsel. Back in 1994, Trump Jr.'s lawyer, Alan Futerfas, represented mobsters involved in a crime ring — now, he'll be representing Trump Jr. in the investigation of whether or not the Trump campaign colluded with Russian officials to sway the 2016 presidential elections.
Futerfas made his big-league debut in law through his high-profile defense of members of the Colombo crime family in Brooklyn, New York, after a power struggle left 10 people dead. In dramatic courtroom testimony, the young lawyer found that a top Colombo hit man was a former FBI informant who may have played a role in instigating the violence. Futerfas argued that the government orchestrated "a divisive conflict which would enable the FBI to make, it hoped, dozens of arrests and convictions."
He ultimately won the case, and, according to The Washington Post, became "a sought-after defense lawyer for accused mobsters."
After the Colombo victory, Futerfas started his own law firm, additionally representing the Gambino and Genovese crime families. He has spent the past three decades working on white-collar criminal cases, and in 2016, he represented a Russian citizen who was arrested for cyber crimes.
But Futerfas' life hasn't always revolved around mobsters and crime. In fact, before studying law, Futerfas studied bass trombone at the Juilliard School in Manhattan. He still plays the instrument for the Park Avenue Chamber Symphony, and even participated in a 9-date tour with the group in China in 2011.
Musical abilities aside, the allegations from which Futerfas is now tasked with defending Trump Jr. are pretty serious business. While no formal complaints have yet been filed against the president's son, Trump Jr. could face charges of conspiracy to commit election fraud.
According to the New York Post, Futerfas is a Democrat who supported Hillary Clinton in the presidential election and vocally criticized President Trump for firing Attorney General Sally Yates after she refused to cooperate with his travel ban in January. However, Futerfas told the Post that his political views will not stop him from vigorously defending the president's son from the "claims and innuendo" launched against him.
In a statement on Monday, Futerfas called the accusations "much ado about nothing," and stated that "the bottom line is, Don, Jr. did nothing wrong."
It's not yet certain when or if formal charges will be filed against Trump Jr. But it's pretty clear that he's armed himself with a skilled lawyer who has a number of victories under his belt to defend him from legal action.