Alexander Scaramucci, The Mooch's Oldest Son, Is Working In Los Angeles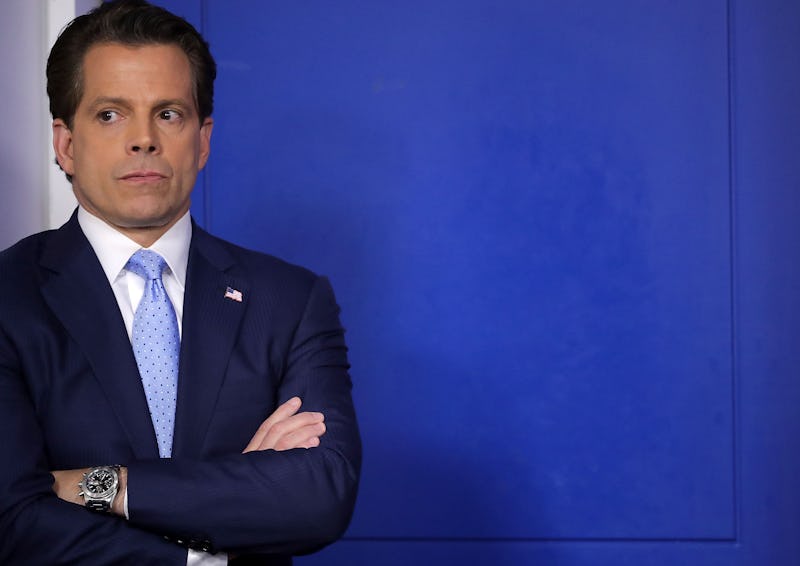 Chip Somodevilla/Getty Images News/Getty Images
Lots of attention has been paid to Anthony Scaramucci's family situation due to the most recent developments which include the birth of his baby and his wife filing for divorce. But he actually was already a father before his newborn son, James, was welcomed to the world last week. Scaramucci has three children from his marriage to Lisa Miranda and one with his most recent wife. His son Alexander Scaramucci is the oldest child of the former White House communications director who was fired on Monday.
Scaramucci's first wife, Lisa, and he were married for 23 years after meeting in church at Tuft's University in Massachusetts. Scaramucci is just 53 now. The Telegraph reported that their marriage started off well when the two both had little money. "When they were married, they had nothing, they were literally counting quarters in a jar to figure out what they were going to have for dinner that night," a friend of the couple told the British newspaper. But when they met financial success, problems reportedly began. Whether or not those problems were connected to finances, however, is the former couple's business only.
What did come out of their time was three kids. Alexander, who is also known as AJ according to The Daily Mail, is 24. According to his LinkedIn profile, he followed in his parents' footsteps and attended Tufts and then worked at Google for more than a year. Now he works at Peter Diamandis in the greater Los Angeles area as an "entrepreneur in residence," as he explains on his profile:
I work with Peter Diamandis across all of his ventures: XPRIZE, Human Longevity Inc., Planetary Resources, Bold Capital Partners, Singularity University, Abundance 360 ect.
Alexander's full siblings from the same marriage are Amelia, 21, and Anthony Jr., 18. Scaramucci and Lisa divorced in 2011 and since then have gone in very opposite trajectories. She was a Clinton supporter, for example.
As for the family's role in the current media coverage, it has been minimal. In fact, Scaramucci commented on coverage of them. "Family does not need to be drawn into this. Soon we will learn who in the media has class and who doesn't. No further comments on this," he posted on Twitter just a few days before being dismissed from the Trump administration.
He was not referencing his first wife and kids but the drama surrounding the birth and divorce of his most-recent wife, Deidre. She is the mother to his fourth child, their first, Nicholas, born in 2014. The New York Post reported on Saturday that she had filed for divorce three weeks ago.
His older children have for the most part been left out of the spotlight. And seeing how hectic things have been after Scaramucci's being fire, they're probably just fine with that.