Alisha Kramer Has Jon Ossoff's Full Support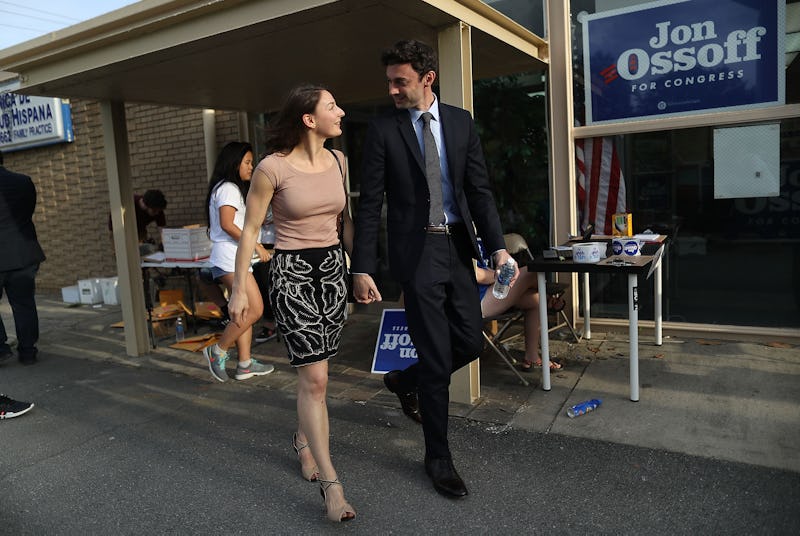 Joe Raedle/Getty Images News/Getty Images
Jon Ossoff, the 30-year-old Georgia Democrat who has a chance to win a seat on the U.S. House of Representatives in a district that has been a Republican stronghold for decades, has been receiving national attention over the past few weeks — and lately, his girlfriend has been sharing the spotlight too. After The New Yorker reported that Ossoff doesn't live in the district he is running to represent because he is living with his girlfriend outside district lines, there have been a lot of questions about Ossoff's girlfriend, Alisha Kramer. As it turns out, she's a full-time medical student with extensive research experience in global health and public policy.
Ossoff is seeking to fill Tom Price's vacant seat in the U.S. House of Representatives, following Price's appointment to Trump's Cabinet. Although he failed to secure the seat on Tuesday, he will face Republican candidate Karen Handel in a run-off election in June.
Ossoff grew up in Georgia's 6th District — and is now hoping to represent it — but he and Kramer are currently living together near the Emory University School of Medicine in Atlanta, Georgia, where Kramer is completing a degree in Obstetrics and Gynecology. This means that Ossoff can't actually cast a vote for himself since he is not a resident of the district. This has caused quite a stir among Republicans.
"I'm a mile and a half down the street to support Alisha while she finishes medical school. It's something I've been very transparent about. In fact, I'm proud to be supporting her career. As soon as she finishes her medical training, I'll be 10 minutes back up the road into the district where I grew up," Ossoff told CNN.
Ossoff and Kramer have been dating for 12 years, since both were still in their teens, and it looks like they may be the power couple that America needs. Both attended Georgetown University, where Ossoff received a degree in from the School of Foreign Service and Kramer studied Biology of Global Health, according to her LinkedIn page.
During her time at the university, Kramer worked with the Bill & Melinda Gates Foundation to lead research trips to Botswana, Ethiopia, and Switzerland. While there, she conducted research on HIV/AIDS, women's reproductive health, and U.S. multilateral engagement, and contributed articles for the Center for Strategic and International Studies.
She also played ultimate frisbee, and was even captain of the Georgetown University Huckin' Foyas, according to Heavy.com.
Now, Kramer is pursuing a doctorate at Emory University to become an OB-GYN, and she and Ossoff live near the campus so that she can easily walk to and from class. Some have taken issue with this, stating that Ossoff is placing his girlfriend above his duty to the district. But I for one find it refreshing to see that a male politician is publicly acknowledging that women don't have to give up their own careers to support their partner's aspirations.