So… You're Wondering Who Allison Janney's Hot Boyfriend Is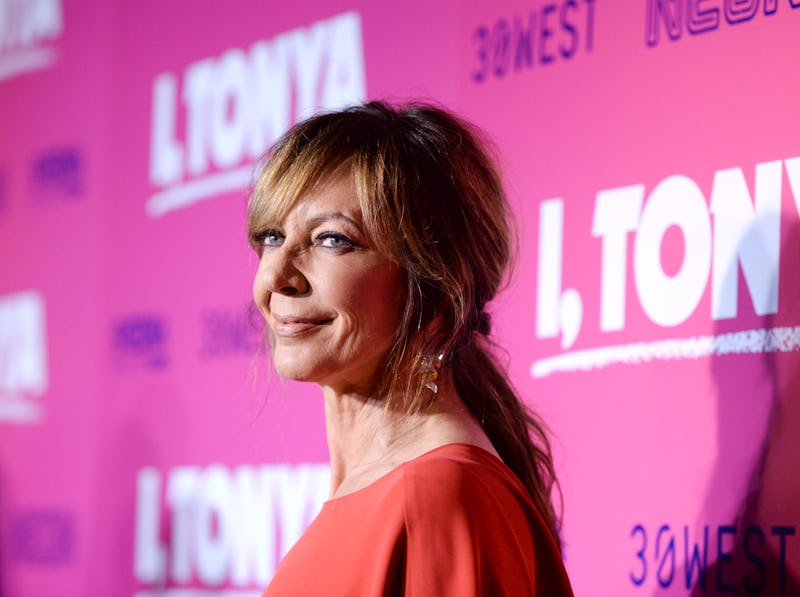 Vivien Killilea/Getty Images Entertainment/Getty Images
Seeing as though Allison Janney's nominated for a Golden Globe for her performance in I, Tonya, it's safe to say that she'll be attending the awards show. And it's probable that she'll attend the event with her, totally hot, boyfriend in tow. You may be wondering, as the pair walks the red carpet: Who is Allison Janney's boyfriend? The Mom star is dating a much younger man.
Janney has been dating her beau, Philip Joncas, for over about two years now. Although, the pair has been mum on specific details concerning their relationship, it's likely that they met when they both worked on the 2013 film The Way Way Back, as per Entertainment Tonight. Janney appeared in the movie as Betty and Joncas worked on the production side of things, as he has on multiple other projects including Silicon Valley and NBC's Red Nose Day special.
Other than his producing pursuits, Janney's boyfriend also has an artistic side, according to People. He wrote on his personal website that he collects paintings and photographs. It seems like art is something that the two have in common. Janney went on the record with Architectural Digest in 2016 to talk about her love of certain pieces of art. When the publication asked her about one thing she'd save in her home in the event of a fire, she replied, "If my boyfriend and dogs were safe, I would take the painting an artist did of my grandmother that I have in my living room. I love it."
ET's article states that the pair have potentially been dating since 2014, as Joncas, who is 20 years younger than his girlfriend, was pictured kissing the I, Tonya actor on the cheek at the Critic's Choice Awards that year. The two made their red carpet debut as a couple in 2015 at the Emmy Awards. When she won the Best Supporting Actress in a Comedy Emmy for her role as Bonnie in Mom, the couple even shared a sweet embrace before she went up to accept her award. He even held her purse as she went up to the stage, which shows that things are the (cutest) real deal with these two.
The pair were photographed together at the Sundance Film Festival, above, where Janney gushed about her boyfriend. She told E!'s Marc Malkin in 2016, "He's pretty handsome". Can't argue with you there, Janney. She also revealed that the pair had been dating for "about a year" at that point.
The two have indeed been going strong for a while now, which is probably what helped to prompt some engagement rumors recently. At the 2017 Emmy Awards, which she attended sans Joncas, Janney appeared on the red carpet with a huge diamond sparkler on her ring finger. But, there's a couple of reasons why those rumors didn't really hold any weight.
First of all, Janney has said in the past that marriage is not for her. When asked about a possible engagement between her and Joncas, she told E!, "I don't believe in that institution." Secondly, the actor's stylist, Sarpreet Gill, posted a photo on Instagram of her red carpet look, including the ring in question, per People. So, while she could have incorporated her own ring in her fashionable look, it's more likely that it was just fun piece to wear for the special night.
Even though the two aren't engaged, it seems like their romance is still going strong. According to UK's Express, Janney's said that she's "a romantic at heart." And it looks like she's staying true to herself since her adorable romance with Joncas is going so swimmingly.