Allison Williams' 'A Series Of Unfortunate Events' Character Is Going To Be Vital In Season 3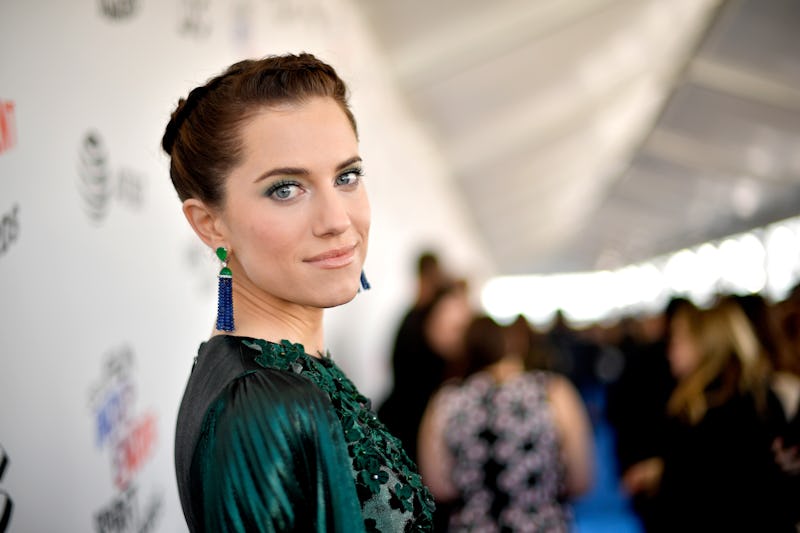 Matt Winkelmeyer/Getty Images Entertainment/Getty Images
There are more terrible mysteries to unravel as one of Netflix's most cryptic series debuts its second season, and plenty of important characters to the books' plot have not yet been introduced. And now, a new casting announcement has people wondering who Allison Williams is playing in A Series Of Unfortunate Events. Spoilers ahead for A Series Of Unfortunate Events Season 2 and the book series.
I regret to inform you, dear reader, that you'll just have to wait and see — Deadline reported that Willaims' role was always meant to remain a mystery until people saw it with their own eyes as the show began to stream. Williams doesn't show up until the final moments of the Season 2 finale, and even when viewers see her, details of who she is are completely absent. Entertainment Weekly also reported that the Get Out star is currently filming the third season of the young adult series in Vancouver, so answers are supposedly coming eventually. There are plenty of characters yet to be introduced in the Netflix series, and as Season 3 will cover the last few books, there's a ton to speculate upon.
One theory is that Williams is playing Kit Snicket, sister of Lemony and Jacques. In the books, Kit first appears in The Grim Grotto, the first book upon which the third season will be based. Kit is a hugely important character in the last few books of the series — she's a member of the mysterious V.F.D. organization, just like the orphans' parents. When she meets the orphans, she whisks them off in her taxi to Hotel Denouement and tries to help get them some answers and escape Count Olaf once and for all. Ultimately, she shoulders some of the main conflict of the series' final moments. It'd be a big role to step into, but Williams could totally pull it off, and ScreenRant notes it as a definite possibility.
Another possibility is that Williams portrays Fiona, another character introduced in The Grim Grotto, the long-lost sister of the Hook-Handed Man, and someone who ultimately joins Count Olaf's troupe. This seems more unlikely, as it's a much more sinister role and Williams' brief appearance onscreen didn't appear to be a dark one, but anything is possible. There are also a few female characters introduced in the final book, The End, but most of them are Islanders who aren't in the series for any huge amount of time, so these aren't particularly attractive guesses. The series has maintained truth to its source material in large part, but there's also always the idea that they might add an entirely new character to tell parts of the story in a way that the books didn't.
A Series Of Unfortunate Events takes an even darker turn in its second season, and as Lemony Snicket constantly tells readers and viewers, the story only gets worse as things go on. So the third season will likely prove even heavier in mood. "Tonally, we have more action, and things are little darker and sadder," executive producer Barry Sonnenfeld told Entertainment Weekly of the second season. Williams may have started her career playing a tightly-wound, privileged, millennial New Yorker in Girls, but if her incredibly creepy and unsettling role Get Out is any indicator, she'll definitely be comfortable delving into the bleakness of this show's universe.
As A Series Of Unfortunate Events is known for its completely outrageous storylines, Williams' surprise appearance in the show automatically lends itself to plenty of twists and turns — especially since viewers still have no idea what to expect from this new addition.