This Steely Villain Could Pull Caitlin Away From 'The Flash' Team Permanently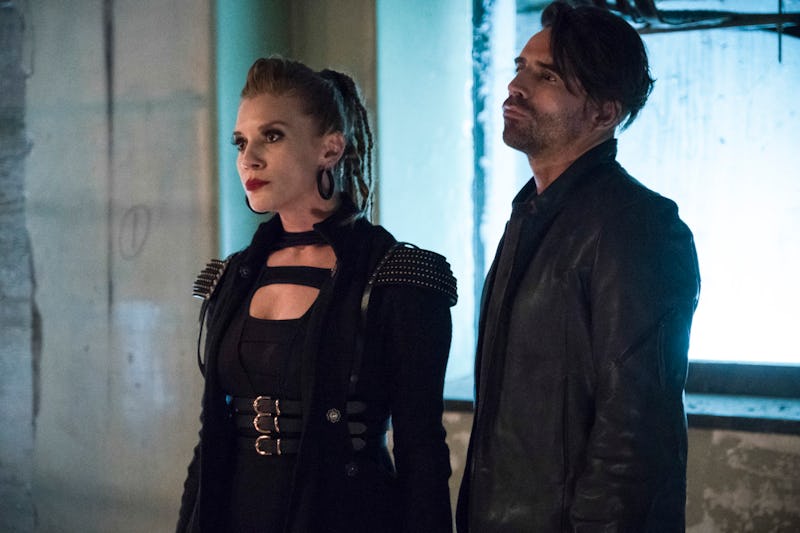 Jeff Weddell/The CW
Whatever the situation, you can always guarantee that The Flash universe won't have peace and stability for long. In the Nov. 7 episode, the CW series is introducing a new villain to bust up Iris and Barry's pre-wedding partying. Amunet Black on The Flash is played by Katee Sackhoff and also known by another name: the Blacksmith.
Well, if you're not familiar with this existing DC character, you're about to fall in love with her badassness. Amunet left a threatening message for Caitlin at the tail end of "Elongated Journey Into Night," and she'll be making her full-episode debut in "Girls' Night Out," where she'll surely put a wrench into Iris and Barry's joint bachelor and bachelorette party plans. In the comics, Amunet Black runs "The Network," the biggest black market in Central and Keystone City, trafficking supervillain contraband between the two cities. And she's often a foe of Jessie Quick and the rest of Team Flash.
In addition to her considerable influence as the leader of The Network, Amunet was canonically married to fellow Flash foe Keith Kenyon, also known as Goldface (who's also battled the Green Lantern). And while two bad guys are always better than just one, this union produced more than just evil romantic chemistry — it also made literal chemistry.
In The Flash issue "Crossfire Part Three: The Thinking Man," Goldface explains to Barry that when Amunet and Goldface divorced, she took some of his elixir, which transformed her. After stealing Goldface's elixir, Amunet received the power of mechanokinesis, or the ability to control mechanical objects with her mind. This makes her go from a human woman to a fusion of human and machine. After getting her powers, Amunet is also blue and glowing, something that's not going to make this particular adaptation. That's a bit unfortunate, since it actually gives her an imposing air in the comics. The absence of her glor suggests that the Flash version might not have the power to control metal and technology.
Sackhoff from Battlestar Galactica is reportedly joining the cast on a recurring basis this season, according to Entertainment Weekly. And based on what Flash executive producer Andrew Kreisberg said to EW in a different interview, fans will be very excited to see her stick around. "Katee Sackhoff is so amazing in the show," Kreisberg said. "What she's done and the performance that she has brought to the character is so beyond anything you'd expect from her. I think people are really going to be delighted. She is most definitely not playing Starbuck." As her iconic Battlestar character, Sackhoff was headstrong, determined, and deeply principled, so it sounds like Amunet is going to be truly villainous.
It's already clear from the cliffhanger at the end of "Elongated Journey Into Night," Amunet is going to be joining the show as a part of Caitlin Snow's backstory as Killer Frost. Caitlin may finally feel ready to rejoin Team Flash, but it looks like Amunet would prefer that Killer Frost remain a part of her "Network," and, when Amunet loses a follower in the comics, she's prone to erasing their memory. That could mean that if Amunet can't convince Caitlin to embrace her inner Killer Frost, she might have some other form of manipulation up her sleeve.
But while Amunet is surely setting up a big conflict for Caitlin, the other members of Team Flash are always there to support her. Do it would take a lot to divide her from the group completely.
Whether or not Amunet is a metahuman, or just Central City's resident black market owner, the Blacksmith is already a formidable adversary for Team Flash.