Amy Schumer's Sister Is Just As Talented As She Is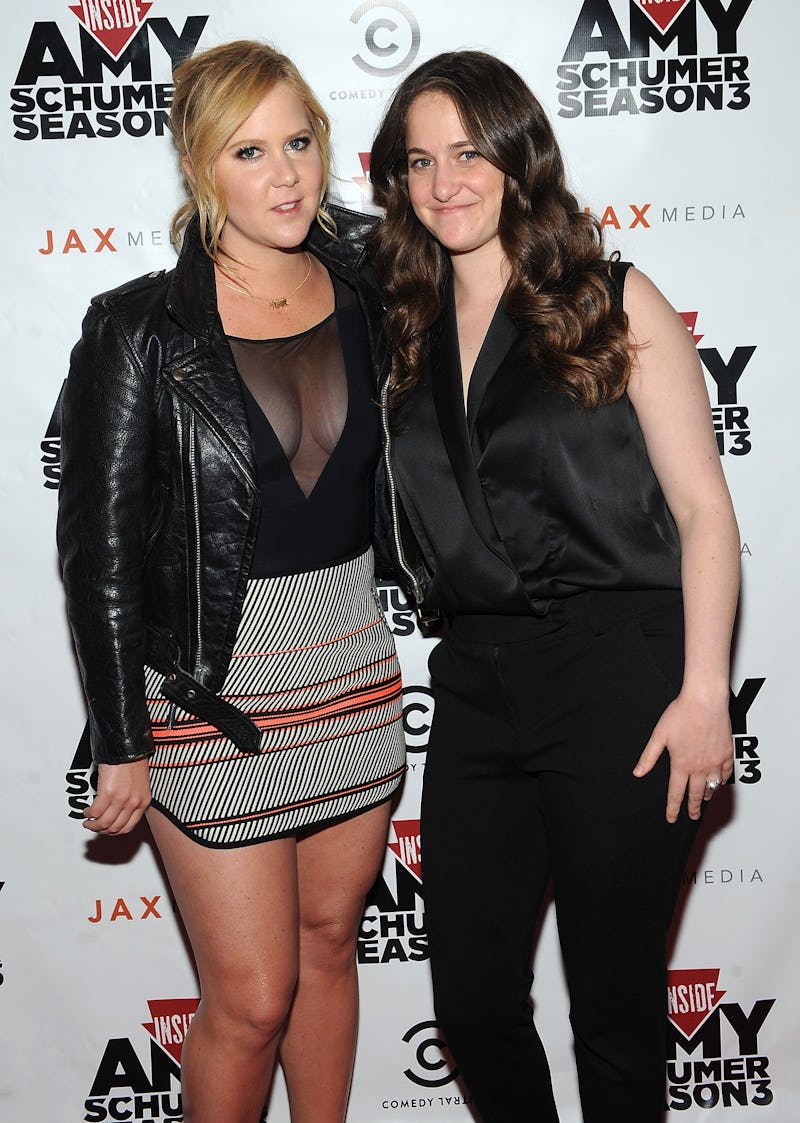 Brad Barket/Getty Images Entertainment/Getty Images
You obviously know who Amy Schumer is, but what about someone near and dear to her? You might find yourself often wondering about just who Amy Schumer's sister is, especially since she's constantly sharing photos of her on Instagram. Her name is Kim Caramele and she is as equally talented as her big sister. She also has a lot in common with Schumer, like the fact that she is hilarious, knows comedy, and is making a name for herself in the entertainment world.
You probably recognize Caramele, because she has accompanied her sister, the star of Inside Amy Schumer, to awards shows. But she is so much more than her sister's date. Caramele has quite the career and has also contributed greatly to Schumer's.
Basically, there is no need to refer to Caremele as "Amy Schumer's sister" anymore. Though, that's something Caramele isn't really worried about. As she told the Daily Beast in April 2016, "I don't look at it as a shadow at all. I think a shadow denotes some negativity. Really every experience I've had working with Amy has been really positive."
And with that, let's get to know Caramele a little bit better.
She's A Writer & Producer
Writing is something Caramele knows a lot about. Not only has she written for her sister's show, Inside Amy Schumer, but she's also tied to the live-action Barbie script in which Schumer may star in the titular role. As for her producing credit, Caramele was an associate producer for Trainwreck and also served as a producer on Inside Amy Schumer.
She's Also An Actor
You can spot Caramele in several different projects, including the above Old Navy commercial, Inside Amy Schumer, and Trainwreck. Anyone else think she'll make a cameo in Barbie?
She Knows Psychology
Before getting into the entertainment business, Caramele worked as a school psychologist for a few years in Chicago, according to the Daily Beast. However, that is all done and over with, because she is now a writing and producing success.
She's Won An Emmy
This is just another thing she has in common with Schumer. Alongside her sister and everyone else who worked on Inside Amy Schumer, she won a 2015 Emmy for Outstanding Variety Sketch Series.
She's Happily Married
Caramele and her husband live in Chicago with their beloved dogs. Per the Daily Beast, she met her hubby her freshman year of college. "I got married because I happened to meet my best friend and fall in love pretty young," she said. "But I never thought I was going to get married. Amy and I grew up very similar in that having a husband isn't anything we ever dreamed of or played at as kids. That just happened to be how it worked out for me."
She Loves Her Dogs — A Lot
And here are their two dogs named Gilda and Abbott.
She & Amy Are BFFs
I think this one is pretty much a given, but as Schumer told the Daily Beast in August 2016 about their close relationship, "It really weirds people out. We've had tough lives. So we really needed each other. Maybe after my book [The Girl With the Lower Back Tattoo] or something that will make more sense to people."
Caramele is definitely just as cool and talented as her big sis.