Andrew McCabe Might Be The Next To Go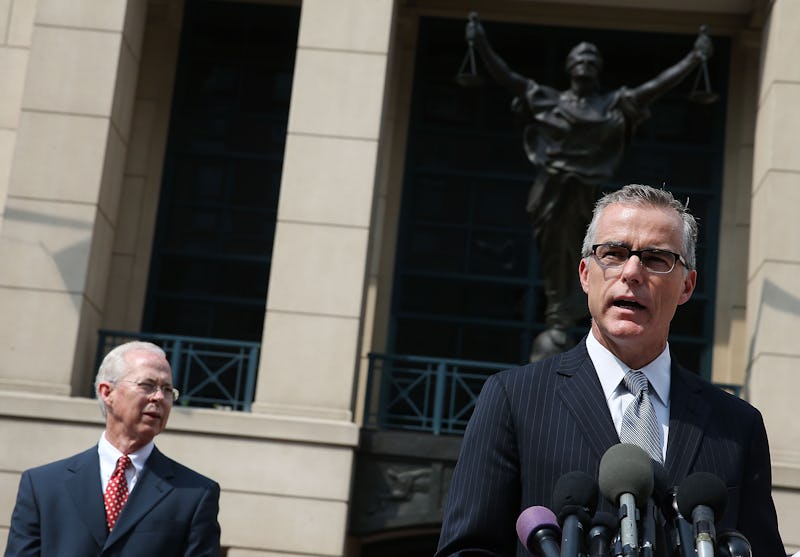 Mark Wilson/Getty Images News/Getty Images
After the Trump administration's abrupt firing of FBI Director James Comey on Tuesday, CNN has reported that the agency's second-highest ranking official, Andrew McCabe, will serve as acting director until a permanent replacement is selected.
"By operation of law and effective immediately, Deputy Director Andrew McCabe assumed the position of Acting Director of the FBI," Attorney General Jeff Sessions said to FBI employees in a memo obtained by CNN, effectively transferring Comey's authority to McCabe late Tuesday evening. The 49-year-old official currently serves as deputy director of the FBI; he has worked with the agency for more than 20 years, holding leadership positions in the Counterterrorism Division, the National Security Branch, and the Washington Field Office, according to an FBI press release.
But just hours after this announcement was made, some were already calling for McCabe's dismissal. He was the subject of a conflict of interest scandal after his wife, Dr. Jill McCabe, received thousands of dollars in campaign contributions from a Clinton operative during her unsuccessful Virginia State Senate bid in 2015. Critics felt that the $500,000 contribution from Terry McAuliffe — a longtime fundraiser for the Clintons and the current governor of Virginia — was inappropriate, given that McCabe was involved in the FBI investigation of Clinton's emails at the time.
McCabe has denied any wrongdoing, and maintains that he consulted with the FBI and ethics officers before his wife decided to run for office. He also reportedly tried to minimize a potential conflict of interest by staying out of his wife's campaign, and all decisions made at the FBI regarding Clinton were reportedly made by Comey, not McCabe.
But this isn't the only controversy that he has been involved with in his role as FBI deputy director, to which he was appointed by Comey in January 2016. McCabe may have violated Justice Department rules in February when he and Comey spoke with White House Chief of Staff Reince Priebus about the FBI's ongoing investigation into Russian interference in the 2016 election.
If all of these insane political twists aren't enough to make your head spin, there's more: The Daily Beast reported that federal law enforcement sources are already circulating rumors that McCabe may be resigning, or fired, from his position in the next few weeks, though no specific reason for this has yet been made clear. (Bustle has reached out to the White House for comment.)
Comey's firing took many FBI officials by surprise, and officially naming an interim replacement seemed to add at least a semblance of stability to the agency. But given the controversy and rumors surrounding acting FBI director McCabe, that stability may be short-lived.