Beth From 'Death & Nightingales' Might Only Be 21 But Her Career Is Absolutely MEGA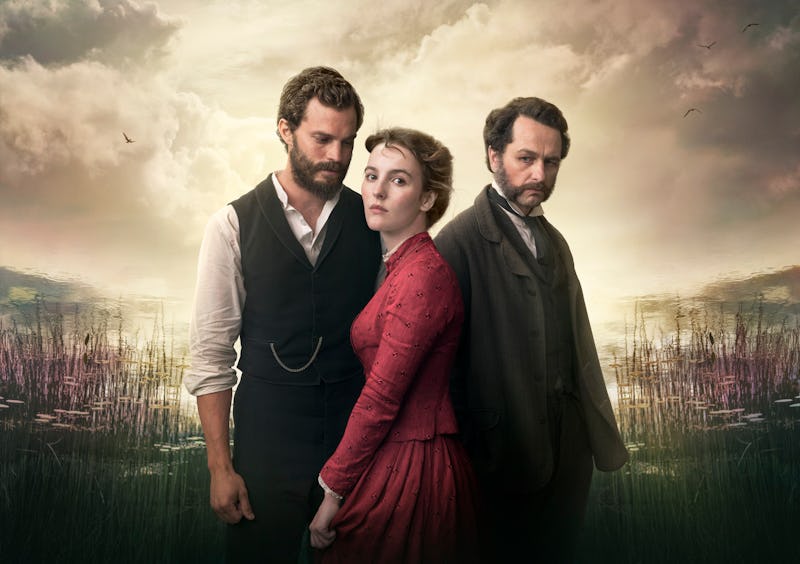 BBC/Night Flight Pictures Ltd 2018/Helen Sloan
Breathtaking Irish countryside, a bitter love triangle, and a plot line so clever it will keep you guessing to the end — sign me up, I'm ready. Death and Nightingales premiers on Nov. 28 at 9 p.m. on BBC Two and prepare yourself, it looks immense. Jamie Dornan takes on a leading role as Liam Ward in the tale of love, betrayal, and death. It is going to be seriously juicy. But who is Ann Skelly? Playing the lead role of Beth alongside Dornan, Skelly has not stopped working since she got her first role and if the trailer is anything to go by Death and Nightingales might be the big break that she so deserves.
Skelly is no stranger to lights, camera, action. She has been honing her craft for a long time. Despite being only 21 years old she has a wealth of experience behind her. Living in Wexford with her family, she travelled to Dublin to attend the Irish Film Academy from a young age, reported the Irish Independent. She told the Irish Examiner she has been working towards her goal since she was three. She said, "I'm very lucky. I didn't like school, I always liked learning on my own. I found school got in the way of your own kind of learning."
She got her first big break on Irish crime drama, Red Rock. She took on the role of 15 year-old Rachel Reid when she was just 17 herself, the Irish Examiner reported. Speaking about how she prepared for such a major role at such a young age Skelly told the publication, "I remember when I started in the role, I didn't really have any method or technique, I just did it. I related it back to when I was 15 and what it would be like if I was in those circumstances at that age."
Taking on controversial and often challenging story lines including murder will hopefully prepare Skelly for what's to come in Death and Nightingales. She played Rachel Reid on Red Rock from 2015- 2017 and afterwards told the Irish Independent, "I would love to do something really far away from me and out of my comfort zone." It is almost as if you can hear her determination just by reading her words, I love it.
During her time on Red Rock she also starred in the five part mini-series, Rebellion which aired in Ireland in 2016. The drama told the story of the Easter uprising in 1916, with Skelly playing the role of Biddy Lambert. Next she took on the leading role of Candice in the film Kissing Candice. The thriller written and directed by Aoife McArdle sees Skelly as a disillusioned 17-year-old who escapes the her mundane reality by losing herself in her imagination. Candice soon ends up in a hell of a lot of trouble when she becomes obsessed with troubled Jacob. This film is spine tinglingly good, definitely one to watch if you like being kept on the edge of your seat.
Despite being so young, Skelly is clearly more than capable of playing a wide range of characters and I can't wait to see her as Beth. Her latest project, drama Death and Nightingales is based on the book of the same name by Eugene McCabe. It tells the story of her character Beth's 23rd birthday. The three-part series covers 24 hours in which Beth attempts to join her rugged love interest Liam Ward (played by Dornan) and as the title suggests, with devastating consequences.
Speaking about what attracted her to Death and Nightingales in the first place in a BBC press release she said, "I've never read a script like it before and I can't believe that book existed and I didn't know about it. It's such a beautiful adaptation by Allan and it's really remarkable. It's a different take on a period piece with a young woman at the centre. It's not just looking over misty hills, there's a lot of action and terrible things happen." Well, that might be too much suspense for me. I can hardly wait.
If gritty period dramas are your cup of tea you are going to love Death and Nightingales. I can't wait to see Skelly in action and by the sounds of things she hasn't stopped pushing for success since she was incredibly young. It will be so refreshing to watch a period drama with a woman at the centre and I know Skelly is going to play the part of Beth to perfection. Death and Nightingales starts on Nov. 28 at 9 p.m. on BBC Two.