Anthony Scaramucci Isn't The Only One In His Family With A Big Year Ahead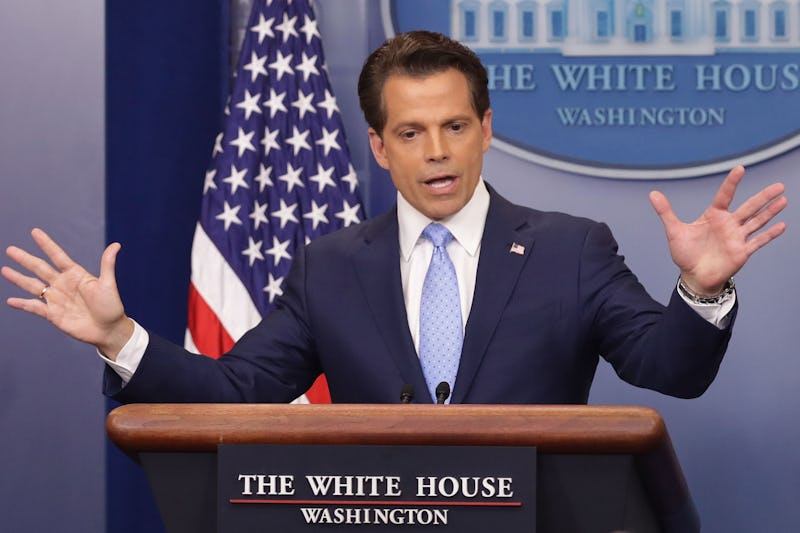 Chip Somodevilla/Getty Images News/Getty Images
Last week, Anthony Scaramucci was named as President Donald Trump's new communications director, an appointment which reportedly resulted in the resignation of Trump's former press secretary, Sean Spicer. As Americans are getting to know Scaramucci, they also likely want to know more about his family, including his son, Anthony Scaramucci Jr.
Scaramucci and his family hail from Manhasset, New York, though the senior Scaramucci is originally from Long Island. The Scaramuccis are a family of three, consisting of Scaramucci, his wife, Deidre, and his son, Anthony Jr.
Anthony Jr. attended Manhasset High School, a top-rated six-year public high school with over 1,000 students enrolled. During his time at Manhasset High, Anthony Jr. played on the lacrosse team as a longstick midfielder, according to the lacrosse website, Lax Lessons. Not to mention, Scaramucci appears to be a fan of watching his son play, as he previously uploaded footage on his son on the playing field to his vine account.
Anthony Jr. graduated from high school this year. According to the New York Post, Scaramucci recently threw an elaborate graduation party for his son at Midtown's Hunt & Fish Club steakhouse, of which he is co-owner. The Post reported that he hired DJ Clue and French Montana to provide musical entertainment for the celebration.
According to the Connecticut Post, Anthony Jr. will continue to play lacrosse in college, which he will begin this fall. The younger Scaramucci is enrolled at Sacred Heart University, a private school in Fairfield, Connecticut, where he will play for the university's Pioneers.
The Connecticut Post also reported that the elder Scaramucci appeared to reference his son's college plans on Twitter last weekend, when he tweeted a photo of a graduation cake with the Sacred Heart shield on it, alongside a graduation cap, diploma, and Anthony Jr.'s lacrosse jersey. However, the tweet has since been deleted, possibly as a part of Scaramucci's recent Twitter purge, in which he indicated that he would be deleting some old tweets so they would not be a "distraction" from his new job as White House communications director.
As Scaramucci begins his role as communications director and his son, Anthony Jr., begins college this autumn, it is clear that 2017 marks a year of significant change and transition for the Scaramucci family. Even with his dad in the spotlight, however, hopefully Anthony Jr. will be able to carve his own path as he enters adulthood and begins an exciting new college experience.