A Florida Man Asked 911 To Call Trump In The Middle Of A Police Chase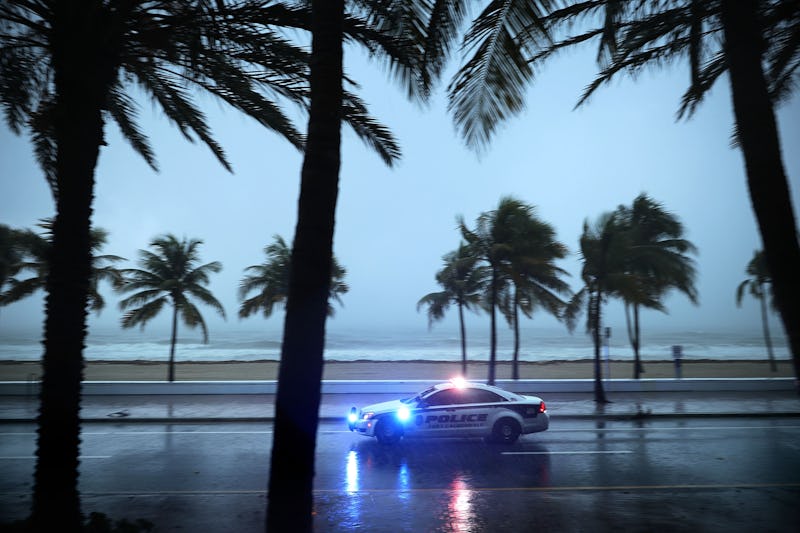 Chip Somodevilla/Getty Images News/Getty Images
Early Tuesday morning, a man in Ochopee, Florida, who was fleeing from police came up with a creative solution to his predicament. During a 7-mile car chase, 33 year-old Aric Leon Frydberg called 911 and asked for Trump. The police dispatcher declined, but Frydberg insisted he had "a deal" with the president.
"Donald Trump is a close friend of mine," he told the dispatcher who took his call. The dispatcher responded by instructing Frydberg to pull over, which Frydberg declined to do for at least seven minutes.
That morning, Frydberg had reportedly been found parked by the Ochopee Post Office. When police stopped by to investigate what Frydberg was doing, they reportedly found a bag of pot in his car. But when the deputies attempted to confiscate it, Frydberg reportedly stuffed the bag in his mouth and drove away, beginning what would ultimately become a 7-mile chase down Route 41, a highway that begins in Miami and ends in Michigan.
While fleeing, Frydberg called 911 and told the dispatcher he needed help. "There's a police officer chasing me," he said. "I was pulled over on the side of the road."
The dispatcher told Frydberg to calm down, and then he could be heard saying to someone else, "He dialed 911, the runner." He then asked Frydberg, again, to calm down, but Frydberg continued to ask for help, even when the dispatcher assured him that he was being followed by an actual police officer.
"I was on the side of the road," Frydberg responded, his voice high-pitched and urgent. "I was on the phone with my uncle. He's a Marine in Texas." Frydberg then alleged that the deputy who attempted to confiscate his pot entered his car and hit him "in the face."
Frydberg and the dispatcher continued to bounce back and forth in this manner — Frydgberg begging for help and the dispatcher urging him to pull over and follow instructions from law enforcement. About a-minute-and-a-half into the call, Frydberg asked the person on the other end of the line to contact his mother. "Call my mom, call my mom," he said. "Please call my mom."
After the dispatcher told Frydberg that the police would take care of his request to speak with his mother, Frydberg switched up his approach. A little over two minutes into the call, he requested that the dispatcher put him in contact with Trump, alleging that he had a close relationship with the president.
"I want to speak to President Trump," he said. "I want to speak to the president of the United States of America." The dispatcher attempted to interrupt him, but Frydberg continued, saying, "President Trump is a close friend of mine. We made a deal, and it wasn't his fault." Frydberg then went off on a tangent, alleging some sort of conspiracy between himself and "the Jewish community."
Still unable to convince the dispatcher to aid him in the way that he wanted, Frydberg said he needed to rush to his mother, who he claimed had been in an accident. "My mom called me and said she was in a car accident in Homestead," he said. "My flesh and blood was in a car accident and I have to stop and help you."
After nearly seven minutes, Frydberg goes quiet and the call ends. According to the Huffington Post, he was eventually stopped by the police and then arrested. Police reportedly found glass pipes coated in marijuana residue.
According to a local Fox syndicate, Frydberg was later charged with tampering with evidence, resisting an officer, and two counts of battery of an officer. In his mugshot, Frydberg has significant wounds near his nose, but it's not clear how or when those injuries were sustained. As for his alleged relationship with the president, his Facebook page does list him as both an "Apprentice at Trump Financial" and an "Executive Assistant to CEO/President at Trump Financial." However, it also lists nearly a dozen other concurrent occupations.