A Woman Ran Against A Politician Because Of His Super Sexist Joke — And Won By A Landslide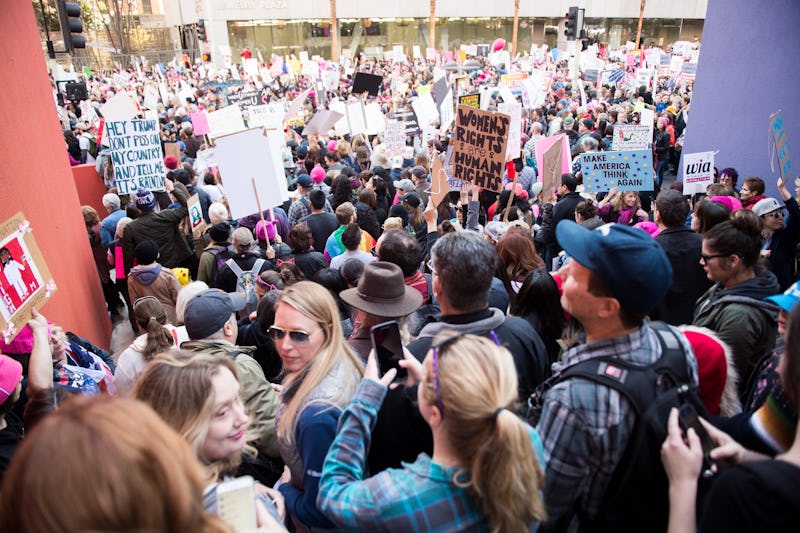 Emma McIntyre/Getty Images Entertainment/Getty Images
The internet is forever, so the saying goes. And for New Jersey Republican John Carman, a meme posted to his Facebook page that mocked the Women's March set off a blowback one year in the making. Ashley Bennett, a New Jersey Democrat who ran for Atlantic County's Board of Freeholders, defeated Carman in Tuesday's election. And according to Bennett, it was Carman's sexist post ridiculing the Women's March that inspired her to run.
According to NJ.com, Carman posted the meme during the Women's March on Jan. 21, one day after President Trump's inauguration. Carman shared a picture to his personal Facebook page featuring a woman cooking with the caption, "Will the woman's protest be over in time for them to cook dinner?"
Carman immediately came under criticism and subsequently deleted the post. He told the PressofAtlanticCity.com at the time, "I fully support women's rights and issues," adding, "I thought it was funny. People need to lighten up."
One person who didn't find it funny was Bennett. The 32-year-old is new to politics, this being her first run for office. She works as a psychiatric emergency screener at a hospital. According the Women's March organization, Bennett came to an Atlantic County Freeholder's meeting to protest Carman, and ended up deciding to run for his seat as well.
Dozens of women came out to protest Carman's remarks. One reportedly showed up with a box of macaroni and cheese, with the intention of telling Carman to cook dinner for himself. Among that original group of protesters was Bennett, who responded to Carman's refusal to apologize at the time. "I walked out because you had the entire time to sit and collect your thoughts, and hear what people were saying," she said, "and instead of apologizing and saying you could do better, you disrespect people and say the people you surround yourself are strong. There are a lot of people who are strong."
After her Tuesday win against Carman, Bennett told Philly.com, "People want change. I am beyond speechless and incredibly grateful to serve my community. I never imaged [SIC] I would run for office."
Out of 14,000 ballots cast in the election, Bennett won by 1,000 votes, making her margin of victory a substantial one.
"I am beyond speechless and incredibly grateful to serve my community."
Carman's mocking Women's March meme was not the only incident that landed the former Republican official in hot water. He'd also come under criticism after a photo of him wearing a vest with a Confederate flag patch surfaced. Carman said the photo was related to a political debate and was not meant to offend anyone.
Bennett was connected with the Run for Something organization, according to the group's Twitter. Run for Something is dedicated to recruiting and helping candidates under 35 run for political office. The group's website says it will "recruit and support talented, passionate young people who will advocate for progressive values now and for the next 30 years, with the ultimate goal of building a progressive bench."
Bennett's win is part of a string of victories for Democrats across the nation during Tuesday's elections. In closely-watched races for governor in both New Jersey and Virginia, Democrats beat out their Republican opponents. Virginia's race wasn't even close, and the swing towards the Democratic winner, Ralph Northam, is illuminating. As Eric Bradner points out for CNN, Democrats won Loudon County by just five points in 2013, but on Tuesday, Northam won it by 20 points. The results in Virginia were so positive for liberal candidates that Bradner also speculates Terry McAuliffe, the outgoing Democratic governor, will be a 2020 presidential contender.
Democrats also won mayoral contests in Charlotte, North Carolina and St. Petersburg, Florida.
Twitter was abuzz for Bennett especially, as the inspirational story behind her run was too good to pass up without comment.
Tuesday was a great night overall for Democrats, and a really great night for first-time candidate Bennett.