Meet The Texas Democrat Who Could Flip The State To Blue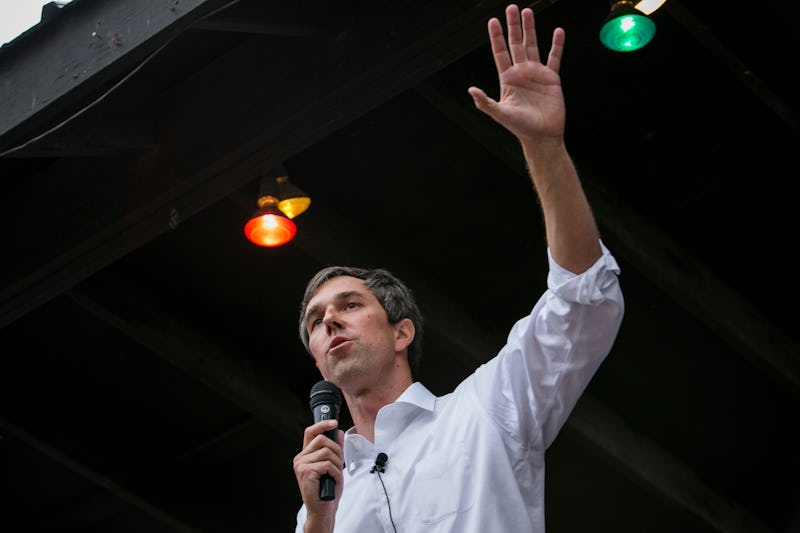 Drew Anthony Smith/Getty Images News/Getty Images
Although it's been a Republican stronghold since the mid-90s, the Lone Star State's politics might soon reflect the blue in its iconic flag. The presidential election had special resonance for Texas, which publicly excoriated Sen. Ted Cruz and made the state's proud political tradition something of a mockery. Now, the 4 million Texans who voted Democrat in November are turning to one man to represent them against Cruz in 2018. Rep. Beto O'Rourke could flip Texas for the Democrats, starting a movement in the Senate that could carry into 2020.
O'Rourke has all the makings of a leader that could be successful in this new era of celebrity politics. O'Rourke, a fourth generation Irish-American who was denied entry into the Congressional Hispanic Caucus because he's not actually Hispanic, is a fluent Spanish speaker with a Spanish nickname (short for "Roberto" even though his actual name is Robert). He went to Columbia University and played in a Brooklyn punk band before moving back to his native El Paso to run for local government. In fact, it's almost difficult not to draw a parallel between him and Trump — he's a white guy who's figured out how to sincerely ingratiate himself into communities that he doesn't actually have much in common with. The difference seems to be that O'Rourke's alignment is chaotic good instead of chaotic evil.
The main thing O'Rourke has going for him is the shifting demography of the state, which has been majority-minority (composed of more ethnic minorities than white people) since around 2004. Although it's not an exact measurement by any means — 29 percent of Hispanics voted for Donald Trump — the large minority population does give O'Rourke an inherent advantage over Republicans whose rhetoric has increasingly alienated people of color and immigrants. Plus, some argue that Cruz won his seat in an electoral fluke, and his latest job approval ratings definitely leave him vulnerable to a charismatic challenger like O'Rourke.
However, O'Rourke's biggest disadvantage, other than his party affiliation, may be his regional background. O'Rourke represents El Paso, which is the smallest and most remote of the state's major cities. It's a full 10-hour drive from Houston, the largest city and home to the most voters. The state's size, and his dominion over just a small corner of it, puts O'Rourke in a blistering catch-22 — he can set up camp where he has his most loyal supporters, or he can be close to the action without a solid electoral support system.
That being said, Houston and Austin — and increasingly Dallas — are home to liberal factions that have been itching for a candidate worth fighting for. O'Rourke, a young, charismatic family man could be that guy, and Texas's minority and millennial population is desperate for a change after Trump.
Furthermore, his candidacy could be the key to flipping the Senate entirely — if Texas can buck the notion that it's a hinterland for Democrats, other states might be able to do the same. This will be one of the biggest races to watch in 2018, because it's all going to snowball into the 2020 political showdown of the century.