The Reason Why A Judge Posted His Entire Sexual History On Facebook Will Piss You Off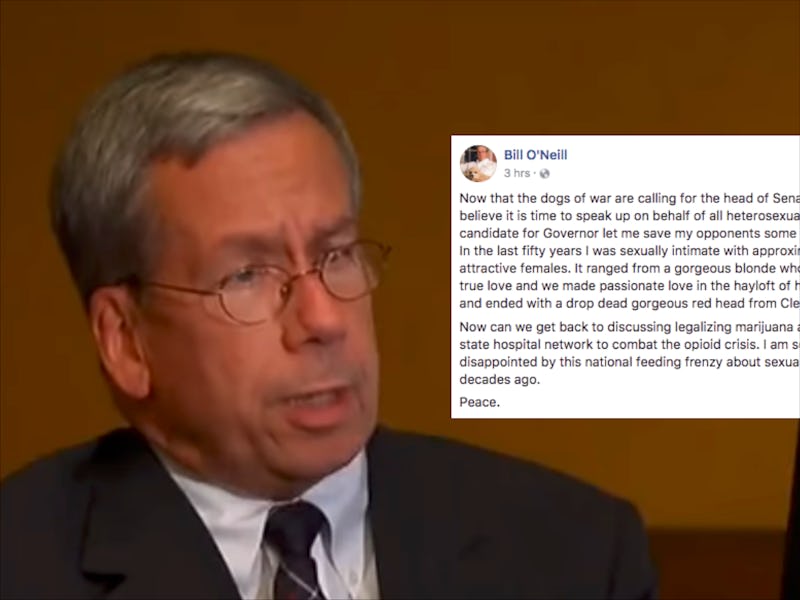 WCPO.com/YouTube
On Friday, a sitting member of the Ohio state Supreme Court published a bizarre Facebook post detailing his sexual relationships and defending a pair of scandal-rocked politicians. Namely, Justice Bill O'Neill defended Al Franken and Roy Moore, all while publicly claiming he'd had sexual relationships throughout his lifetime with "approximately 50 very attractive females."
Yes, you read that right. The full post was first published on Friday morning, and although O'Neill reportedly edited it after the fact, the original has been preserved by people who took screenshots right after it went up. The text of O'Neill's first version is as follows:
Now that the dogs of war are calling for the head of Senator Al Franken I believe it is time to speak up on behalf of all heterosexual males. As a candidate for Governor let me save my opponents some research time. In the last fifty years I was sexually intimate with approximately 50 very attractive females. It ranged from a gorgeous blonde who was my first true love and we made passionate love in the hayloft of her parents barn and ended with a drop dead gorgeous red head from Cleveland.
Now can we get back to discussing legalizing marijuana and opening the state hospital network to combat the opioid crisis. I am sooooo disappointed by this national feeding frenzy about sexual indiscretions decades ago.
According to Cleveland.com, O'Neill confirmed that he wrote the post — no hacking or other such tomfoolery in this case — and went even further, offering a defense of Moore. Although the gubernatorial aspirant and high court judge conceded that Moore appears to be a "challenged" person when it comes to morality, he also noted that Moore has not been convicted, and suggested he's having his due process rights violated.
"Roy Moore apparently seems to be a challenged individual when it comes to morality," he said. "I think that's very, very clear. He's been convicted of nothing and he's never had the opportunity to defend himself and that violates due process in America. The media is about to determine the election of a United States Senate campaign."
The 70-year-old Moore has been accused of sexually predatory behavior by multiple women who were teenagers at the time of the alleged offenses, including an accusation of molestation of a 14-year old girl, and an accusation of sexual assault of a 16-year-old girl.
Moore has vehemently denied all the allegations against him, portraying them as politically motivated, false smears, and attacking the media for its reporting.
Some of O'Neill's early rivals for the Democratic nomination for governor have already leapt on his remarks. One, Betty Sutton, said she was "appalled" that O'Neill would equate sexual assault with indiscretion, and called on him to immediately resign from the state Supreme Court.
Another Democratic woman seeking the governor's office in 2018, Dayton mayor Nan Whaley, echoed those sentiments in her response to O'Neill.
"Sexual harassment, degrading and devaluing women is not a joke," Whaley tweeted on Friday afternoon. "Justice O'Neill should resign."
Connie Pillich, a former member of the Ohio House of Representatives, also condemned O'Neill's remarks and called for him to resign. As such, all three women currently announced for the 2018 governor's race are calling for O'Neill to get out.
Thus far, there's no indication that O'Neill plans to take their advice, however. The judge was first elected to the Ohio Supreme Court in 2012, and his current term runs through 2018. He announced his intention to run for governor of Ohio just weeks ago, on Oct. 29.
It'll be a wide-open primary field for both parties, with Republican Governor John Kasich forced out due to term limits. So far, O'Neill is one of six Democrats to enter the race, alongside Whaley, Sutton, Pillich, Dave Kiefer, and Joe Schiavoni.