Who Is Billie Lourd, Carrie Fisher's Daughter?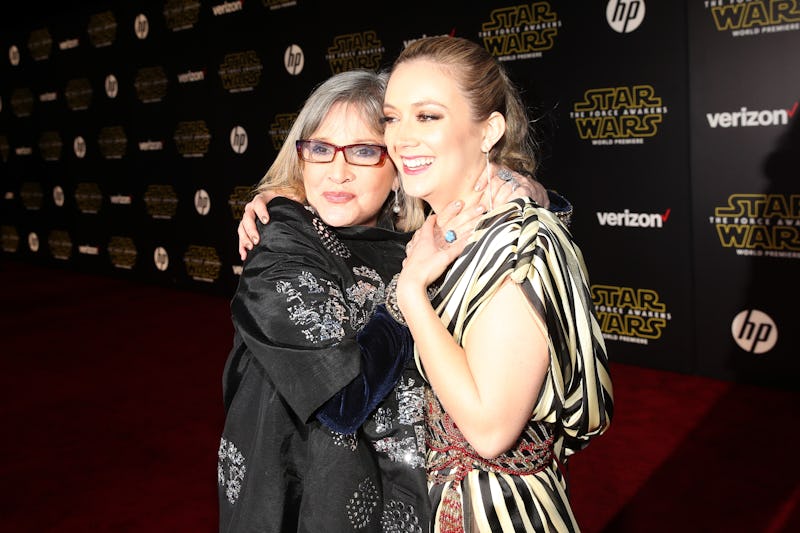 Jesse Grant/Getty Images Entertainment/Getty Images
News of Carrie Fisher's death on Tuesday was devastating to her legion of fans. Her work on the Star Wars franchise cemented her status as a legend; her writings about her struggles with mental illness and addiction provided hope to people fighting similar battles. Another significant part of this legacy, though, is Carrie Fisher's daughter, Billie Lourd, who at 24 is already a successful actress in her own right.
Lourd is Fisher's daughter from her relationship with talent agent Bryan Lourd, which ended in the 1990s. Billie has already begun a successful acting career, including a main role on Ryan Murphy's Scream Queens and a smaller role as Lieutenant Connix in Star Wars Episode VII: The Force Awakens, in which she worked alongside her mother. Lourd reportedly will also reprise the part in the upcoming sequel.
Lourd's publicist released a statement about Fisher's death on Tuesday afternoon that quoted the young actress, telling People magazine, "She was loved by the world and will be missed profoundly. Our entire family thanks you for your thoughts and prayers." Fisher was clearly proud of her daughter. In her 2008 book Wishful Drinking, she wrote that Billie was "amazing" and "my most extraordinary creation."
Actress Jamie Lee Curtis, who works with Billie on Scream Queens, shared a black-and-white image of Lourd on Instagram on Tuesday afternoon, captioning the image, "My mother's heart goes out to this exquisitely talented young woman. Her mother's spirit and talent lives on in her and I'm sure all of Carrie's fans and friends will give her space and privacy."
J.J. Abrams, who directed Lourd in The Force Awakens, has also publicly praised her talent, telling E! News that she is "clearly going into the stratosphere."
Billie's mother is not the only famous actress in her family, either. Fisher is also survived by her mother and Billie's grandmother, Debbie Reynolds, who is also a famous actress, particularly for roles in Singin' in the Rain, and The Unsinkable Molly Brown. Millennials may know her best as Grandma Aggie in Disney's Halloweentown.
A Hollywood childhood might be too much for many people, but according to Fisher, Lourd turned out just fine. An anecdote from Wishful Drinking describes Fisher's reaction when a teenage Lourd suggests she might want to be a comedian:
So I say, 'Well, baby, if you want to be a comic, you have to be a writer. But don't worry, you have tons of material. Your mother is a manic-depressive drug addict, your father is gay, your grandmother tap dances, and your grandfather shot speed! And my daughter laughs and laughs and laughs, and I say, 'Baby, the fact that you know that's funny is going to save your whole life.'
Fisher was clearly proud of her only daughter, who seems poised for a long, successful career.