Trump's New Hire Is Going To Change Things Up For 2020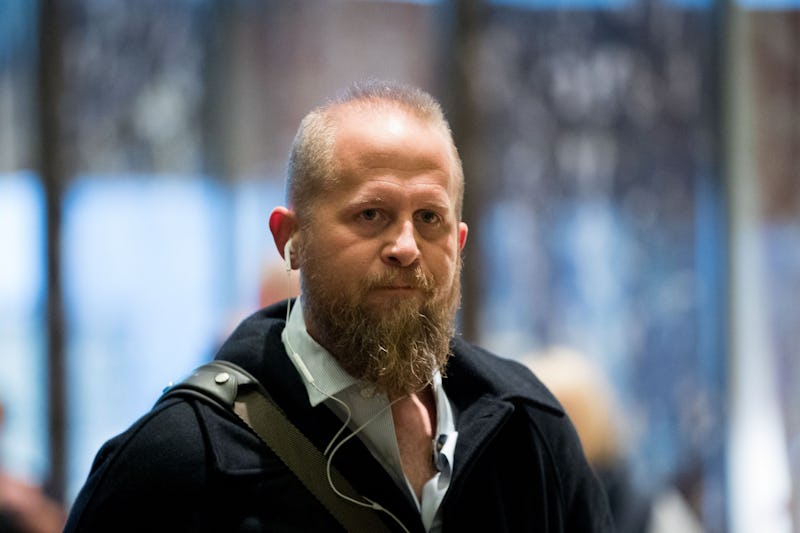 Drew Angerer/Getty Images News/Getty Images
President Trump is already gearing up to run for re-election, and Brad Parscale was reportedly named Trump's campaign manager for Trump 2020. The president will officially announce his re-election campaign on Tuesday, according to The Drudge Report. As campaign manager, Parscale will play a huge role in the 2020 election, bringing along his experience as the 2016 Trump campaign digital director.
Parscale, 42, started working for Trump in 2011 by designing websites and a digital strategy for the Trump Organization. When Trump announced his bid for president, Parscale was reportedly one of the first people he called. Parscale's San Antonio-based firm, Giles-Parscale, had already built an exploratory campaign website and needed to turn it into an official 2016 campaign site. At the time, Parscale told The San Antonio Business Journal, "There is no guarantee that he will continue to use us 'til the end. But it looks good so far."
Promoting a former digital director to the role of campaign manager highlights how important online advertising will be for Trump's 2020 campaign. Considering Parscale believes social media was the cornerstone of Trump's 2016 win, the focus is no surprise. As he told WIRED in 2016: "Facebook and Twitter were the reason we won this thing. Twitter for Mr. Trump. And Facebook for fundraising."
While the previous Trump campaign dominated the internet, many of its tactics were controversial. Parscale oversaw efforts to discourage African-Americans from voting for Clinton using Facebook "dark posts." As Parscale explained "dark posts" to Bloomberg: "Only the people we want to see it, see it." One such Facebook post included an illustration that read: "Hillary Thinks African Americans are Super Predators."
As a key member of the Trump 2016 campaign, Parscale has also come under FBI scrutiny in the agency's Trump-Russia probe. A conservative data firm Parscale hired to work for the 2016 campaign wanted to help WikiLeaks founder Julian Assange be more strategic with the stolen Clinton emails. CNN reports the company's CEO was keen on creating a searchable database for the documents, but the company claimed he never got ahold of Assange to follow through on the plan. Parscale reportedly told Senate and House intelligence committee members he wasn't aware of Russian interference in the 2016 election.
Bloomberg reported just before the 2016 election that it was actually Trump son-in-law, Jared Kushner, who chose Parscale to grow the campaign's online presence. The "digital guru" quickly earned the family's trust, as Bloomberg reported that he considers Kushner "nearly a brother" and was "one of the few within Trump's crew entrusted to tweet on his behalf."
After years working for the Trumps, Parscale has said he's loyal to the family. "Donald Trump says 'Jump'; I say, 'How high?'" he told Bloomberg in 2016.
Still, hiring a campaign manager nearly three years out from the 2020 election is an odd move. President Obama officially announced his 2012 re-election bid in April 2011. Though Trump filed re-election paperwork the day he was inaugurated as president, bringing on 2020 staff in 2018 is historically early. It does mean Parscale will begin getting a paycheck for his role as campaign manager, however.
Trump went through three campaign managers in the 2016 election. One of them, Paul Manafort, has been at the center of Special Counsel Robert Mueller's investigation into the Trump campaign. Manafort has been charged with bank and tax fraud, conspiracy, money-laundering, being an unregistered agent for a foreign entity, and making false statements.
With the FBI still investigating the 2016 campaign, Parscale enters murky territory running the 2020 campaign. Nevertheless, his commitment to the Trump family made him a shoe-in for the job.