GOP Senators Think A Man Who Practiced Law For 3 Years Is Qualified To Be A Federal Judge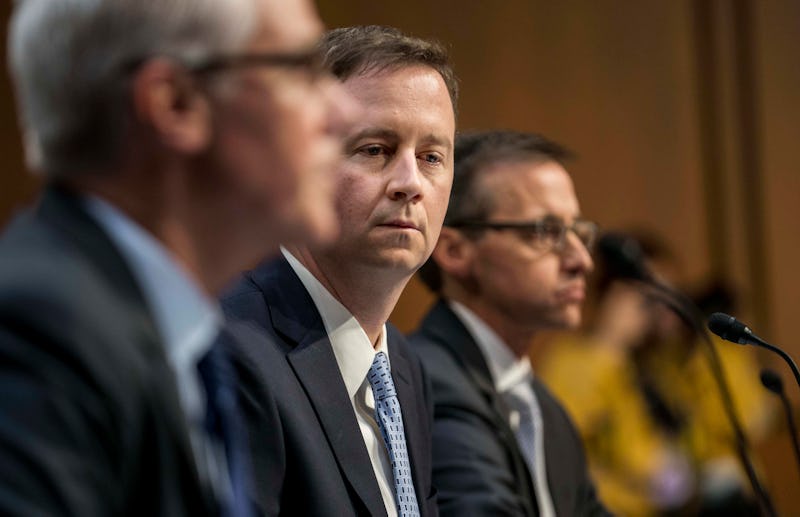 The Washington Post/The Washington Post/Getty Images
Since Donald Trump took office as president, Congress has wasted no time in filling vacancies in the federal courts with conservative appointees. This week, they moved ahead on this mission when the Senate Judiciary Committee approved the nomination of a lawyer who has never tried a case, Brett Talley, to a lifetime federal judgeship in Alabama.
Talley, 36, attended Harvard Law School and has only practiced law for three years. He has made his political views well known in a number of blog posts and tweets published prior to his nomination. In one post, Talley issued a "call to arms" for readers to join the National Rifle Association following efforts by the Obama administration to implement stricter gun control measures after the Sandy Hook school shooting. Talley also, oddly enough, reviews books and horror movies on his personal site.
Before a Senate panel voted along party lines to approve the young lawyer's nomination, the American Bar Association (ABA) issued an evaluation of Talley that deemed him "Not Qualified" for the position. In a letter to senators Chuck Grassley and Dianne Feinstein, ABA chair Pamela Bresnahan wrote that the committee believes that Talley does not "presently have the requisite trial experience or its equivalent" in order to effectively serve in a federal seat. She noted, however, that the committee does not question Talley's "integrity or temperament," and that he "has great potential to serve as a federal judge."
The decision was a blow to activist groups that have been working to counter Trump's federal appointments. The Leadership Conference on Civil and Human Rights condemned the Senate Judiciary Committee's recent approval of a number of nominees that the organization deems to be unqualified, including Talley. And Ben Wikler, the Washington director of progressive policy organization MoveOn.org, urged constituents to tell their senators to vote no on Talley's nomination.
As NPR reported, since 1989, only four people have been ranked not qualified to be federal judges by the ABA, and two of these ratings took place under Trump. Prior to Trump's arrival in office, the Republican-controlled Senate prevented the confirmation of many of President Obama's nominees to federal benches. The Brookings Institution released a report on the increase in vacancies back in 2015, noting that as the Senate had become more ideologically divided, Obama nominees for federal judgeships faced a tougher road to confirmation:
The Senate in the final two years of both Clinton's and Bush's presidencies had fairly robust confirmation records, accounting for roughly a fifth of each president's full eight years of confirmations. Senate majorities did not put the confirmation process on ice in order to make the maximum possible number of vacancies available for their party to try to fill if it prevailed in the presidential election.
As Brookings predicted, Republicans did indeed make a conscious effort to preserve vacancies in the final years of the Obama administration, thus paving the way for the high number of conservative nominees that are advancing to federal benches today.
During Talley's questioning period, Senator Dianne Feinstein did note that the lawyer's lack of experience was unusual for a nominee to a federal judgeship, saying, "Your overall qualifications and preparation for becoming a lifetime- appointed federal judge are of concern to me, especially since the American Bar Association has not yet issued a formal rating on your nomination."
But even Republican members of the Judiciary Committee who have been resistant to Trump's agenda — notably Senators Ben Sasse and and Jeff Flake — chose not to oppose the unconventional nominee, suggesting that they see longterm gains to be made from appointing a Republican to a lifetime seat. Iowa Senator Chuck Grassley, who chairs the committee, wrote in a statement that he trusts the senators who nominated Talley, and that the lawyer "has a wide breadth of various legal experience that has helped to expose him to different aspects of federal law and the issues that would come before him."
From what we know about some of the other nominees that have been brought before the Judiciary Committee, Republicans' support for Talley is not a one-off thing. The president has said that these appointments will have consequences 40 years out, and it's likely that other members of his party see an opportunity to capitalize on that.