What You Need To Know About The Man Leading Trump's Hurricane Harvey Response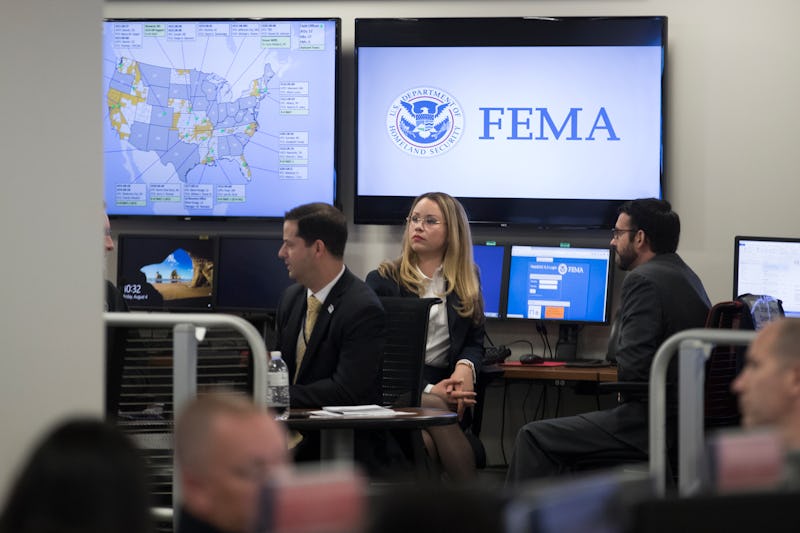 Pool/Getty Images News/Getty Images
Hurricane Harvey made landfall on Corpus Christi late on Friday night, battering Texas with winds as high as 130 miles per hour. The Federal Emergency Management Agency (FEMA) stood ready to respond as best as they could to one of the biggest hurricanes in recent years. If you're watching Hurricane Harvey closely, you may be wondering: who is Brock Long, the FEMA administrator whom many — including President Trump — are turning to for updates?
William "Brock" Long has only been in the role of FEMA director since June, when his nomination was confirmed by the Senate. Long, however, has worked at the agency before — according to NPR, he was a FEMA regional manager during President George W. Bush's administration, later leaving the post to become Alabama's emergency management director.
As the head of FEMA, Long is responsible for preparing residents and making sure basic supplies such as canned food and bottled water are available. NPR reported that Long's strategy as FEMA director is to prepare residents as best as possible for something like Hurricane Harvey, but first response actions are up to state and local governments, as well as residents themselves.
"We have to think about the way we train our citizens and refocus these programs to give them lifesaving skills," Long said, according to NPR. "[Including CPR and] how to shut off the water valves to your homes — how can they do simple search and rescue in their communities after these disasters?"
Amid a major hurricane like Harvey, FEMA's emergency management plans only go so far. After Harvey was downgraded to Category 1 from Category 4 as it made landfall late Friday, authorities cautioned that there is expected to be "catastrophic" flooding that could last days.
Long has been tweeting updates about the hurricane on his social media account for days now. On early Saturday morning, after Harvey's wind speed decreased and it was downgraded in category, Long warned Texans that it could turn deadly, given the torrential rain that will batter the state through the weekend. "Citizens of TX, this is now turning into a deadly inland event," Long tweeted. "Thoughts and prayers are with you."
Hurricane Harvey is the first natural disaster that the Trump administration is facing. Rainfall is expected to last for days, with Harvey predicted to end on Tuesday or Wednesday. The full extent of Harvey's damage will not be known until then, and many will be watching to see how FEMA — and Trump —responds.