Caitin Stickels Is A Model You Need To Know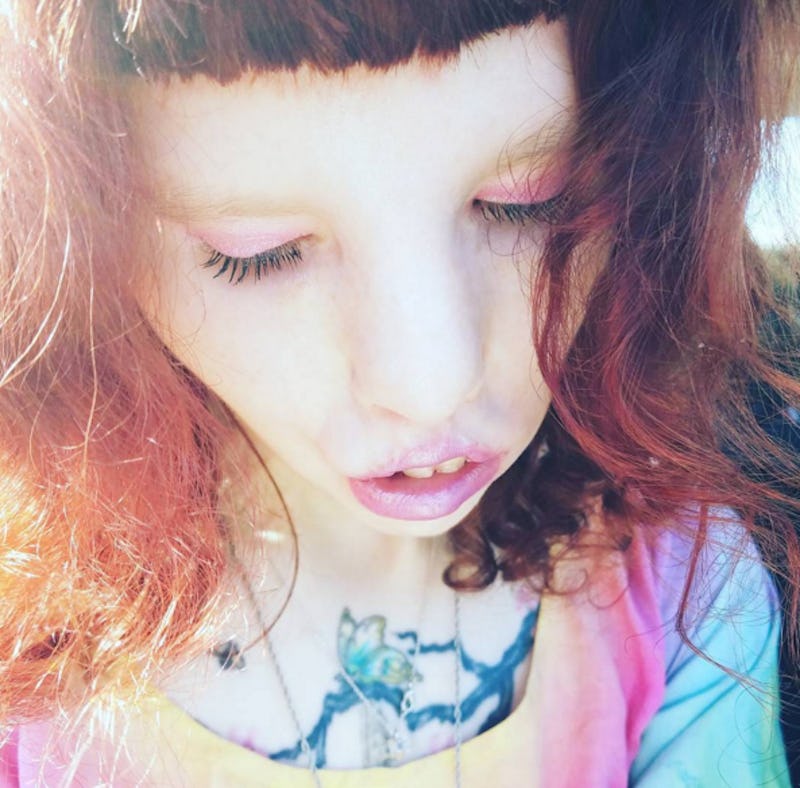 caitinkitten/Instagram
The fashion industry is in need of diversity. In 2017, we've begun to see more inclusivity than ever before, but somehow, there is always room for (much) more. Representation of models with disabilities is one area in which the industry is still severely lacking, but hopefully that will be changing soon, in part thanks to models like Caitin Stickels. The model with a rare genetic disorder recently posed for V magazine, and the editorial couldn't have been more stunning.
Stickels is all for pushing the envelope. In her first-ever photo shoot as a professional model, she's posing in avant garde clothing, almost as if she's dressed for some sort of ethereal wonderland. But here, it's not just about fashion, it's about something greater than that.
"I always admired brilliant artists with miraculously creative minds, especially in the fashion industry where being human isn't often expected to be accepted or displayed in an artistic way," she said in the accompanying article for the magazine. "However, by using the easily accessible foundation of fashion, those who would take that risk, the ones who could sense the story in an article of clothing and find the proper voice to share it with, those were people I always looked up to as inspiration for my own aspirations in reaching out to the world. Even if it's through the beauty of fashion, it's still to expose the authenticity of humanity all the while."
And it really doesn't get more authentic, more human than this. According to Cosmopolitan, Stickels was born with Schmid-Fraccaro, also known as Cat Eye Syndrome.
Schmid-Fraccaro is "a chromosome abnormality that affects many different parts of the body. The signs and symptoms of the condition vary widely but may include abnormalities of the eyes, ears, anal region, heart and/or kidney," according to the Genetic and Rare Diseases Information Center. The disorder can cause the pupil to split, hence the term "Cat Eye Syndrome."
Cosmopolitan reports Stickels was discovered on Instagram by photographer Nick Knight, who went on to photograph her for the V spread.
Aside from being a model for V Magazine, she's a 29-year-old based near Seattle who, according to her Instagram, dabbles in modeling, acting and singing. Before this photo shoot, she was perfectly happy in her "small art world."
"I was content being small in my small world doing the art that I do — and they took me to Cloud 9 instead," she wrote. She shared her thoughts on the incredible experience of posing for Nick Knight with the magazine. "Working with Nick Knight at SHOWstudio for V Magazine was something I couldn't have even dreamed of, to be perfectly honest," Stickels wrote.
"I never dreamed of being a model or being a part of the fashion industry. I always admired from afar and meanwhile tried to recreate my own expressions through fashion, photography, and art... This collaboration has been the most beautiful whirlwind of my life."
I think most could agree that this has been a "beautiful whirlwind" for the rest of us, too.
Because when it comes to defying narrow beauty standards it just doesn't get more refreshing than this.