Guitarist Changes His Mind About 2nd Amendment After Las Vegas & His Powerful Post Explains Why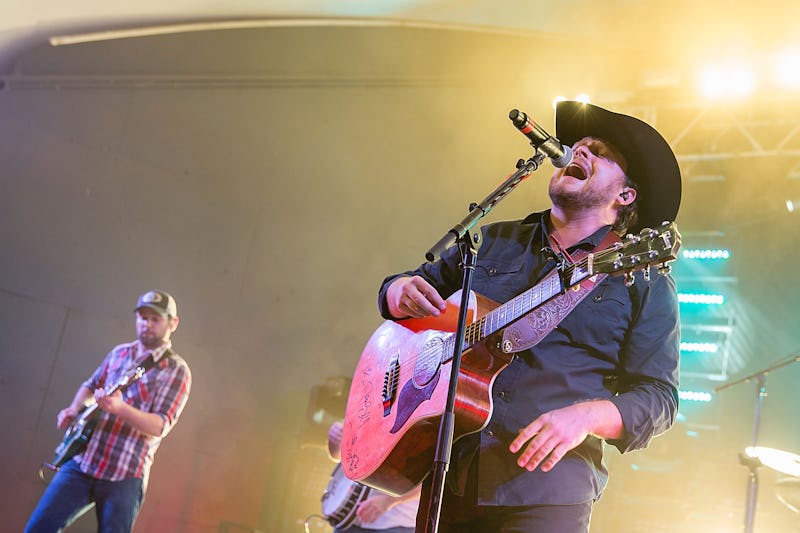 Rick Kern/WireImage/Getty Images
In the worst mass shooting in American history, a man open-fired on a country music festival crowd in Las Vegas on Monday, killing at least 58 people and injuring 515 more. The horrific massacre caused at least one musician who performed at the festival to have a political transformation: Guitarist Caleb Keeter opposed gun control before the Vegas shooting, but announced afterwards that he "cannot express how wrong" he was on the issue, and that "we need gun control RIGHT. NOW."
"I've been a proponent of the 2nd amendment my entire life," Keeter, who plays guitar for the Josh Abbott Band, wrote on Twitter Monday. "Until the events of last night. I cannot express how wrong I was. We actually have members of our crew with [licenses to carry handguns], and legal firearms on the bus. They were useless."
Keeter continued, revealing that during the shooting, he wrote a living will and a goodbye to his loved ones for fear that he "wasn't going to live through the night." This, he said, was enough to make him consider his support for lenient gun laws.
"We need gun control RIGHT. NOW." he wrote. "My biggest regret is that stubbornly I didn't realize it until my brothers on the road and myself were threatened by it."
Some on Twitter criticized Keeter for only acknowledging the dangers of gun violence once his and his own loved ones' lives were in danger. Keeter didn't push back against his critics; rather, he acknowledged that they were "absolutely right," and expressed his desire to play a positive role in stopping gun violence in the future.
"You are all absolutely correct," Keeter said in a second tweet responding to the criticisms. "I saw this happening for years and did nothing. But I'd like to do what I can now."
Keeter had discussed his previous position on gun laws in earlier Twitter conversations. After the Sandy Hook shooting, he said that he feared "giving the ability to regulate our weapons to the institution that makes gun ownership a necessity," and suggested that it's unfair to blame guns, rather than those who use them, for mass shootings.
"I can't help but feel that blaming firearms removes responsibility from the killer," Keeter wrote in 2012. "Seems like an easy way out."
The Vegas shooting, however, appears to have completely changed Keeter's mind on the topic of gun regulations.
"Writing my parents and the love of my life a goodbye last night and a living will because I felt like I wasn't going to live through the night was enough for me to realize that this is completely and totally out of hand," Keeter wrote on Monday. "These rounds were powerful enough that my crew guys just standing in a close proximity to a victim shot by this f*cking coward received shrapnel wounds."
Keeter added that, although he and his associates had guns on their tour bus, they "couldn't touch them for fear that police might think we were part of the massacre and shoot us."
"A small group (or one man) laid waste to a city with dedicated, fearless police officers desperately trying to help, because of access to an insane amount of fire power," the guitarist wrote. "Enough is enough."
In a Facebook post, band leader Abbott offered his condolences to the victims of the attack and confirmed that members of the band's crew were hit, but not injured, by shrapnel. He expressed no political positions on the merits of gun control, though.
Keeter confirmed in another tweet that, despite the tragedy he witnessed, he "will not live in fear of anyone," and that the band will continue to "rock your f*cking faces off" at future concerts.