Cam Newton's Sexist Response To A Female Reporter's Question Will Infuriate You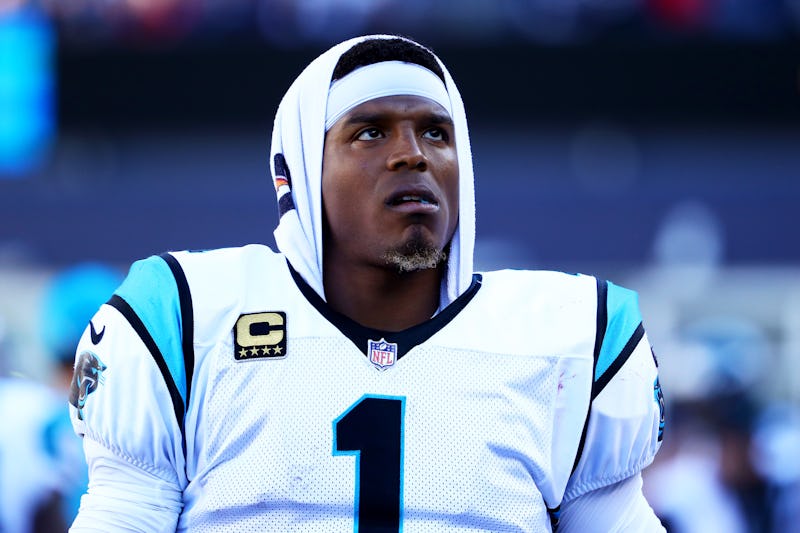 Maddie Meyer/Getty Images Sport/Getty Images
If you're a football fan, you've probably already seen the exchange. Panthers quarterback Cam Newton is under criticism for his sexist response to a female reporter during a press conference on Wednesday. When Jourdan Rodrigue, who covers the Carolina Panthers as a reporter, asked Newton a legitimate question about football, he couldn't help mentioning the fact that she was a woman before actually answering it.
"I know you take a lot of pride in seeing your receivers play well," Rodrigue said. "Devin Funchess has seemed to really embrace the physicality of his routes and getting those extra yards. Does that give you a little bit of enjoyment to see him kind of truck sticking people out there?"
Normally, NFL players take such questions as an opportunity to elaborate on the strategy deployed by themselves and their team members when they're playing on the field, but Newton went on a different and rather disappointing route when it came to answering Rodrigue's question. "It's funny to hear a female talk about routes. It's funny," Newton said with a smirk.
Newton did go on to actually answer the reporter's question when he said, "This is a big game for [Funchess] because of him being from Detroit. He wants this win extremely bad." He also talked about how preparation has been intense and different this year with his team members, but it was clear that Newton's initial reaction to Rodrigue's question had already put a dent in the conference's mood.
After the press conference, Rodrigue tweeted, "I don't think it's 'funny' to be a female and talk about routes. I think it's my job." The reporter received support for social media users as well as other reporters who spoke of sexism in the industry.
Bias against women reporters in the world of sports journalism isn't new at all. In fact, reporters who cover different sports have spoken of their personal run-ins with sexism on the field, in press conferences, and during interviews with athletes. In spite of thousands of women who are active in athletics, it is still apparently difficult for some men to believe a woman would be interested, let alone well-versed, in sports.
Sports reporter Erin Andrews has already spoken about how her expertise on her beat is often trivialized when she is referred to as "Sideline Barbie" by male sports commentators and bloggers. In one particular experiment, sports journalist like Sarah Spain of ESPN and Sports Illustrated writer Julie DiCaro asked men to read the tweets the women received whenever they'd write about sports. From being called "nagging wife" to much harsher invectives like "b*tch" and "c*nt," these two sports journalists had seen some of the most vitriolic outpour of sexism from male readers. The experiment shed necessary light on the pervasiveness of misogyny in the sports world.
Rodrigue's experience with sexism in the press conference room may not have been her first one but from the looks of her tweet today, it is clear that the reporter won't let a comment from Newton put a damper on her work as a sports journalist. If anything, it seems like she just got all the more reason to double down on her beat and become an even sharper writer on football.
The criticism directed at Newton may have proved to be effective as, later on, Panthers director of communications Steven Drummond issued a statement on behalf of Newton and said that he "expressed regret" for his sexist remark.
"I have spoken with Jourdan and Cam and I know they had a conversation where he expressed regret for using those words. We strive as a department to make the environment for media comfortable for everyone covering the team," Drummond said.