Captain Lee's Instagram Posts About His Wife Prove The 'Below Deck' Captain Is A Romantic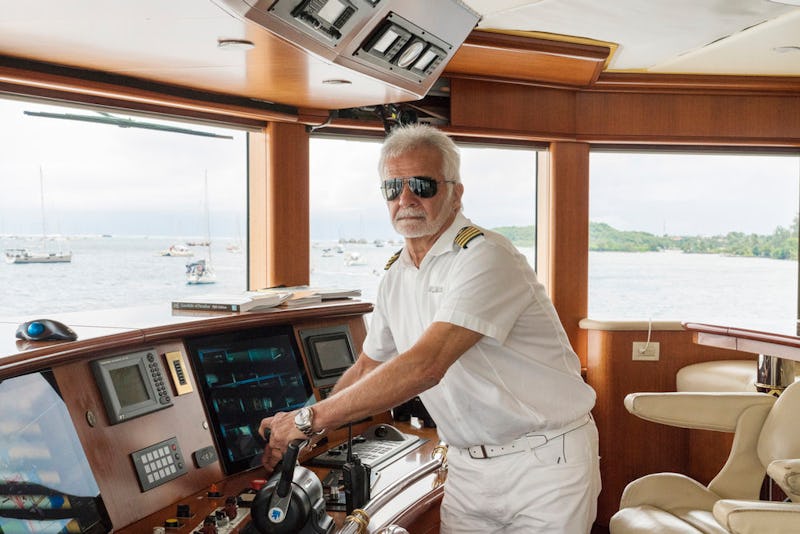 Greg Endries/Bravo
While the cast of Below Deck is usually comprised of young and attractive yacht workers, there's no denying that Captain Lee brings some much-needed silver fox energy to the proceedings. However, just because the yachts he captains are on the market, that doesn't mean that Captain Lee is. While fans of Below Deck know Captain Lee primarily as a master of all things yacht-related, there's one woman on Earth that knows him as husband. Below Deck's Captain Lee is married to his wife Mary Anne, and it seems their marriage is strong enough to weather even the strongest of storms on any of the seven seas.
Mary Anne may not be a regular presence on the show, but she's frequently seen on Captain Lee's Instagram account, especially seated next to him while they are both on an airplane. While he may spend a great deal of his time away from her, captaining yachts, he credits her with the support he needed to pursue his dream of being a yacht captain.
As Captain Lee writes on his personal website, "God bless my wife, Mary Anne, for putting up with my dragging her all over the world to finally find out what it was that I wanted to be when I grew up. It was a long hard road, but damn what a ride." Their love is very real, but that doesn't mean their relationship is all work. Judging from his Instagram feed, Captain Lee and Mary Anne manage to go on quite a few adventures of their own.
They've Met Blake Shelton
Captain Lee and Mary Ann met Blake Shelton, from The Voice! Captin Lee is wearing a "meet and greet" tag, which suggests that Captain Lee had to purchase him and his wife meet and greet tickets. It just goes to show that just because you're the central recurring figure on a popular cable reality television show, that doesn't mean you can just speak to Blake Shelton of The Voice for free.
They Visited Their Granddaughter For Her Graduation
While Captain Lee is usually seen in his work outfit on Below Deck, his casual floral shirt, light blue jeans and slick shades are the exact kind of fashion choices a client on Below Deck would make.
They Got VIP Tickets To The Eagles
Captain Lee and Mary Anne appear to be Eagles fans, but not the kind that celebrated this year's Super Bowl. In a stadium filled with fans, they got a suite from which to enjoy the classic tracks of The Eagles, as well as hits from the mayor of Margaritaville himself, Jimmy Buffett, during their joint tour.
While the fame that comes with a prominent reality television role can change some people, the marriage of Captain Lee and Mary Anne seems to be genuine and fairly humble. While Below Deck viewers may wish that Captain Lee could whisk them away to their own suite at a Jimmy Buffett concert, it's clear that his and Mary Lee's marriage is as strong as they come.