Here's What The Massachusetts Governor Thinks About The Boston Free Speech Rally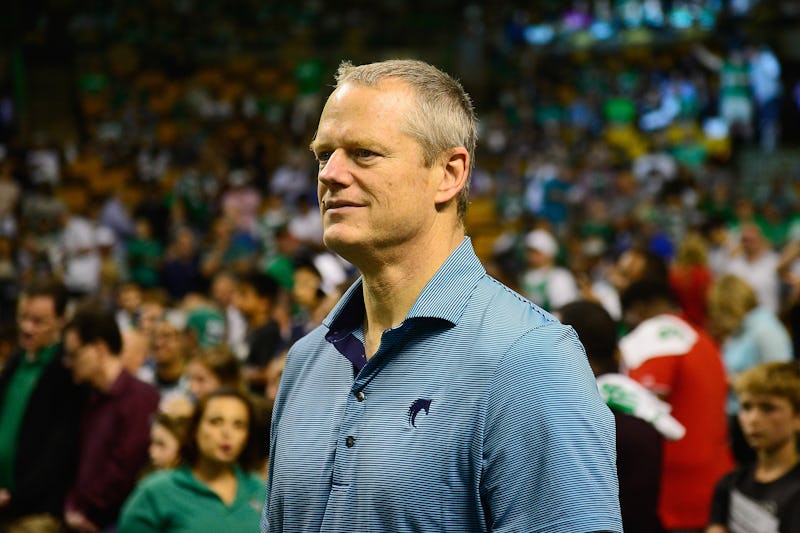 Adam Glanzman/Getty Images Sport/Getty Images
The city of Boston will be the setting of a new "free speech" rally that, after the violence in Charlottesville last week, has raised concerns in the city and throughout the state of Massachusetts. Public officials in the state and city stood ready for the rally, including Massachusetts Gov. Charlie Baker, who urged that public safety is of utmost importance.
On Thursday, two days before the planned rally in Boston, Baker joined 136 other Massachusetts lawmakers in signing a bipartisan resolution denouncing white supremacy, white nationalism, and neo-Nazism.
The next day, Baker and Boston Mayor Martin Walsh held a joint press conference addressing public safety at the Saturday rally. "We all share exactly the same objective with respect to tomorrow," said Baker. "The people have an opportunity to engage and gather peacefully and then everybody goes home safe. But make no mistake, the state will support the city's efforts to ensure that public safety is preserved during tomorrow's events — however big or small they are and wherever they're located."
Despite being from one of the most Democratic states in the country, Baker, who is Republican, is the most popular U.S. governor, according to a recent national poll conducted by Morning Consult in July.
Massachusetts enjoys a low unemployment rate, good access to healthcare, high-quality public education, and a low crime rate. Given that Baker primarily ran a campaign promising economic prosperity, his approval rating seems less jarring despite his Republican label.
Baker was one in a long list of legislators to criticize President Trump's comments in response to the violence in Charlottesville. Following the president's initial statement denouncing violence from "many sides" — which many took to mean as the president suggesting counter-protestors were equally to blame for the chaos as the hate groups who took part, Baker declared the response to be insufficiently critical of white supremacists in particular.
"I think he should've come out and said what everybody else was thinking and believing shortly after the incident that occurred in Charlottesville, which is: White supremacists have no business and no place in American political dialogue," Baker told reporters last Monday. "Period. End of discussion. Case closed."
President Trump doubled down on his initial comments in a second statement last Wednesday. "I think there is blame on both sides," he told reporters during a contentious press conference. "You had a group on one side that was bad. You had a group on the other side that was also very violent. Nobody wants to say that. I'll say it right now."
In addition to the 500 Boston city police officers expected to supervise the rally, Baker added that 200 Massachusetts state officers would be on standby ready to help, should it be needed.