This New 'Teen Mom OG' Cast Member Is Already At The Center Of Drama Among Fans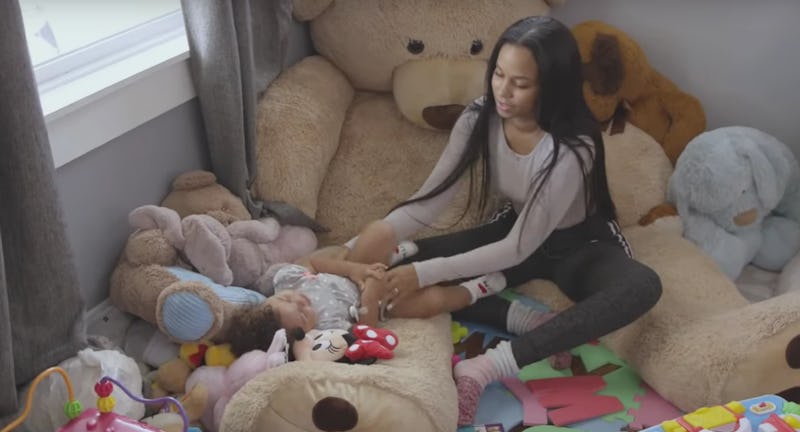 MTV
You know what they say — where one door closes, another door opens. And now that the door has officially closed behind Teen Mom OG vet Farrah Abraham who is moving on from the show, door number two opens to welcome Cheyenne to the cast. Who is Cheyenne Floyd from Teen Mom OG, though? This isn't her first reality TV gig and you may actually recognize her from a couple of your other MTV favorites. Floyd made her reality TV debut on Season 3 of Are You The One, the dating show that tasks 20 individuals with correctly guessing their predetermined perfect match, and falling in love. That strategy didn't bode well for her, apparently, as she arrived on set of The Challenge: Rivals 3, in 2016, single and ready to mingle. There, she met fitness coach and model Cory Wharton, who would later become the father of their daughter, Ryder. The catch? He wasn't informed of the fatherhood news until Ryder was six months old. They told the world about their co-parenting status in December 2017, as per Us Weekly.
"I think that there was a lot of questions regarding my pregnancy from the beginning when I got pregnant. It will be interesting to now tell people what actually happened," Floyd told Us Weekly, referring to her story being broadcast by the new season of Teen Mom. "Everybody knows that Cory didn't find out about Ryder until she was 6 months and now everyone's questions will get answered as to what actually happened."
Like most people who are new to the spotlight, Floyd has already received backlash from fans who are unexcited by her new role on Teen Mom, mostly because she was never actually a "teen mom." She gave birth to Ryder when she was 23 years old, according to Us.
"I think that a lot of people are stuck on the word, and at the end of the day I'm still young mom," she told Us. "I still have the same struggles and I'm still learning just like everyone else. I don't think 23 is the ideal age to have a baby. She was unplanned, so in other ways, other than me not being a teen, I have different things that you can relate. So instead of me screaming all day long that I'm not a teen mom, I'd rather just talk about things that I am."
After all, age is just a number, right? Surely fans will forgive her for that minute detail when they find themselves attached to the story Floyd has to share — how Wharton discovered fatherhood, who Floyd is dating now, and how their little one was diagnosed with a rare genetic disease known as VCLAD (Very long-chain acyl-CoA dehydrogenase deficiency) shortly after birth. "We're starting a non-profit," she told Us. "It's really rare and I knew nothing about it up until I had her. It's a huge part of our lives and we're opening that up to the viewers as well." Now that Ryder is over a year old, per Floyd's Instagram, fans will get to see how it all unfolded in Teen Mom's newest season.