Chris Martin's Rumoured GF Is A Hollywood Star You'll Definitely Recognise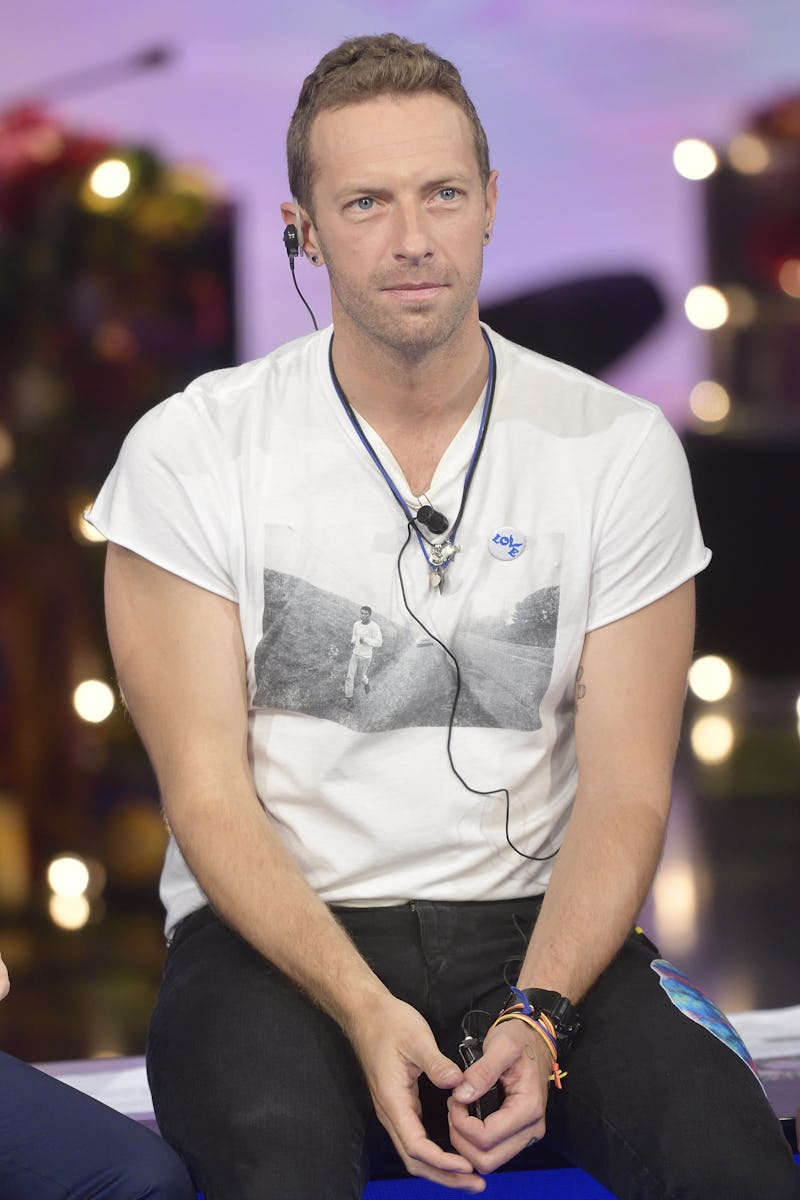 Flavio Lo Scalzo / AGF/Shutterstock
Coldplay frontman Chris Martin has kept his dating life largely out of the spotlight following his "conscious uncoupling" from former wife Gwyneth Paltrow. Martin and Paltrow announced their split in 2014, and have maintained a pretty amiable relationship over since, particularly when it comes to co-parenting their two children. Martin's since been romantically linked with actresses Jennifer Lawrence and Annabelle Wallis, though both rumoured couples reportedly called it quits. But what is the latest — who is Chris Martin dating now?
According to the rumour mill, Fifty Shades of Grey's Dakota Johnson is currently dating the singer. Though the pair haven't officially discussed their relationship, they've been spotted on numerous outings. In October 2017, People magazine reported that the pair were spotted in a sushi restaurant in Los Angeles, where, according to a source, they were "cozy, laughing and affectionate." Then, a month later in November 2017, Johnson was photographed in the sound booth at a Coldplay concert.
Meanwhile, in January earlier this year, Martin and Johnson were seen enjoying dinner and drinks at Soho House in Malibu. A source told People, "Chris and Dakota arrived together in Chris' car. They met up with friends and had a fun night. They both seemed very happy. They were flirty, and also left the restaurant together."
The next sighting? Ellen DeGeneres' 60th birthday party in February, where the couple "were seen holding hands as they caught up with Drew Barrymore outside the bash," according to People. In June, the magazine reports, that the pair were seen walking Johnson's dog, Zeppelin, in Malibu. I've contacted representatives for both Martin and Johnson for comment, but haven't yet received a response.
However, it seems pretty safe to assume that these two are an item — especially as Johnson's famous mum Melanie Griffith appeared to confirm that they are a couple. According to People, Griffith shared her opinion of Martin during the Global Gift Foundation USA Women's Empowerment Luncheon in May, saying, "I adore him." She didn't give any further details about her daughter's relationship, however, explaining: "She is very private about her life and I respect that."
So, I'm guessing either Johnson and Martin just very affectionate friends, who just happen to hold hands and have met each other's parents, or, these two are the real deal. Personally, I think it's the latter.
Before Johnson was in the picture, back in October 2015, Martin was snapped having a jolly old time in Paris, as Metro reports, with actress Annabelle Wallis (you might recognise her from The Tudors or Peaky Blinders). And before that, Martin was reportedly dating Jennifer Lawrence. However, according to People, the pair split in August 2015.
Before he was linked to either of them, he was of course married to Gwyneth Paltrow, with whom he has two children; Apple and Moses. The former couple were married for 12 years before "conscious uncoupling" in March 2014. The announcement was made, as the Guardian reports, on Paltrow's website, Goop. "It is with hearts full of sadness that we have decided to separate," the statement read. "We have been working hard for well over a year, some of it together, some of it separated, to see what might have been possible between us, and we have come to the conclusion that while we love each other very much we will remain separate."
Martin and Paltrow added, "We are, however, and always will be a family, and in many ways we are closer than we have ever been." And it seems like they've kept it up: during an appearance on The Late Show with Stephen Colbert, Paltrow said of Martin, "He's really like my brother, we're very familial. It's nice, it's great."
But back to Martin and Dakota Johnson. They were last spotted together in July 2018, when Entertainment Tonight reported that they attended a Radiohead concert in Boston together.
In photographs taken by fans, the pair looked pretty affectionate, with Johnson at one point resting her head on Martin's shoulder. Seems safe to assume that their relationship (whether it's romantic or just extremely friendly) is still going pretty strong if you ask me.