Lady Gaga Might Have A New Man In Her Life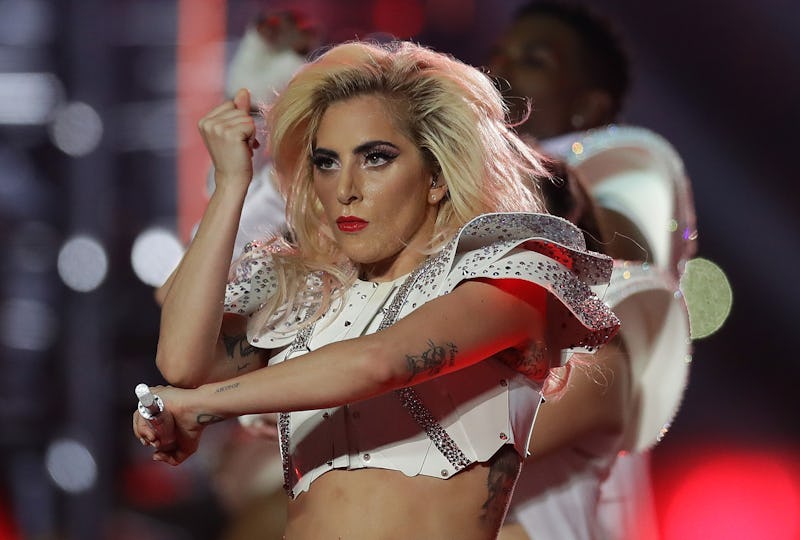 Ronald Martinez/Getty Images Sport/Getty Images
My apologies to all those Taylor Kinney lovers who really wanted him back with Lady Gaga, because it looks like the singer has a new man in her life. According to Us Weekly, Lady Gaga is dating Christian Carino. Bustle has reached out to both Gaga and Carino for comment, but did not receive an immediate response. If you've never heard that name before, allow me to enlighten you. Carino works with the Creative Artists Agency, which represents celebrities. And guess what? He is also Gaga's agent. That's right, the "Million Reasons" singer is rumored to be dating her agent.
In photos captured before she took the stage at the 2017 Super Bowl halftime show, Carino was spotted kissing Gaga on the cheek. She was also seen taking selfies of the kiss. On that alone, it sure seems like they may be a happy couple, though neither have spoken about it directly. Us reports that Carino also brought Gaga to Tommy Hilfiger's fashion show in Venice, California this past Wednesday. Apparently, he is good friend's with Hilfiger. Per People, the two also attended a January Kings of Leon concert, where they were reportedly seen getting cozy.
The Joanne artist did coyly open about her love life while chatting with Ryan Seacrest on Thursday. The On Air With Ryan Seacrest host asked if she was dating someone who may or may not have celebrated with her after the Super Bowl. "I don't know," she said. "You know I don't talk about my love life, Ryan!" She then started to blush and said, "I'm really red. I'm really red and it doesn't go with my outfit."
In addition to Gaga, Carino also represents some other very famous faces. According to E! News, his list of clients include Miley Cyrus, Justin Bieber, Jennifer Lopez, and Christina Aguilera. It seems that he's used to being in the public eye and knows a thing or two about dating someone famous. He reportedly dated The Walking Dead's Lauren Cohan, according to People. So, yeah, he can probably handle all of the media attention with Gaga.
As all Little Monsters know, Gaga was previously engaged to Chicago Fire's Taylor Kinney; though, she assured her fans that all was well with them after their split with an emotional Instagram posted in July 2016. Alongside a photo of them, she wrote,
Taylor and I have always believed we are soulmates. Just like all couples we have ups and downs, and we have been taking a break. We are both ambitious artists, hoping to work through long-distance and complicated schedules to continue the simple love we have always shared. Please root us on. We're just like everybody else and we really love each other.
It seems like now Gaga has moved on from Kinney, but fans are no doubt rooting for her to find love no matter who it's with.