Everything You Need To Know About Cynthia Nixon's Activist Wife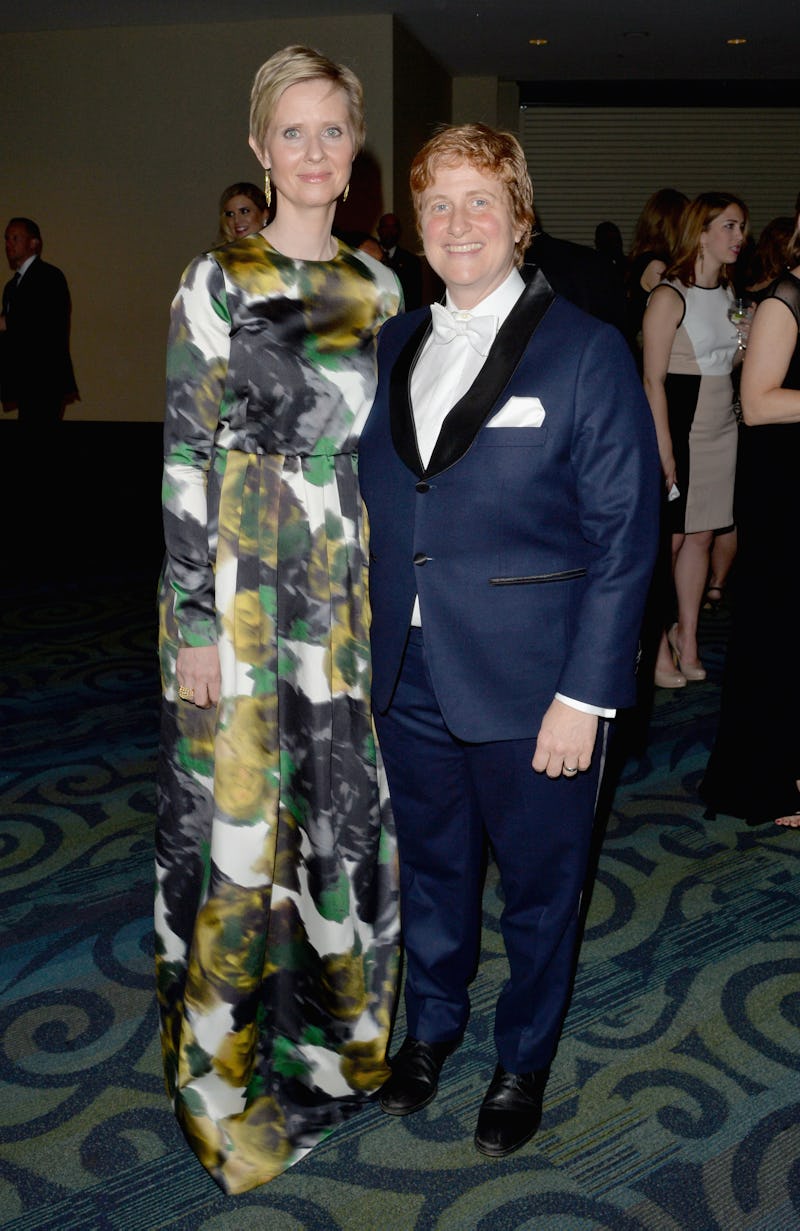 Andrew H. Walker/Getty Images Entertainment/Getty Images
Considering that television star and activist Cynthia Nixon announced on Monday that she would be running for governor's seat in New York, you might be wondering who Christine Marinoni is. Nixon's wife works in the LGBTQ community as an activist and recently served in the capacity of an adviser for New York City's Deputy Mayor Richard Buery while helping Buery with the city's community partnerships program. Marinoni stepped down from her position in March this year.
In a 2017 interview with City and State New York, Marinoni said that her journey as an activist began in 1995 after she came out as a lesbian. She said that it happened after she set up a lesbian-friendly bar in Brooklyn's bustling Park Slope neighborhood. One of her colleagues, a bartender, was targeted in a hate crime, according to Marinoni.
Ever since then, Marinoni began organizing to highlight the issue of homophobia in the city. "We organized some events to bring attention to it, and call for more police attention and protection for the community. Then the Matthew Shepard killing happened and we were also the same folks who had organized the marches in Park Slope, and were kind of the key organizers for some of the work that happened then," Marinoni said.
Marinoni said that during that time, she had been dating her now-wife Nixon. The couple began working together to bring awareness to anti-LGBTQ crimes while Marinoni told City and State New York, "We went up a few times to Albany and met with legislators and talked to them about passage of gay marriage in New York City."
As an LGBTQ advocate, Marinoni told City and State New York that she believed that her activism needed to be intersectional in order to have any effect on improving living conditions for LGBTQ New Yorkers. In the interview, she spoke of working in New York Mayor Bill de Blasio's administration and bringing a more intersectional approach to LGBTQ outreach programs.
"I think it's important for the LGBT community to be joining hands with other groups and issues like income inequality and education. Within this administration, I don't work on LGBTQ issues, but I also like working for an administration which has really been so on the forefront of addressing issues in the LGBTQ community," she said.
Nixon and Marinoni's relationship has been private, for the most part, as the couple seems to avoid publicity. While speaking with Radio Times in 2017, Nixon talked about Marinoni and how both women realized they were in love with each other after they began dating in 2004. Nixon said,
I had never dated a woman before or even kissed a woman or anything. So when we started seeing each other, Christine kept waiting for the other shoe to drop, for me to panic about what this would mean – to my career or to myself – as if somehow I just hadn't noticed that she was a woman. And then she met my mother and that was when she stopped worrying about it.
It isn't just the Marinoni's activism that warmed Nixon to her but it also seems like her style is something Nixon admires and loves. The Sex and The City actress told The Advocate in 2010, "A lot of what I love about her is her butchness. I'm not saying I fell in love with her in a sexually neutral way. I love her sexuality—it's a big part of what I love about her—but I feel like it was her."
Now that Nixon has announced that she is running for New York's governor's position, you can expect to see Marinoni right by her wife's side.