The Attacker Of A Rape Survivor Has Been Granted Joint Custody Of Her Child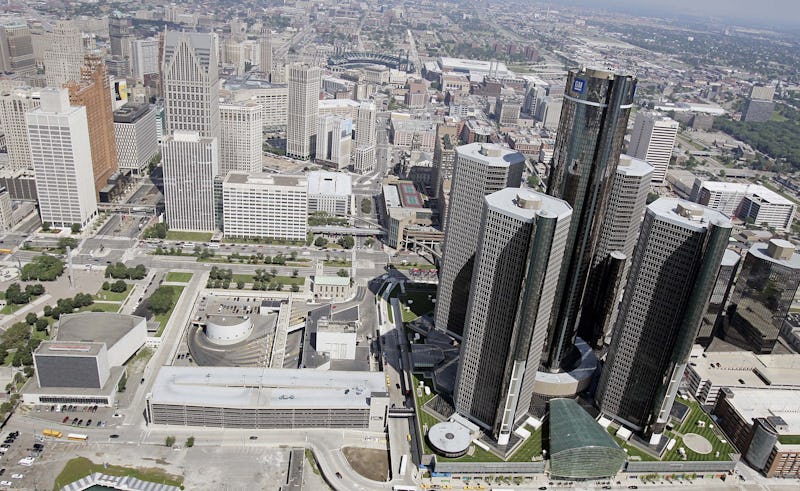 JEFF HAYNES/AFP/Getty Images
In the state of Michigan, one court case in particular is drawing an immense amount of scrutiny and criticism. It's possible you've already heard of it, but if not, you might want to familiarize yourself with who Christopher Mirasolo is, and why a joint custody ruling in his favor has set off a furious controversy.
As detailed by The Detroit News, Mirasolo, 27, won joint custody of an eight-year-old boy this week, despite the fact that he allegedly raped the child's mother nine years ago. According to the report, the anonymous victim and her attorney confirmed to the paper that Mirasolo had won joint custody and parental visitation rights after a DNA test established he was the boy's father. The attorney for the boy's mother, Rebecca Kiessling, called the situation "insane," and accused the judicial system of continuing the victimization of her client.
This is insane. Nothing has been right about this since it was originally investigated. He was never properly charged and should still be sitting behind bars somewhere, but the system is victimizing my client, who was a child herself when this all happened.
According to The Detroit News' report, the boy's mother was a child of just 12 years old when, according to Kiessling, she was raped by Mirasolo. The attorney described the incident in limited detail, stating that Mirasolo was 18 at the time.
She, her 13-year-old sister and a friend all slipped out of their house one night to meet a boy and the boy's older friend, Mirasolo, showed up and asked if they wanted to go for a ride. They thought they were going to McDonald's or somewhere. Instead, he tossed their cellphones away, drove to Detroit where he stole gas from a station and then drove back to Sanilac County, where he kept them captive for two days in a vacant house near a relative, finally releasing the older sister in a park. He threatened to kill them if they told anyone what happened.
In other words, DNA testing has reportedly demonstrated that Mirasolo is the child's father, which means the boy was conceived when Mirasolo was 18, and his mother was just 12. He was charged and convicted for that offense, agreeing to a plea deal, and spending a mere six months behind bars. In 2010, according to the report, he was subsequently convicted of another sex crime against a victim somewhere from 13 to 15 years old.
Despite this wildly alarming set of facts, however, Judge Gregory S. Ross decided to grant Mirasolo joint custody. Moreover, Kiessling claims Ross both gave Mirasolo the victim's address, and added his name to the boy's birth certificate, without even contacting her client or giving her a hearing.
The boy's mother also spoke to The Detroit News, saying that the entire situation began because the county was looking into benefits she was receiving, namely food stamps and health insurance for her son.
I think this is all crazy. They never explained anything to me. I was receiving about $260 a month in food stamps for me and my son and health insurance for him. I guess they were trying to see how to get some of the money back.
If you're curious to read the full report, you should definitely check it out over at The Detroit News. Suffice to say it's shocking and quite disturbing, and speaks to the alarming fact that very few states have laws protecting rape victims from custody claims brought by their rapists.
In fact, seven states right now have no such laws whatsoever ― New Mexico, Wyoming, North Dakota, Minnesota, Mississippi, Alabama, and Maryland. Michigan does reportedly have a law on the books passed in 2016 which allows a court to void parental rights to rapists.