The Woman Replacing Aaron Persky Says She Advocates For The "Most Vulnerable Victims"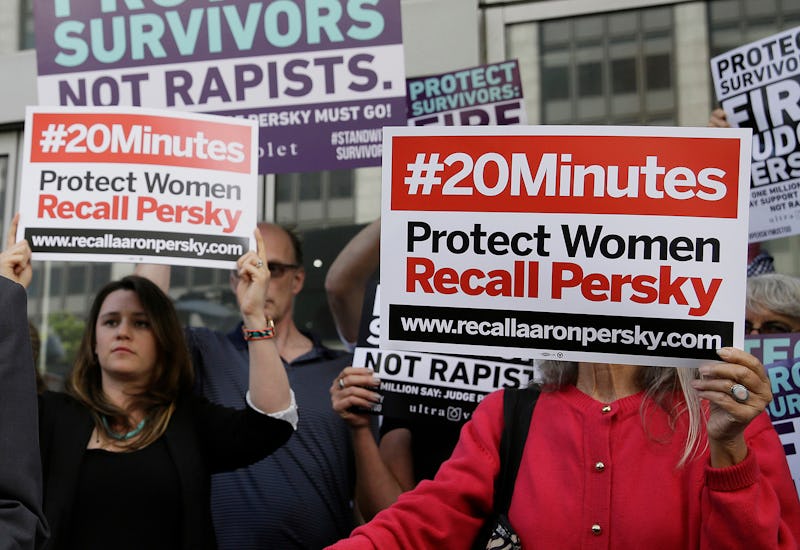 Eric Risberg/AP/REX/Shutterstock
The judge who ruled in the Brock Turner case lost his job on Tuesday, following a rare recall vote in California — and voters chose a woman to replace him. Cindy Hendrickson will likely replace Aaron Persky, after his controversial light sentence for Turner became a symbol for many critics who claim there is a judicial bias toward defendants from privileged backgrounds.
"I'm devoted to every single person in Santa Clara County feeling like when they go to court, they have [a] chance at being heard and having a fair result," Hendrickson told Newsweek in October, after announcing her candidacy to replace Persky. While the assistant district attorney for Santa Clara County refused to answer detailed questions about Persky himself, she did say she supported the recall effort. That set Hendrickson apart from the other replacement candidate on the ballot, Angela Storey.
Hendrickson shares an alma mater with Persky — both are graduates from Stanford. Hendrickson graduated from the prestigious Bay Area university with her bachelor's degree in 1987 before going on to complete law school at UCLA. According to her Crowdpac fundraising page, Hendrickson has worked for 23 years as a public prosecutor in the DA's office. Prior to that, Hendrickson spent five years in private law as a civil trial attorney.
According to data reported by the Los Angeles Times, 59 percent voted for Persky to be recalled. And as The New York Times' data shows, Hendrickson seems to have easily beat out her opponent, winning 70 percent of votes (with more than half of precincts reporting) to replace Persky in the initial returns.
Hendrickson highlighted her personal story on her Crowdpac page, writing that she "grew up as the daughter of two public servants who raised eleven children, six biological and five adopted." She told Newsweek, "We ended up with a family that's Korean, Vietnamese, African-American" and emphasized that their setting made their unique family make-up even more conspicuous — residing in Virginia during the 1960s and '70s.
Hendrickson also emphasized her work for marginalized communities. "I have been a strong advocate for the most vulnerable victims in our society: elders, dependent adults, children, and domestic violence and sexual assault victims," she wrote on Crowdpac. Citing her legal focus on preventing financial fraud against the elderly — and prosecuting those who perpetrate such crimes — Hendrickson also listed past work on putting sexual offenders behind bars.
For leaders of the recall effort, Hendrickson represented the opposite of Persky. In 2016, a jury found Turner guilty on three felony charges, all related to his sexual assault of an unconscious woman. It had rare incriminating evidence — two eyewitnesses, who stumbled upon Turner and chased him down. The case made headlines for a variety of reasons — Turner's status as a vaunted athlete on Stanford's swim team, his father's pilloried defense that "20 minutes of action" shouldn't ruin his son's life, and the harrowing testimony recounted in court by the unnamed victim of her struggle to understand and cope with what had happened to her.
The maximum sentence Turner could have received was 14 years. But Persky gave the young man six months in prison, and Turner was released for good behavior after serving just three months behind bars. Persky's leniency in sentencing Turner was cast by recall advocates as part of a broader trend of granting undue sympathy to certain defendants with elite credentials.
Persky pushed back on that characterization, issuing a statement in June of 2017 arguing that his rulings are "not always popular" but that it was his job to follow the law "without regard to public opinion or my opinions as a former prosecutor."
With Persky now effectively recalled, the voters of Santa Clara County have made clear they were not convinced by his arguments — and that they thought Hendrickson was the best woman for the job.