You'll Definitely Recognize Who Common Is Dating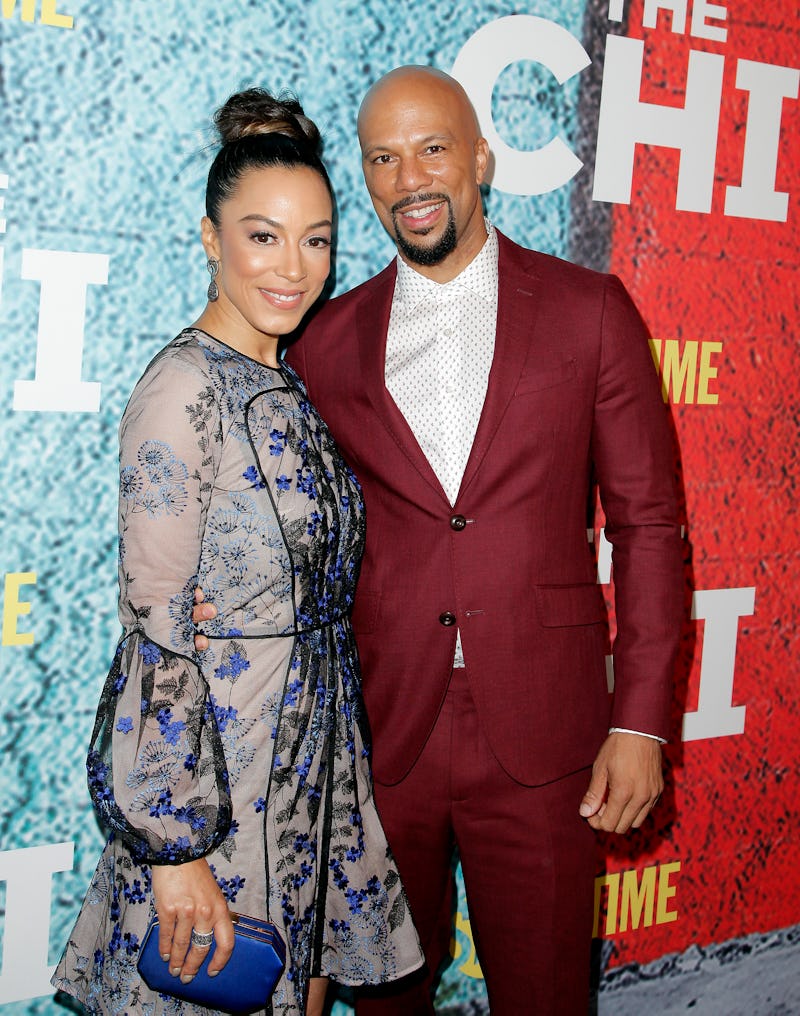 Tibrina Hobson/Getty Images Entertainment/Getty Images
Last year, Chicago-bred hip-hop artist Common became the first rapper in history to join the ranks of the entertainment industry's elusive band of "triple threats": the choice few titleholders of the Emmy, Golden Globe, and Academy Award distinctions. And, with his soulful track from Marshall up for Best Original Song at this year's Oscars ceremony, it looks like Common's music career is continuing on the up and up in 2018. That being said, fans of the rapper seem just as concerned with who Common is dating in 2018 as they are with the details of his professional achievements. So, to set the record straight: Common is dating Angela Rye, the fiery political analyst for CNN who made headlines last year when she stood up to former Congressman Joe Walsh on live TV. If that sounds like a match made in heaven for the famously politically-attuned rapper, that's probably because it is.
Rumors of a potential Common-Rye pairing began to circulate last September, after the two were spotted looking particularly smitten during the 2017 Creative Arts Emmys' red carpet. Two months later, Common officially confirmed his relationship with Rye on the radio show Bevelations with Bevy Smith. Now, ahead of the upcoming 90th annual Academy Awards, which will take place Sunday, March 4, at Los Angeles' Dolby Theatre, the internet has been wrought with questions and commentary about the veteran hip-hop mogul. And, while a solid chunk of those comments do pertain to Common's acclaimed musical aptitude, many of them instead express a marked interest in the rapper's personal affairs — specifically, those of the romantic variety. Because as much as Common, the musician, is steadily securing his place in hip-hop history as one of the genre's trailblazing luminaries, his personal life is also pretty remarkable.
Common's given name is Lonnie Rashid Lynn, Jr., though his early stage name, "Common Sense," eventually gave way to his current, truncated moniker. At 45 years old, he has certainly proven himself something of a Renaissance man. In addition to his top-line music career (which has grown steadily since Common first stepped out onto the hip-hop scene in the early '90s), the rapper is also an established actor, poet, film producer, and activist. And while his decades-long career has always touted an air of politically-infused commentary, Common's most recent hits have really prescribed a whole new meaning to the term "musical activism."
In 2015, Common won both the Golden Globe and Academy Award for Best Original Song, for "Glory," his and John Legend's distinctly stirring track off of Ava DuVernay's 2014 film, Selma. Now, in 2018, Common will once again compete for the Academy Awards' coveted Best Original Song category. This time, for "Stand Up for Something," the uplifting track released in conjunction with the soundtrack for Marshall, director Reginald Hudlin's 2017 biopic starring Chadwick Boseman.
And what better way to bolster his activism than teaming up with the likes of Rye, a CNN political correspondent and NPR political analyst to boot? Judging by Common's comments to the New York Post's Page Six back in November, it seems like, perhaps there is no better way. As Page Six reported, Common said that dating Rye has forced him to become more politically engaged. On the subject of his significant other, the rapper told Page Six,
I feel like I have a lot more work to do . . . I feel like I have to be more intelligent with the work and strategize more. I have to listen more and go out and do more work. It is no time for sitting back, now. This is the time to stand up, more than anything.
If Common's Best Original Song contender is any indication, it looks like the rapper has been heeding his own call. And if Rye's influence had anything to do with that, then it seems pretty safe to say the pair is gearing up to be quite the formidable Hollywood power couple.