Here's What You Need To Know About Super Bowl Announcer Cris Collinsworth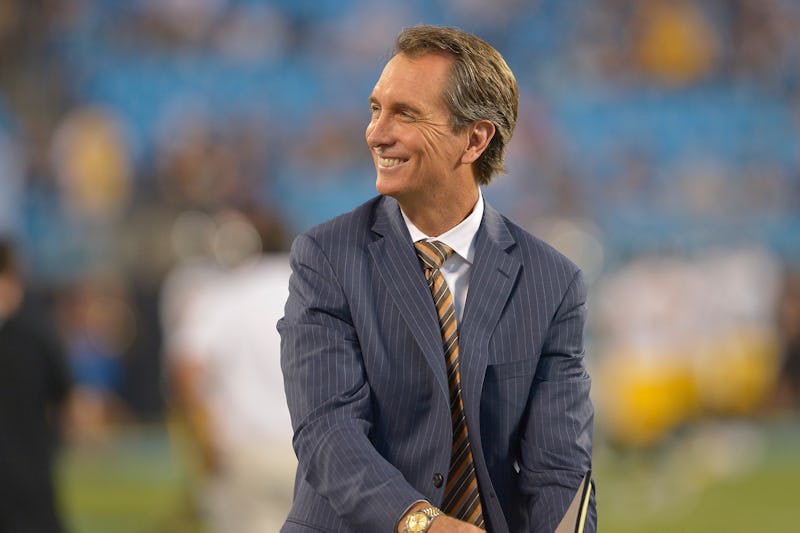 Grant Halverson/Getty Images Sport/Getty Images
The New England Patriots are squaring off against the Philadelphia Eagles for Super Bowl LII. It's the second championship matchup between the two teams since 2007, and the 2018 Super Bowl will be announced by Cris Collinsworth, a former wide receiver and universally celebrated football analyst.
A graduate of the University of Florida, Collinsworth began his professional career in 1981, when he was drafted in the second round by the Cincinnati Bengals. He remained with the Bengals for the entirety of his eight-year stint as an NFL player, and was selected to play in the Pro Bowl in 1981, 1982 and 1983. Over the course of 107 games, Collinsworth caught 417 passes for a total of 6,698 yards, and scored 36 touchdowns. He played in two Super Bowls and, according to NBC Sports, still holds the all-time receptions record for the Bengals.
Collinsworth left the league in 1988, and although his performance as a player was respectable, his post-NFL career as an announcer is arguably much more impressive. Just one year after retiring as a player, Collinsworth entered the world of sports broadcasting when Cincinnati radio station WLW asked him to fill in for regular host (and fellow Bengels alumnus) Bob Trumpy. That one job led Collinsworth to a celebrated 28-year career as an NFL commentator.
After joining the team of HBO's Inside the NFL as a reporter in 1989, NBC Sports hired him as an NFL and college football analyst. He stayed there for several years, and was ultimately enlisted to announce the NFL on NBC pregame show in 1996. Collinsworth won an Emmy the next year for his pregame broadcasting — and it wasn't his last.
In 1998, Collinsworth started working for Fox Sports, where he announced the pregame show for NFL Sunday for seven years. In 2005, he was promoted to the station's lead broadcast team, and announced his first Super Bowl game that same year.
Since then, Collinsworth has worked as a broadcaster for Sunday Night Football, Thursday Night Football and Football Night In America on NBC. He's won 16 Emmy Awards across his career, and was the announcer for Super Bowl XLVI and Super Bowl XLIX, the latter of which drew more viewers than any other television program in history.
Incidentally, despite all the accolades Collinsworth has earned since leaving the NFL, his career as a broadcaster was essentially an accident. He told the Star Tribune in February that his original plan after leaving the NFL was to become a tax attorney. He started attending law school before his last season with the Bengals was over, and says that he he only took that first gig as a sports commentator to earn some extra dough on the side.
"[Broadcasting] seemed like a good go-between, a way to make a little money while I was finishing school,'' Collinsworth told the Star Tribune. But although he graduated from University of Cincinnati with a law degree in 1991, doing so accomplished the opposite of its intended effect ("The one thing I learned from five years of law school is that I definitely didn't want to be an attorney," he told the Cincinnati Enquirer in 2002).
It's a good thing he didn't. Collinsworth consistently enjoys widespread acclaim for his skills as a sportscaster. He's often praised his ability to make complex football mechanics easy for casual viewers to understand while still providing a depth of analysis that appeals to more knowledgable fans, a tricky balance that eludes many sports broadcasters.
"He's not an ex-football player doing television,'' NBC producer Fred Gaudelli told the Star Tribune. "He's a television broadcaster who happens to be an ex-football player. He made it a point to really study, understand and become proficient in the job of broadcasting. And not every ex-pro athlete is able to do that.''