Cris Collinsworth's Wife Keeps A Low Profile In Their Kentucky Hometown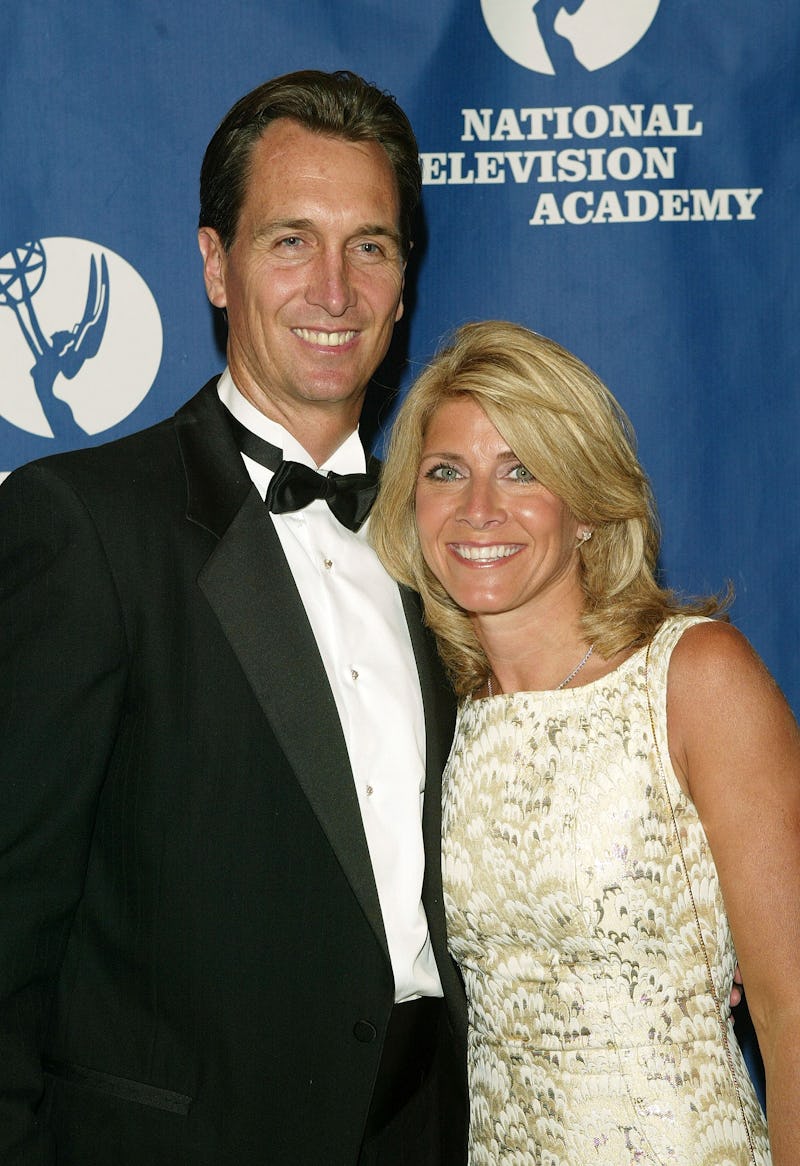 Peter Kramer/Getty Images Entertainment/Getty Images
NBC's top football analyst Cris Collinsworth, who will be joining the Super Bowl broadcast to add color to Al Michaels' play-by-plays, is a family man. A former football star for the University of Florida and then the Cincinnati Bengals, Collinsworth married Holly Bankemper, his law school classmate, and had four children, a couple of whom have followed Collinsworth into sports.
Collinsworth met his now wife when the two were attending University of Cincinnati, both in law school. She graduated in 1988 and he in 1991. The two married in 1989. She continues to practice law in the Cincinnati area whereas her husband has grown rather famous — as you well know — working in sports broadcasting for NBC, HBO, Fox, and the NFL Network.
Bankemper mostly keeps out of the public eye. She's not given interviews and appears in just a few of Collinsworth's Instagram photos at events like their son's college graduation and a Labor Day fireworks show.
One of the reasons that she's able to keep a low profile is likely the fact that the family has made their home base in her hometown of Fort Thomas, Kentucky. Collinsworth compared to Mayberry, the tiny fake town that The Andy Griffith Show is set in, in a 2002 interview with The Cincinnati Inquirer. "We've got the barbershop right up the way. We've got the sheriff. It's a little dinky town," Collinsworth told the paper.
"You could take this town and put it out in the middle of Montana somewhere, and it would be the same sort of feel to Fort Thomas, and yet in five minutes you're in downtown Cincinnati. But you really feel separated from that enough that you feel like you're living in Mayberry," he continued.
Their kids have not kept as low of a profile, however. Two of the Collinsworth children have reached some prominence through sports. Perhaps the best known is Austin, their son who saw success playing high school football and then went on to play at the University of Notre Dame. In 2014, as a fifth-year senior, he hurt his shoulder and underwent surgery. But as early as high school, he was getting attention for his football skills, much like his dad's.
"Believe me, I'm more his dad than he's my son now," Collinsworth told The Lexington Herald-Leader in 2009. "A lot more people come up to me and say, 'Aren't you Austin's dad?' than the other way around."
Collinsworth's daughter Ashley went to Harvard and ran track. Her dad, she said, had always been supportive, but was also a normal parent who would coach the teams she was on. He told The Harvard Crimson that he used to coach track by running behind the team and singing T-Pain's "Get Low."
"They hated it because I can't sing at all, and I certainly can't sing one of their songs from their era," Collinsworth told the college newspaper. "The more I would sing, the faster they would run. I think it directly led to four straight championships because they certainly did not want to hear me singing 'Apple Bottom Jeans.'"
The Collinsworths' other son, Jac, and other daughter, Katie, both have worked in media. Katie is at Golf Channel's GolfNow, working as a manager in business marketing, while Jac joined ESPN's Sunday NFL Countdown as a features reporter. He had previously worked for NBC during the Olympics in Rio de Janeiro, Brazil.
"You hear people say, 'Oh, he's just such a natural,'" Collinsworth said to Sporting News. "I go, 'Yeah, he's got some natural skills, or he wouldn't be able to do it.' But he's been doing it for seven years. Most people who are 'naturals' have been working at it for a long time." Jac's main experience came during his time at Notre Dame, covering — among other things — the football team.
Between Collinsworth's connection to sports and Bankemper's work as an attorney, sports definitely seem to have won out.