So, Apparently Donald Trump Has ANOTHER Alias?!?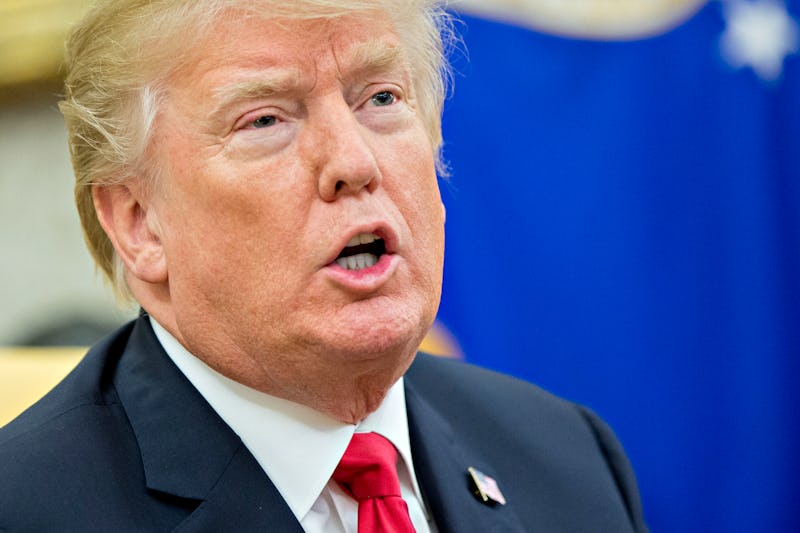 Pool/Getty Images News/Getty Images
President Trump has bragged about his penchant for suing people in the past, but it's the POTUS who now faces a lawsuit. Adult film actress Stormy Daniels filed papers suing the president on Tuesday, and readers of her suit had to ask: who is David Dennison? Turns out, "David Dennison" is allegedly an alias used to refer to none other than Trump himself.
Filed under her legal name, Stephanie Clifford, the lawsuit alleges that while both Daniels and Trump's personal lawyer, Michael Cohen, signed a nondisclosure agreement (NDA) in October of 2016, Trump (or Dennison) never did. The NDA barred Daniels from speaking publicly about an alleged affair she had with the president in 2006 and 2007. Trump has denied ever having a relationship with Daniels. Bustle has reached out the White House for comment, but has not yet received a response.
Throughout the lawsuit, there are repeated references to David Dennison. Daniels' lawyer, Michael Avenatti, says that Dennison is Trump.
Because the blanks requiring a signature from Trump, aka Dennison, remain empty on the NDA paperwork, Daniels is now arguing that she's freed from abiding by the NDA's restrictions.
Cohen has admitted to paying Daniels an agreed upon amount of "hush" money accompanying the NDA, which totaled $130,000. However, he has maintained that he paid her of his own volition, and not on behalf of Trump. Cohen has not provided any answer alternative as to why he gave Daniels the money.
As plenty of Americans already know, this isn't the first Trump alias to make headlines. New York reporters working on stories about the real estate mogul during the 1970s, 80s, and 90s, may have spoken to a "John Miller" or a "John Barron." Introducing themselves as a publicists for Trump, Miller and Barron would go on to gush about how fantastic Trump was in every way. Except Miller and Barron didn't exist — it was Trump himself doing the talking on his own behalf.
But perhaps the most surprising element of the Daniels story (thus far, at least) is the fact Trump has not once spoken publicly about it. For a man who regularly uses Twitter to denounce any negative press coverage, Trump's silence on the claims being made by Daniels represents a real departure from his usual M.O.
If Daniels wins her lawsuit, the president will almost certainly have to address the story. On top of her allegations that she was paid to keep quiet about the affair, Daniels' lawyer, Michale Avenatti, also said there had been "attempts to intimidate" his client.
"On or about February 27, 2018, Mr. Trump's attorney Mr. Cohen surreptitiously initiated a bogus arbitration proceeding against Ms. Clifford in Los Angeles," Avenatti writes in the lawsuit.
Avenatti also refutes the idea that Trump could somehow be unaware of Cohen's payment and subsequent arbitration involving Daniels. Due to his membership in the New York bar, Cohen is required to keep Trump informed of all his legal dealings. Avenatti wrote that it "strains credulity to conclude that Mr. Cohen is acting on his own accord and without the express approval and knowledge of his client Mr. Trump."
This is not the first time a president has been sued by a private citizen. Roughly 20 years ago, the Supreme Court heard Clinton v. Jones, ruling that Paula Jones could in fact go forward with her lawsuit against President Clinton.
Daniels isn't even alone in suing Trump. Former Apprentice contestant Summer Zervos has also filed a defamation suit against the president, for his public statements that all women claiming he had sexually harassed them were lying.
If Daniels wins her lawsuit and is freed to talk openly about her alleged affair with Trump, expect to hear much about (and probably from) "David Dennison."