DeAndre Harris Was Viciously Attacked In Charlottesville — But A Judge Wants Him Arrested Anyway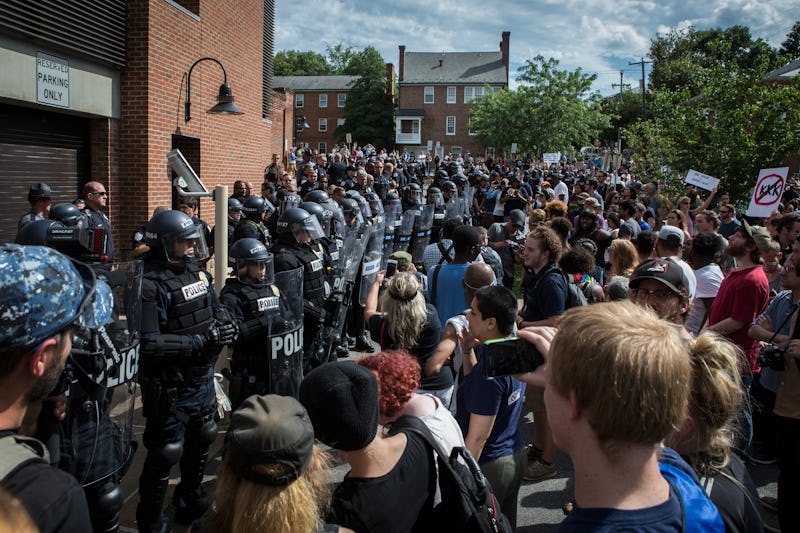 Chet Strange/Getty Images News/Getty Images
If you had followed the violence at the white supremacist rally in Charlottesville, Virginia, back in August, there's a good chance you heard the name DeAndre Harris. While it was 32-year-old Heather Heyer who drew the bulk of the attention — Heyer was killed in a vehicular attack during the far-right, neo-Nazi protests — images also showed Harris being threatened and viciously beaten with metal poles in a nearby parking garage, about as harrowing an image as they come. But now, the story has taken a bizarre turn: DeAndre Harris may face a felony charge over his Charlottesville beating, as a magistrate reportedly went around the local police department to issued a warrant for his arrest.
First things first, to give you an adequate frame of reference, it's worth refreshing your memory of exactly what was going on in that parking garage on Aug. 12. As shown both in photos and videos, Harris, 20, was attacked by a group of white supremacists, including by one wielding an enormous metal pole. By the end of the encounter, his face was soaked in his own blood.
None of his attackers were arrested on the day of the demonstrations, however ― it took law enforcement authorities two weeks to actually make an arrest in the case. Be forewarned, the video below shows the assault on Harris, and it is disturbing.
Now, according to The Washington Post, a warrant has been issued for Harris' arrest based on the same parking lot beating. The warrant was reportedly granted by a magistrate in response to a claim that Harris himself assaulted and injured somebody else in the course of the Aug. 12 melee.
Harris' attorney, S. Lee Merrit, told the Post that the accuser was part of the white supremacist gang, and that he believed the charge to be "clearly retaliatory." And although deeper details of what's being alleged aren't clear just yet, it's important to keep that context in mind: Harris was violently assaulted, in the midst of a neo-Nazi demonstration that killed and anti-racist counter-protester, by a group of white supremacists.
Furthermore, less than a week after the incident, the New York Daily News reported that Harris was still receiving threats, speaking to an apparently ongoing interest in victimizing him. As such, it's not hard to see why this news is being met with so much disbelief, anger, and frustration.
Merrit also reportedly claimed the accuser had tried and failed to implicate Harris to the Charlottesville police, noting how "highly unusual" it was for the warrant to come from a magistrate instead of the police. According to a report from Charlottesville's NBC affiliate WVIR, the warrant was issued after the accuser went directly to the magistrate in question, rather than the police.
The victim went to the Magistrate's office, presented the facts of what occurred and attempted to obtain the warrant. The magistrate requested that a detective respond and verify these facts. A Charlottesville Police Department detective did respond, verified the facts and a warrant for Unlawful Wounding (Va Code 18.2-51) was issued.
On social media, Shaun King of The Intercept posted a series of tweets detailing what he described as the "very nefarious" sequence of events that led to this outcome.
Specifically, King tweeted that Charlottesville police officers he spoke to said they had no intention of charging Harris, suggesting that they'd been cut out of the loop by the accuser going directly to the magistrate.
So the white supremacist found a judge he knows, who did something one officer told me he had never seen before. A random judge, without doing ANY INVESTIGATION, went around the Charlottesville Police, to have DeAndre arrested. It's appalling.
In short, Harris is facing a felony charge over the incident, accused of injuring someone in a brawl in which he himself was knocked to the ground and beaten by white supremacists, all while on-camera. While it remains to be seen what will come of this case ― Harris is reportedly planning to turn himself sometime soon ― it's fair to say that this is a deeply harrowing situation, and one that deserves your attention.