Demi Lovato Brought A Very Interesting Guest to the 2017 AMAs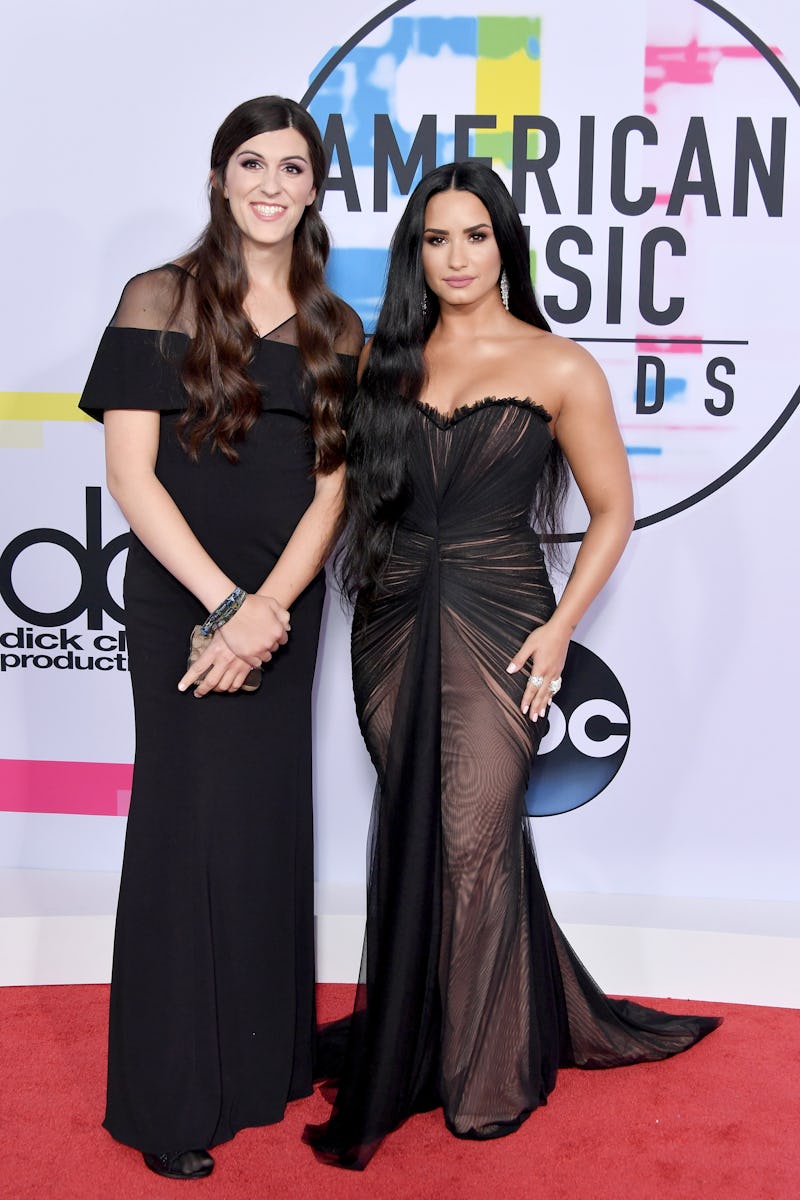 Neilson Barnard/Getty Images Entertainment/Getty Images
Demi Lovato is no stranger to making political statements at award shows, and the American Music Awards were no exception. Lovato walked the 2017 AMAs red carpet with Danica Roem, who was recently elected the first openly transgender state legislator earlier this month. Roem was also seen seated with Lovato ahead of her AMA performance. The 33-year-old Virginia Democrat Roem defeated Robert Marshall, who according to the Washington Post deemed himself Virginia's "chief homophobe" and refused to debate Roem during the campaign.
Lovato, who performed her hit "Sorry Not Sorry" during the award show, said it was important to her that Roem was along for that ride. "We connected because I heard her story. I was just completely inspired by that," Lovato told E! News on the red carpet. "My story with 'Sorry Not Sorry' is about bullying, and I wanted to have her in the audience with me tonight because I feel like we've been through some of the same things and now we get to share this experience together."
After her election win, Roem told theWashington Post that voters realized her gender identity didn't impact her ability to do the job. "Discrimination is a disqualifier," she told the paper. "This is about the people of the 13th District [of Virginia] disregarding fear tactics, disregarding phobias... where we celebrate you because of who you are, not despite it."
According to People, Roem was also accompanying Lovato to spread a message. The magazine states that she was promoting GLAAD's Together movement, which calls on all people to stand in solidarity with discriminated and marginalized groups, from women and the LGBTQ+ community to Muslims and immigrants, according to GLAAD's website.
In an interview with Mother Jones ahead of the election, Roem emphasized that she had big plans for her state legislature position, and that those plans expand beyond trans-specific issues. "Transgender people have really good public policy ideas that span the gamut of transportation policy to health care policy to education policy, and yes, to civil rights as well," she told the website. "We shouldn't just be pigeonholed into the idea that we're going to be fighting about bathrooms."
Tonight was characteristic of Lovato, who is not typically shy about standing up for what she believes in. At last year's Billboard Music Awards, the singer wore a jersey advocating for transgender rights during her "Cool For The Summer" performance. According to Teen Vogue, Lovato and Nick Jonas also canceled North Carolina shows after the state passed the HB2 bill, a law that required people to use the public restrooms that coincided with the gender they were assigned at birth. "One of our goals for the tour has always been to create an atmosphere where every single attendee feels equal, included, and accepted for who they are," the performers said in a joint statement, according to the magazine. "North Carolina's discriminatory HB2 law is extremely disappointing, and it takes away some of the LGBT community's most basic rights and protections."
The duo even got the support of the GLAAD president. "Demi Lovato and Danica Roem are two strong and inspirational women who embody the need for all Americans to stand together united and to take action today against any form of discrimination and oppression," GLAAD President and CEO Sarah Kate Ellis said, according to HuffPost. Ellis went on to say that Roem and Lovato are both role models for young women looking to make a difference. "Danica Roem is a trailblazer whose win in Virginia showcased both how young people and marginalized communities can impact voting results and how every American deserves an opportunity to work hard and achieve their dreams," Ellis added. "Demi Lovato continues her legacy of raising the bar for entertaining audiences around the world and for spotlighting social issues that need the most attention."
The country's tumultuous political climate inevitably affects pop culture, movies and music, and it likely won't be the last big statement we'll see this red carpet season.