There's A Third Donald Trump, FYI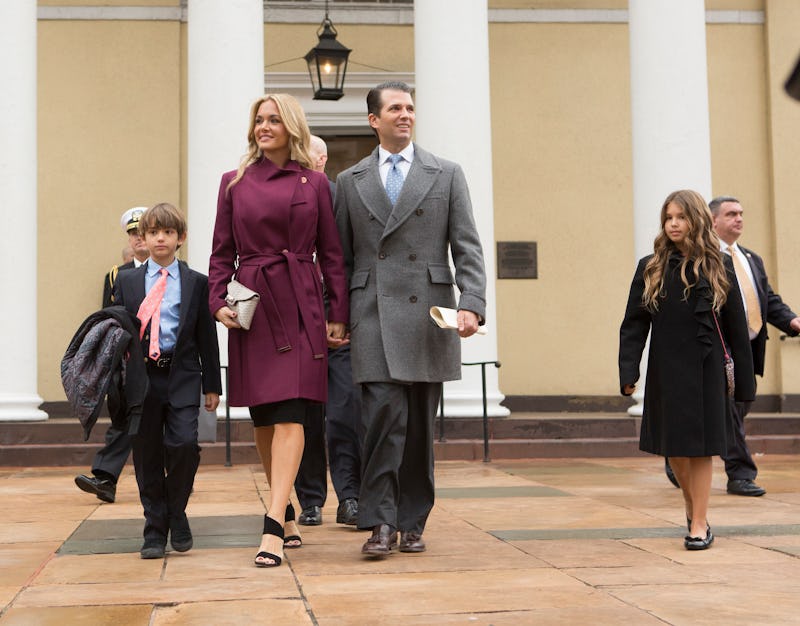 Pool/Getty Images News/Getty Images
Over the past few days, Donald Trump Jr. ― the eldest son of President Donald Trump ― has become embroiled in perhaps the deepest, most concrete scandal of the administration so far. This has led to a surge in interest in all things related to the 38-year-old, who is currently the executive director of the Trump Organization. He's not the last Donald Trump in the family, however. If you've ever heard the name Donald Trump III and wondered who he is, he's Don Jr.'s eight-year-old son.
From Sunday to Tuesday, the New York Times published three reports documenting Don Jr.'s involvement in a June 2016 meeting, in which he reportedly solicited damaging information about Hillary Clinton from a Russian attorney with allegedly close ties to her government. This culminated in Don Jr.'s public release of emails providing the first hard evidence of collusion between the Trump campaign and Russia. Trump Jr. has denied any collusion, and the Russian attorney, Natalia Veselnitskaya, says she is a private citizen who was not asked to meet with Trump Jr. by the government.
As for Donald III ― just like his own father, Don Jr. made his firstborn son his namesake ― he's quite young to find his family thrust into this kind of seismic controversy. Born in 2009, four years after Don Jr.'s marriage to Vanessa Trump (nee Haydon), Donald III isn't the oldest of President Trump's grandchildren; that distinction goes to his older sister, Kai Madison Trump.
Owing to longstanding norms of how the media covers young children related to the president, there's not a huge amount of information about the ins and outs of Donald III's life. It's long been held that children are in no sense responsible for the political actions or controversies of their parents, nor in any way morally culpable for them, and as such, privacy and respect should be shown to them.
That said, Don Jr. and Vanessa are clearly proud of their family. The pair showed off their five young children in a tweet in June, marking the commander-in-chief's 71st birthday. Donald III is the brown-haired kid up front wearing the blue-and-red checkered shirt.
Donald III was reportedly involved in a Secret-Service-related controversy back in June, according to Mother Jones. When two agents who were charged with protecting him and driving him from New York's Westchester County back to Manhattan, they reportedly snapped selfies with him while he slept.
When the boy woke up, according to the report, he "freaked out." The agents were reportedly investigated over the incident, though not criminally. The report stressed that this was seen as an isolated incident, and that President Trump has a good relationship with his Secret Service protection.
Basically, outside of the fact that Donald III has one of the most widely recognized names in the world right now, and is the grandson of arguably the most powerful person on Earth, he's just a young boy like any other ― albeit one who comes from a privileged background, and who is growing up amid some intense scrutiny and political pressure.
Don Jr. has the most children of the president's offspring, with five kids between the ages of four and ten. Ivanka Trump and her husband Jared Kushner, both official members of the Trump administration, have three children, while Eric and Lara Trump are currently expecting their first child.