The Charlottesville Man Beaten By White Supremacists Is Furious They Were Allowed In His City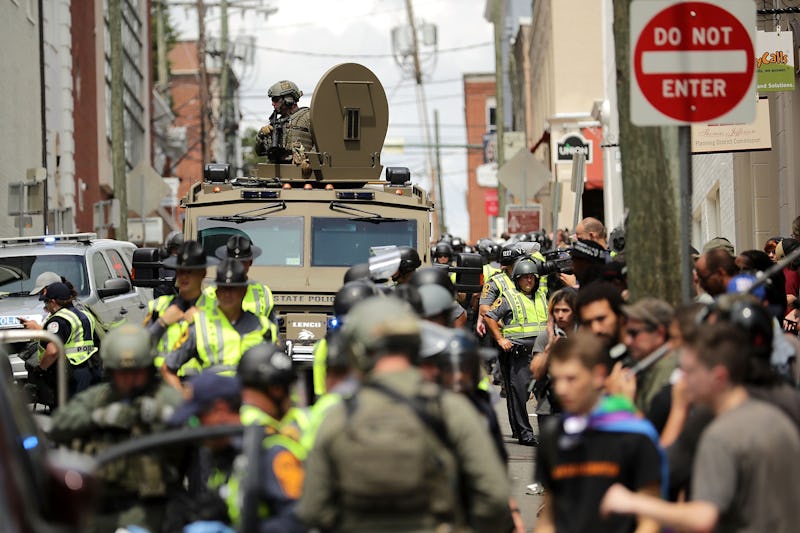 Chip Somodevilla/Getty Images News/Getty Images
During Saturday's white nationalist rally in Charlottesville, Virginia, a group of white men were filmed violently beating a black man in a parking garage. The victim of that assault in Charlottesville is Dre Harris, and he's since spoken up about his experience in an interview with The Root and on a GoFundMe page set up to pay for his medical costs.
Harris told The Root that he moved from Suffolk, Virginia, to Charlottesville two years ago to work as an assistant at a local high school's special education program. He's 20 years old and an aspiring musician, and he went to Charlottesville on Saturday to attend a counter-protest against the white supremacist rally.
The photo of Harris that's gained so much attention was snapped by Zack D. Roberts, of the social justice organization Nation of Change. It depicts him lying on the ground in a parking garage, four white men surrounding him and two of them beating him with poles. Harris told The Root that the men in question "rushed" him and his friends.
Me and about five of my friends were out protesting. We thought [the white supremacists] left, but at one point they came back. Everyone was exchanging words with the group, but then the KKK and white supremacists just rushed us.
Harris, who wrote on his GoFundMe page that he also "was hit with water bottles, maced with pepper spray, and had derogatory slurs hurled at me," said that he was chased into the parking garage — a claim corroborated by video of the incident — and that the assault took place only 15 minutes after Virginia Gov. Terry McAuliffe declared a state of the emergency, which resulted in law enforcement dispersing the crowd.
"How do you expect the KKK to come to your city to protest, and them not be violent? I understand everyone is entitled to their freedom of speech, but the government and the mayor made a bad business move," Harris told The Root. "It's only caused havoc in your own city."
"My injuries were too extensive to be treated at the scene so I was taken to the ER at Martha Jefferson Hospital," Harris wrote on his GoFundMe page, which exceeded its donation goal less than 10 hours after being created.
"I was diagnosed with a concussion, an ulnar fracture, and had to receive eight staples in my head. I also have a laceration across my right eyebrow, abrasions on my knees & elbows, and a chipped tooth."
Harris noted to the Root that, though the parking garage in question is right next to a local police department, "no police were there to help me at all."
According to the Root, Harris is planning on pressing charges, and his mother is working with the photographer to identify her son's attackers.