The Story Behind This Killer You've Never Heard Of Is The Creepiest Thing You'll Read All Day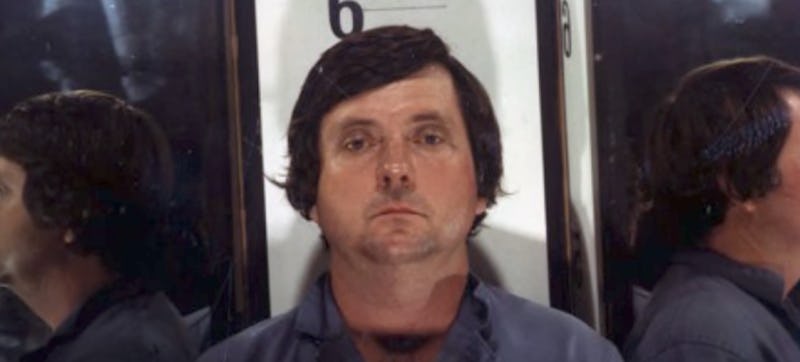 Screenshot/A&E
The Eleven, airing Thursday at 9 and 10 p.m. on A&E investigates 11 murders that occurred in rural Texas in the 1970s. The victims were all teenage girls, and each of their murders have remained unsolved for decades. Years after their deaths, the series reports that a man named Edward Harold Bell penned a letter to authorities claiming that he had allegedly been brainwashed into killing two of the girls. Later, he claimed to journalist Lise Olsen that he killed 11 girls. People watching The Eleven may wonder who Edward Harold Bell is, and if he is responsible indeed for what he claimed he did. Bell's case is far more complicated than it initially may seem. Especially since, as seen in the A&E series, he later denied everything he wrote years ago.
"When I'm a free man out in the street, I can tell you about [the letter]," he said in a recent sit-down for the docuseries. Then, when asked about the 11 murdered women (including the two he named in his first letter, Maria Johnson and Debbie Ackerman), he claimed, "I don't know any of them ... I have not killed anyone."
When Bell made the claim that he was allegedly responsible for some of the unsolved murders covered in The Eleven, he was already serving a 70-year prison sentence for another murder. In 1993, Bell was convicted for the 1978 murder of Larry Dean Dickens, according to The Orlando Sentinel. The outlet reported:
Witnesses testified that Bell was naked from the waist down when he climbed out of his truck and marched down the street in front of a half-dozen children. Dickens ran outside and grabbed the keys from Bell's truck, intending to strand him there until Pasadena police arrived.
Bell reportedly responded by shooting Dickens five times, per witnesses. The Sentinel reported that it took nearly 20 years to get a conviction for the murder, because when Bell was out on bail, he fled and lived under assumed names for years. He was eventually arrested in Panama just months after an episode of Unsolved Mysteries aired, renewing public attention on his case. (According to Blum House, the episode also starred Matthew McConaughey in his first-ever role, playing Dickens).
In the A&E series, Bell denied having "killed anybody," including Dickens. "The police killed Larry Dean Dickens and blamed me," Bell claimed, despite all evidence to the contrary.
Twenty years after the murder of Larry Dickens, Bell began writing letters allegedly taking credit for multiple other murders — 11 in total between 1971 and 1977, according to The Houston Chronicle. Per the A&E series, in his first letter, sent to the Galveston County District Attorney in 1998, Bell claimed that he had been brainwashed into becoming a killer. He claimed that he was responsible for the 1971 murders of Debbie Ackerman and Maria Johnson, and provided details as to where their bodies were dumped and how they were killed, according to The Houston Chronicle.
Bell's admission of two murders eventually grew to describe "the eleven who went to heaven," meaning that these 11 1970s unsolved murders could have found an answer. However, the legitimacy of his claims (which he has since denied) has come into question. In The Eleven, when the former D.A. is asked why Bell's letter didn't spur on a more intense investigation, the former D.A. claimed he thought it was a false confession, saying, "I just didn't think that he did it."
Bell's letters suggest that he believes that he was "programmed" into becoming a murderer. As The Houston Chronicle reported, "Bell blamed the crimes and carnage in his life on a systemic program of abuse, lies and brainwashing [allegedly] begun by his father."
Bell believed the "program" to be far-reaching, having allegedly included family members and people he's dated. These unverifiable claims and allegations introduced doubt into these alleged confessions, but many investigators and detectives involved reportedly believe that Bell is responsible for what he claims to be. One Texas detective, Deril Oliver, told The Houston Chronicle that Bell was "the closest thing to a real suspect [for the 11 murders] that we ever had."
Bell's life journey is far from straight-forward. As reported by Lise Olsen of the Houston Chronicle, who is one of the central investigators in The Eleven, when Bell had skipped bail, "[He] roamed coastal towns in Mexico and Central America, guiding dive trips, and living aboard a sailboat. He assumed the identity of a dead cousin named Cecil Boyd and told people to call him 'Wally.'"
Although Bell was not forthcoming in his A&E interviews, perhaps the show will be able provide answers for the families of the deceased — whether things lead back to Bell or someone else. As Dotti Walker, a family member of one of the victims told the Chronicle, "It makes it hard that we don't know if this Bell guy is a nut or if he's telling the truth. ... Not knowing is heartbreaking." Perhaps, The Eleven's investigations will be able to give these families what they've been waiting for nearly 40 years for: the truth.