Gary Clark Jr. Is No Newbie To The Grammys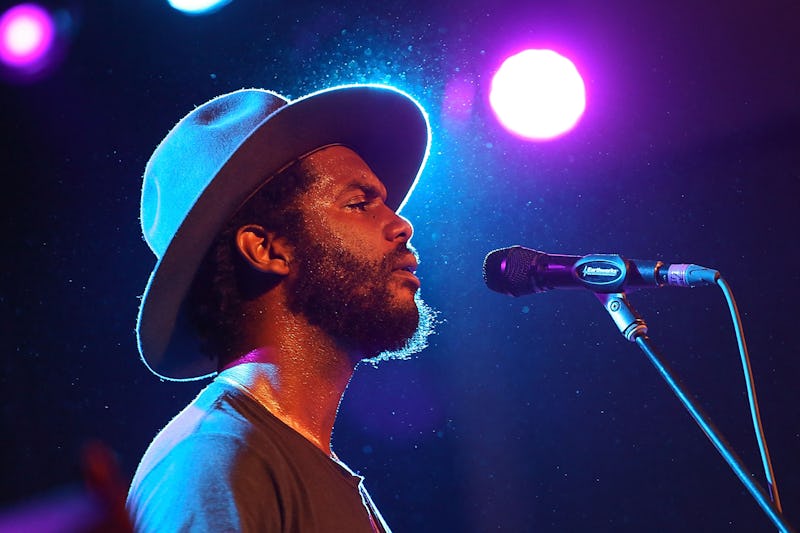 Rick Kern/Getty Images Entertainment/Getty Images
The lineup for the 2017 Grammy Awards just keeps getting better. If you're looking for some "Healing," stay tuned to be musically set free. Guitarist Gary Clark Jr. will rock the Grammys stage on Sunday, Feb. 12. Although he isn't nominated this year, the Austin, Texas native is definitely an artist worth watching. The 32-year-old blends blues, soul, and rock into a groove all his own thanks to his crooning vocals, as well as his distinctive distorted guitar sound. I'd suggest blasting "Grinder" from his sophomore album The Story of Sonny Boy Slim to get a feel for his Hendrix-esque guitar skills.
According to Billboard, Clark's Slim came in at number one on the Top Blues Albums chart on Oct. 3, 2015 and peaked at number eight on the Billboard 200. And he's no rookie to the Grammy game either! Clark won the Grammy for Best Traditional R&B Performance in 2014 for his song, "Please Come Home," according to the awards' official website. Clark also paid tribute to the late blue guitarist B.B. King during the 2016 Grammys. So what's bringing him back again this year?
Although blues isn't the most popular realm of music these days, Neil Portnow, president/CEO of The Recording Academy said in an official statement that the Grammys are striving to showcase all genres: "...we take pride in our ability to elevate the best in music while, at the same time, introducing audiences to sounds and songs they'd previously not heard."
In addition to performing a new version of his song "The Healing," during the red carpet pre-show, Clark will also be featured in a minute-long commercial for the 2017 Lincoln Continental that will debut during the awards, according to Billboard.
When Clark isn't off being a badass rock star, or popping up in indie films like Chef, he's actually a low-key family man. He married Australian supermodel Nicole Trunfio in April 2016. The couple are parents to two-year-old son, Zion, whom they raise back home on a 50-acre ranch in Texas, according to Realtor.com. Trunfio and Zion caused a stir in the fashion world in 2015 when she posed while breastfeeding on the cover of Elle magazine. Sounds pretty rock 'n roll if you ask me!
The musician and his muse are sure to grace the red carpet in style just like they did last year. With his commercial airing three times throughout Grammy night and a head-banging pre-show performance in the works, Gary Clark Jr. will not only have an unforgettable night, but he will also be an artist the crowd won't forget.