Here's What You Need To Know About The General Trump Is Touting On Twitter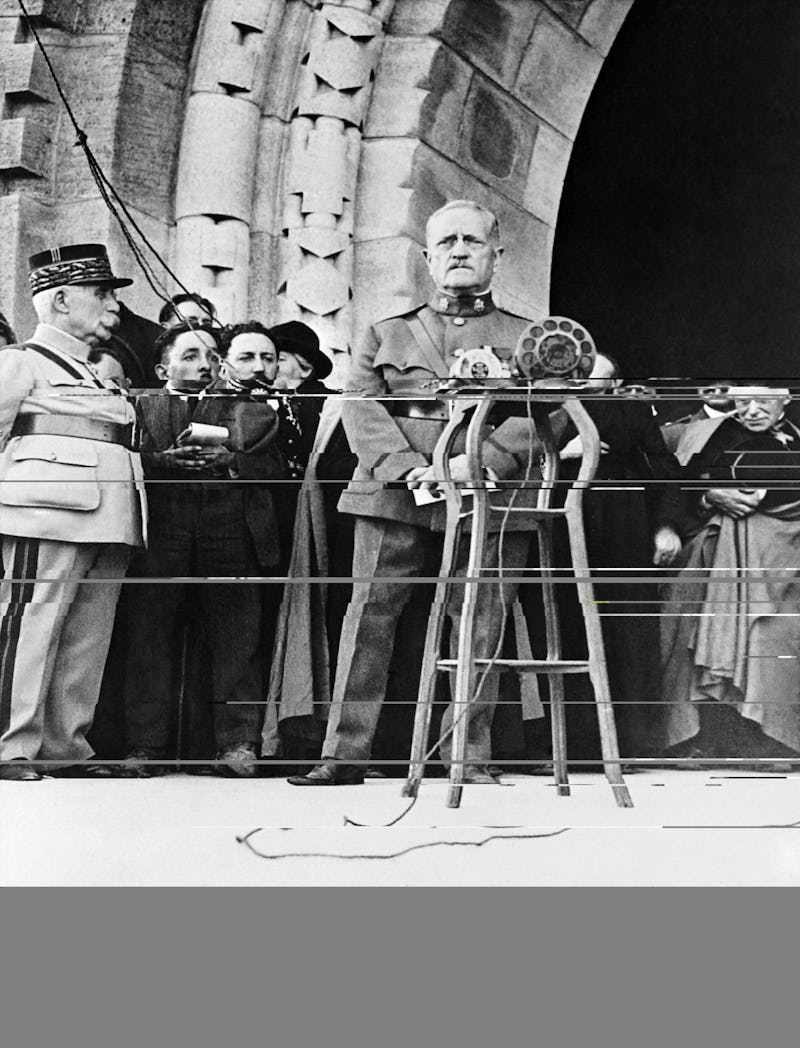 AFP/AFP/Getty Images
In a tweet published Thursday, President Donald Trump urged his followers to study what one U.S. general did to terrorists he caught, referencing a controversial legend that claims the general eradicated terrorism by shooting terrorists with bullets dipped in pigs' blood. However, President Trump appears to have gotten his facts about the general in question wrong as there's no proof such an event happened. So, just who is General John Pershing?
In urging people to "study what General Pershing of the United States did to terrorists when caught" Trump is once again dredging up a widely debunked story about Pershing, the U.S. Army general who commanded the American Expeditionary Force in World War I and also served during the Philippine-American War.
This isn't the first time Trump has sought to use Pershing to advocate for a harsher response to terrorism. Trump first mentioned the unproven Pershing story while campaigning in South Carolina in February 2016. At a rally in North Charleston, Trump used the story to advocate for the use of waterboarding, an interrogation technique the Obama administration considered to be torture. He claimed Pershing ordered 49 terrorists to be executed with bullets dipped in pigs' blood, with the 50th terrorist told to return home and tell his people what happened. "And for 25 years, there wasn't a problem," Trump alleged.
In a tweet posted Thursday, Trump appeared to inflate his claim, alleging Pershing's actions had wiped out "radical Islamic terror for 35 years."
But while some historians have noted there are recorded instances where American military members deliberately attempted to offend Filipino Muslims' through the use of pigs during the Philippine-American war, they also emphasized in comments to Time that there was no evidence to prove Pershing carried out the event Trump hinted at.
The myth-busting website Snopes also reported finding "no references to this alleged incident in Pershing biographies," adding such myths did not match up with how General Pershing is "generally recorded as having dealt with the Moros in 1911." The fact-checking website PolitiFact also spoke with multiple historians and came to a similar conclusion last year.
"[Pershing] did a lot of what we would call 'winning hearts and minds' and embraced reforms which helped end [Moro] resistance," Lance Janda, a military historian at Cameron University, told PolitiFact. "He fought too, but only when he had to, and only against tribes or bands that just wouldn't negotiate with him. He wasn't solely committed to fighting as people like Trump who tell the pig blood story imply."
Military historian Dr. Frank E. Vandiver also refuted the story in 2003, telling ThoughtCo. he "never found any indication that it was true in extensive research on [Pershing's] Moro experiences. Vandiver also argued such an incident "would have run completely against [Pershing's] character."
Born near Laclede, Missouri, in 1860, Pershing is one of only two people to have ever been promoted to "General of the Armies" for his service in World War I. From 1921 to 1924, Pershing served as U.S. Army Chief of Staff. He retired from the military at age 64 in 1924 and later died in his sleep in 1948. Pershing is buried at Arlington National Cemetery.