Kellyanne Conway's Husband May Land A Big Job Soon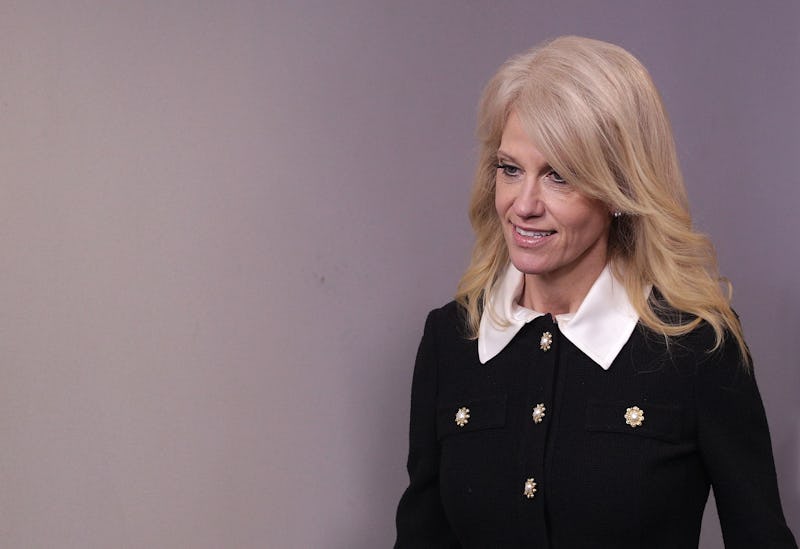 Alex Wong/Getty Images News/Getty Images
When you look at many of the people he's surrounded himself with, few things are as clear about the mindset of President Donald Trump as his desire to bring his friends and family along for the ride. Whether it's Ivanka sitting in on major meetings with foreign heads of state, or his son-in-law, Jared Kushner, seemingly running some aspects of foreign policy outside the bounds and knowledge of the State Department, this is not shaping up to be a nepotism-averse administration. And now another family tie from within the Trump orbit is swirling in the news: Kellyanne Conway's husband, George, may lead a Justice Department division in the near future, according to a Politico report.
George Conway, who has four children with the high-powered (yet controversial and highly gaffe-prone) White House counselor, is a partner at the legal firm Wachtell, Lipton, Rosen & Katz. And this isn't the first time his name has popped up in connection to a possible government job since Kellyanne helped successfully steer the Trump campaign to its upset November victory ― he was reportedly one of the final possible picks for Solicitor General, which would've thrust him before the Supreme Court arguing high-profile cases on behalf of the administration.
He didn't ultimately land that job, however. Trump instead went with Noel Francisco, a conservative attorney who successfully got the Supreme Court to overturn former Virginia Governor Bob McDonnell's corruption convictions last year.
His name clearly stayed in Trump's mind, however, or at least that's what these latest reports suggest. It's believed that George would lead the Justice Department's civil division, which would put him in charge of advancing and defending an extremely broad swath of Trump administration policies, including the hyper-controversial executive order banning immigrants and refugees from six (seven in the original order) majority-Muslim nations. Both bans have been badly thwarted in court over the past couple of months, with the redux version being blocked by U.S. District Judge Derrick Watson of Hawaii on Wednesday.
If George indeed ascended to the top of the DOJ's civil division, that would be perhaps the most major, publicly visible headache he'd be charged with taking on. And that task has been a family affair: Kellyanne was vociferous in her defense of the initial executive order, to the point of asserting a memorably farcical falsehood ― her now-infamous "Bowling Green Massacre" comment, which badly damaged her reputation, was made in an attempt to justify the president's ban.
As for George's background, he's essentially been a high-powered corporate lawyer throughout his career, although he was involved in establishing one major precedent for how presidents are handled by the judicial system. Namely, he was reportedly instrumental in convincing the courts that former President Bill Clinton could be civilly sued by Paula Jones back in the mid-'90s, a precedent that could potentially create problems for the president he'd be working for in the here and now.
That's a genre of origin story that he shares with his wife ― Kellyanne's big debut in the world of Republican politics came in the 1990s, when she worked for Republican pollster Frank Luntz before launching her own polling firm. In other words, she came into her career amid the vehemently anti-Clinton years of American conservatism, a first act that somewhat foreshadowed her role in the 2016 race between Trump and Hillary Clinton.
In other words, assuming these reports are borne out, the Conways could soon be one of the most powerful married duos in all of Washington, trailing perhaps only the president and First Lady Melania Trump. Although considering Melania's not even living in the White House right now, the Conways might win that one on a technicality.