Twitter Is Pretty Obsessed With 'Love Island's Georgia Steel & TBH, Fair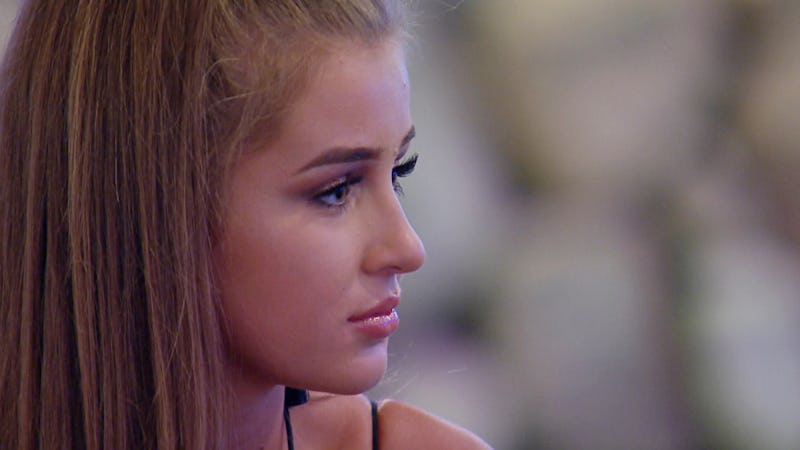 ITV
There were so many re-couplings during Monday night's episode of Love Island, that some of them got lost in the crowd. But any Love Island fan worth their salt will remember the night's final recoupling, which saw Georgia Steele and Josh Denzel tasked with a difficult decision: stick or twist. While Georgia chose to remain loyal to Josh, he chose to recouple with new contestant Kazimir Crossley, and — despite the devastating betrayal — Georgia handled her mugging off by Josh like an absolute champ and with the flick of a seriously high ponytail. So who is Love Island's Georgia Steel and how did she end up in the villa?
According to ITV, Georgia is a 23-year-old barmaid originally from York, now living in London. She is also a student at the Academy of Live and Recorded Arts in London (ALRA), whose alumni includes former Call The Midwife co-stars Miranda Hart and Jack Ashton, according to its website. As explained by her mother Sharon Steel during an interview on ITV's Lorraine, Georgia was actually encouraged to apply for Love Island by ALRA, who said it would be "the best opportunity" for her acting aspirations.
Sharon explained: "[Georgia] was at drama school and the drama school ALRA said, 'You got to go.' It's a good stepping stone for Georgia, It's the best opportunity." Indeed, it looks like those acting skills were put to good use during Monday night's episode when Josh came back into the villa with Kazimir. The decision effectively ended Josh and Georgia's blossoming romance, and despite being undeniably shocked, Georgia held herself together with aplomb. It was pretty amazing given how muggy the situation actually was.
What made things worse for Georgia is that she could have re-coupled herself in the Love Island villa, as the now departed contestant Jordan Adefeyisan confessed he was attracted to Georgia during Friday's episode. However, she chose to stay loyal to Josh, even after she was shown a video of him reacting excitedly after an encounter with Kazimir.
Georgia's reaction quickly earned her heaps of praise on Twitter, where viewers celebrated her strength in the face of enormous pressure.
Even before last night's antics, Georgia was fast becoming a firm favourite with viewers. While I sure am glad Georgia secured her well-earned place in this year's series, the way she secured it might surprise some viewers. With the Daily Mail reporting that 85,000 people apply to be on the show, Georgia managed to separate herself from the crowd with a personal intro and a serious load of courage (which we already know she has).
During the same Lorraine interview on Monday, last year's Love Island winner Amber Davies revealed that she put Georgia forward for the competition, after Georgia approached her in a bar. "Basically, I saw [Georgia] in a bar and she just said to me, you know, 'Can you put me forward?'" Amber said. "And I said, 'Yeah, that's fine. I'll do it.' I was the little scout."
So, what's next for Georgia?
Well, it doesn't look like she's going to forgive Josh anytime soon.
Indeed, during Tuesday night's episode, Georgia finally relented and agreed to speak to Josh about their new situation, having previously rejected his attempts at peace talks during the closing minutes of Monday's show. "I had a connection with someone else in here, Josh," she told him. "I think we both had our little tests. I passed mine because I'm a loyal girl. Yes, I'm a flirt but I know the boundaries. You obviously don't… I put my heart out to you. I've never done that ever and I did all of that for you."
So, will Georgia ever forgive Josh? If she doesn't, I would totally understand, especially after their final conversation of the night, which saw Georgia walk off in tears.
Love Island airs on ITV2, Sunday to Friday at 9 p.m.